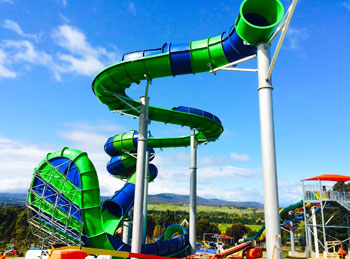 World Record Breaking Waterslide
World record breaking Gravity Wave waterslide is one of two new attractions arriving at Funfields Theme Park this October.

Melbourne thrill seekers can experience not one, but two incredible new rides opening at Funfields Theme Park on 21 October, one of which is world record breaking.

Forget booking a ticket to a galaxy far, far away this summer. Funfields Theme Park is located just 40 minutes outside of Melbourne and invites thrillseekers to experience the out-of-this-world Gravity Wave - the newest world record breaking attraction at the park.

The Gravity Wave is not for the faint hearted. At any one time, a group of brave riders can board their spacecraft and experience the sheer terror of launching off a 26.8 metre high platform, hurtling down 186 metres of open and closed tubing (at velocities of up to 24 feet per second) before plunging into the depths of the Gravity pool.

For what feels like lightyears, riders will be powered by 200 litres of water per second while experiencing absolute weightlessness, zero g-forces and ultimate hang-time scaling the vertical heights of the Gravity Wave-wall!

Funfields Theme Park is searching for one daring Victorian and their closest friend to be the first to experience the astronomical terror of this new world record breaking slide. The competition calls for thrill-seekers to upload a photo of themselves, showcasing their training regime and to describe why they deserve to launch the Gravity Wave.


Park owner John Verga is excited for Victorian's to see the newest world-record breaker, located in Whittlesea's backyard.

'The new ride will take out the prestigious title of the world's longest, tallest and biggest ProSlide Tornado Wave™, as determined by its creators and industry giants, Proslide. With the newest addition of the Gravity Wave, Funfields Theme Park is proud to house three of Australia's five world-record breaking slides" said John.

From making history, to uncovering the past, riders can transform from astronauts to archaeologists as they brave Funfields second incredible addition to the park - The Voodoo. The first of it's kind in Australia, The Voodoo has come all the way from Italy and was created by leading ride manufacturer, Zamperla.

Adventures are invited to enter the ruins of an ancient temple in search of riches untold, but riders must beware of Tawhiri: a vengeful spirit that unleashes chaos once awakened. Tawhiri's wrath will see 16 brave adventures being swept off their feet and hurtled 18 metres into the air in a looping, 360 degree frenzy.

To win the chance to be a Funfields First Launcher (and a season pass to Funfields Theme Park), simply head to the Funfields website, www.funfields.com.au/firstlaunchers