Luke Hodge Hot Wheels Interview
Hot Wheels ambassadors Luke Hodge and Matt Mingay battled it out with their sons in the ultimate father and son showdown, with -Team Hodge' taking on -Team Mingay' in a series of hair raising challenges.

The teams fought it out at Melbourne's Calder Park, with Hodge using his AFL skills versus Mingay and his Hot Wheels stunt vehicles. Luke's seven-year-old son, Cooper, and Matt's eight-year-old son, Maddox, equally showed their competitive side with Maddox performing tricks on his mini Hot Wheels stunt bike and Cooper showing he has his father's talent and footy skills.

No match for the full throttle speed and power of the Hot Wheels stunt vehicles, -Team Hodge' lost out in the last round with -Team Mingay' claiming victory. Luke said, 'It was a close call but Matt performed some impressive stunts, although he could still learn a thing or two when it comes to perfecting his footy skills!"

Australia's number one stunt rider, Matt said, 'As a Hot Wheels stunt rider, I'm all about being fearless and pushing my limits. I love the adrenaline rush when pulling off new stunts. Team Mingay pulled it off today!"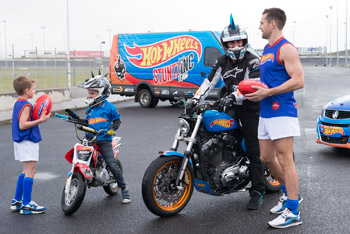 Andrew Graham, Brand Manager at Mattel, said 'Push Your Limits is all about defying the odds to beat your own record. With Luke and Matt used to living life in the fast lane, and Hot Wheels providing hours of fun play for fathers and sons alike, we couldn't think of two better people to go head-to-head in the ultimate Push Your Limits showdown, father and son style."

This September, Hot Wheels will release a new playset ahead of Christmas, the Hot Wheels Track Builder Spiral Stack-Up Starter Set for RRP, $39.99 available from Big W, Target, Kmart and Toys R Us.

Watch the video here



Interview with Luke Hodge
Question: Can you talk about taking on number one stunt rider Matt Mingay?

Luke Hodge: It was a great day spending time with Coop. Unfortunately, Matt and Maddox in their Hot Wheels stunt car and bikes were too good for us on the day but we'll get them next time.


Question: What was involved in the series of full throttle challenges?

Luke Hodge: There were four challenges; an agility challenge where I took on Matt on his Hot Wheels stunt bike through an obstacle course, a sprint challenge where I took on the Hot Wheels ute for speed, a kick and defend challenge where Coop and I had them covered and of course a track building challenge where we put our Hot Wheels skills to the test.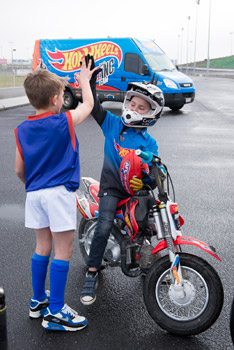 Question: How did you use your AFL skills in these challenges?

Luke Hodge: Kicking the ball at goals whilst trying to avoid Matt and Maddox and the sprint test against the Hot Wheels ute.


Question: What did you enjoy most about pairing with your son Cooper?

Luke Hodge: One on one time kicking the footy and playing with the tracks and Hot Wheels cars afterwards too. They are his two favourite things to do.


Question: What's your favourite Hot Wheels toy?

Luke Hodge: My jobs is always to make the tracks as hard as possible. Coops job is to drive all the cars, he gets the fun job.


Question: And, what is Cooper's favourite Hot Wheels toy?

Luke Hodge: He loves a Lambo (one of my favourites too), but also any bright coloured cars and utes.


Question: What advice do you have for young footballers hoping to be drafted to the AFL?

Luke Hodge: Practice makes perfect
Never give up
Don't eat fatty foods


Interview by Brooke Hunter