Tips for First Time Mums in Their First Trimester of Pregnancy
All over the world, Meghan's pregnancy is covering newsfeeds and news agendas, and while she has a royal support team she will be planning and experiencing the same thing as all mums in their first trimester. Liz Wilkes, Philips Avent ambassador and midwife for over 20 years shares her top tips for first time mums in their first trimester of pregnancy, so that all mums can feel as prepared as a princess for pregnancy.




Question: Can you share your top tips for first time Mums during their first trimester of pregnancy?

Liz Wilkes: Check that your activities are pregnancy-safe
If you're feeling up to it, participating in regular exercise may help you keep healthy throughout your pregnancy. It's a good idea to talk through your usual exercise regime with your doctor or midwife. Some great pregnancy-friendly exercises include walking, swimming and yoga.

Indulge your cravings, but try to also eat the rainbow and fill your body with fresh nutritious foods.
Indulge your cravings during your first trimester – because why not? Pregnancy is such an exciting journey you should embrace and enjoy every stage, but it's also important to try and eat a nutritious, balanced and fresh diet as regularly as possible as this will not only assist your growing baby, but will also minimise problems such as morning sickness.

Research your care provider
Explore the range of healthcare options including obstetricians, hospitals and midwives, so you can determine the support that works best for you during your pregnancy. It's a good idea to visit your care provider once you're 10 weeks along to ensure you are getting the best care and advice you need.

Think about a baby budget
Having a baby can be a significant and ongoing expense, but rather than worrying about your finances, it's a good idea to think about what products are really important to you. Talking to your midwife, friends and family is a great way to understand the products you really need before bub arrives.

Prepare yourself by finding the right products for you
The best way to figure out which products are right for you is to ask your support network such as your midwife or friends and family. Look into purchasing products you will need and rely on but might not have time to buy once bub arrives. I usually recommend you stick to brands that are known and trustworthy such as Philips Avent.

Stop or limit drinking alcohol and caffeine
In the first trimester of pregnancy it's a good idea to cut down on caffeine including coffee and caffeinated tea. It is also recommended that you stop drinking alcohol. Often nature works with you on this one and nausea may increase when caffeine is consumed.

Find apps that will guide you along the way
During your first trimester, you might feel a range of strong emotions. It can be an overwhelming time. Even with a strong support network, it can be easy to feel misunderstood, confused or lost. There are a range of fantastic resources available to help guide you through your entire pregnancy journey such as Pregnancy + with advice and information to help you feel supported. 



Stay hydrated
Hydration is always essential, and during your first trimester of pregnancy it is especially important. When you are pregnant, you may require more water because your extracellular fluid space increases. It is recommended that you try and drink 10 cups of fluids each day with water being the most easily utilised of all the fluids. Other fluids can include milk, juice, soup, sparkling water and decaffeinated tea as well as water. 



Reserve time just for you!
Your first trimester is an exciting, exhausting and sometimes overwhelming time, but it will fly so it's important to take some time for yourself to relax and enjoy the moment. Whether it's a yoga or meditation class, something creative, reading a book or having a foot massage, make sure you enjoy your 'you' time.


Question: How can the husband or partner support their partner during the first trimester of pregnancy?

Liz Wilkes: The best way to support a pregnant partner is to be understanding of what she is experiencing. Communicate with each other and talk about how she is feeling. Make sure you're as well informed as possible – it's not just the person who is pregnant that should be doing all the research. It is also great for partners to pick up on the household tasks that women may feel too tired, or too sick, to do. Cooking in the first trimester is often something mums-to-be find challenging so a partner who will cook is something many women appreciate.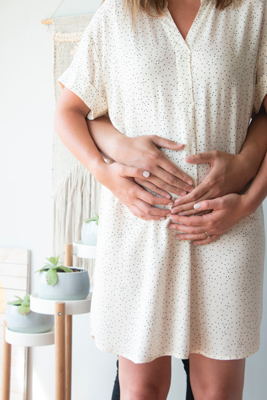 Question: What shouldn't a woman do, during the first trimester of pregnancy?

Liz Wilkes: There are restrictions when it comes to pregnancy, especially within the first trimester when the baby is forming and growing. There are rules that should be followed such as not drinking alcohol and not smoking but there are also dietary requirements that pregnant women should speak to their obstetrician or midwife about. Avoiding very hot baths, showers and spas is also important and where women have a temperature it is important to get it down and keep it down. There are a range of drugs that are completely safe outside pregnancy that also cause some issues. These include some forms of anti-depressants and drugs for acne. It is essential to avoid Xrays where possible as these may impact the little one. Finally checking whether your work exposes you to any risks such as chemical exposure or unsafe lifting. It important that you see your midwife or obstetrician early in pregnancy to get the run down on the 'do's and don'ts' to ease any anxieties and make sure you are on track.


Question: How important are prenatal vitamins in the first trimester of pregnancy?

Liz Wilkes: Pregnancy supplements are essential in the early period of fetal growth but for some women advice may differ around the sources and amounts of each vitamin. It is also important to eat a healthy diet during pregnancy and it is advised to take prenatal vitamins which contain folic acid, iron, iodine, and calcium. Your GP or pregnancy care provider should be consulted early in pregnancy around any particular medical issues so to ensure the right supplements are taken. Folic acid in particular is important in the first trimester, and can even be taken daily in the lead up to conception.


Question: What foods and drinks should women cut down on, in her first trimester of pregnancy?

Liz Wilkes: Caffeine is found in many foods and drinks, including coffee, tea and cola. It affects the nervous system and can cause irritability, nervousness and sleeplessness. It's best to decrease your intake, or take caffeine completely off the menu. Large amounts of Vitamin's A and E – generally only obtained in supplements – should be reduced and taken in accordance with pregnancy guidelines. It is also important to review your basic eating plan as some food increase the potential for problems. Listeriosis is found in some foods particularly soft cheese, processed and deli meats, soft serve icecream and pre-prepaed salads. It is also important the food is properly cooked and is hot, especially when eating left overs or take away.


Question: How can a woman naturally treat morning sickness?

Liz Wilkes: Morning sickness – or nausea and vomiting of pregnancy – ranges from mild and annoying to very severe and potentially dangerous. The mild version can often be naturally treated by eating small regular meals, ensuring fluid uptake and eating some protein regularly to regulate blood sugar levels. Natural remedies such as eating ginger, and ginger supplements may be useful. Some women find small amounts of B group vitamins useful. If strong smells and flavours set off the nausea, try acupuncture or acupressure bands such as sea sickness bands to help on the pressure points in the wrist specifically.


Question: What activities are not safe during the first trimester of pregnancy?

Liz Wilkes: The activities that were undertaken before the pregnancy can determine what you should or shouldn't do in the first trimester. It is best to discuss your usual exercise regime with your doctor or midwife. Making sure that high impact sports are avoided is one of the overall recommendations along with ensuring mum remains cool and hydrated at all times.

Interview by Brooke Hunter
Photo by John Looy on Unsplash