Little May For The Company Interview
Before they embark on their four-date national tour and a 25-date tour of the US, UK and Europe, Sydney outfit Little May have today announced a unique online art campaign, culminating in an exhibition, which will celebrate the launch of their debut album 'For The Company" available October 9 via Dew Process/Universal Music Australia.
Titled #ArtForTheCompany, Little May have engaged 11 of their favourite local artists to create an artwork of any medium, inspired by a selected track from their LP. With visual art being an integral part of Little May's suit of armour since inception, and all artwork designed by the band's own Annie Hamilton, it was important for the band to continue celebrating creativity across all art forms. The development of the art works will be journaled through the #ArtForTheCompany hashtag across Facebook and Instagram.
The physical exhibition will run from Friday 2nd October until Sunday 4th October at Goodspace, above The Lord Gladstone Hotel in Chippendale, Sydney. Music and art lovers will be able to hear the album in its entirety ahead of its official release date, as well as check out and buy the artwork.
The exhibition will feature work from acclaimed photographers Mclean Stephenson and Prue Stent, Sydney-based muralist Mulga, fashion label Serpent & The Swan, illustrator Georgia Hill, Ears, Honey Long, Antwerpen, Emily Ellis, Furry Little Peach and Luschia Porter.
'The idea of connecting Little May's sound to visual art is so unique and will invite their audience to experience the songs in a tactile way," artist Luschia Porter said of #ArtForTheCompany.
'We're so excited to create an artwork around Little May's track -Home'. We were inspired by the idea of what a home represents and what that means to certain little creatures… as nature continually inspires our collections, we are tying in those natural elements into this work," sisters Hayley and Lauri Smith of Serpent & the Swan said.
#ArtForTheCompany will launch Little May's Aaron Brooking Dessner-produced album 'For The Company" available October 9 and features the singles fragile, dark and intense first single -Home' - which reached #4 on Amrap's AirIt metro chart locally, and has been receiving international recognition with airplay across the likes of BBC Radio 1, Radio 2 and Radio 6 – and heart-breaking new single -Seven Hours'.
Interview with Little May
Question: How would you describe your music?

Little May: The new album is very meditative and solemn. Genre wise I think we always struggle to answer this one as we never set out to write music that was one particular style but I guess you could say we write folk/pop music with elements of rock...I guess haha.


Question: What inspired the creation of For The Company?

Little May: I don't think when we began writing the tracks that ended up being on the album we could even comprehend there would be an record to create! Some are a few years old and have been reworked. Alot of the songs were inspired by the breakdown of relationships.


Question: What should we expect from the upcoming tour?

Little May: I think this coming tour will definitely showcase a more mature sound in comparison to our EP. We have worked hard to get our live show up to standard and due to the fact our confidence has grown over time I can feel a lot more energy coming from the stage. Should be fun!!


Question: How did it feel to hear your song played all over the airwaves?

Little May: I don't think I will never not feel weird about hearing our songs being played on the radio. I rememeber around the age of 16 when I started dreaming of being a singer songwriter I thought, you know, that said dream would always just be stuck there in my imaginition. But now it's out of my head and a reality so I'm constantly pinching myself when someone messages saying they heard Little May on their drive to work it's a wigout.


Question: Did you have any pre-conceived ideas about the music industry?

Little May: To be honest my ideas of what the music industry were like before we got involved were very naive. I think I thought that once you had a song on radio you'd be sweet and everything else you release from there would get traction and people would dig it. Just reading that now I realise how fresh I was. Nothing is ever guaranteed and that's a great thing because you stop being complacent and keep working your ass of to create great music.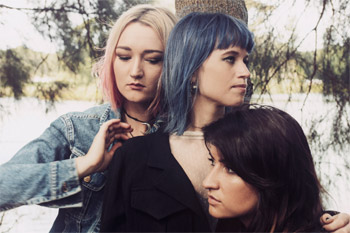 Question: Do you write your own songs? What's your inspiration?

Little May: We do write our own songs. What inspires us is obviously different between the three of us but I think the common ground we found and wrote about for the record was pain.


Question: What music/artists do you listen to when you are not playing your own?

Little May: I'm listening to a lot of Tom Petty and Blake Mills at the moment. I go through deep fazes of only listening to a few artists at a time.


Question: What's next? Tour/Album/Single?

Little May: We are about to head off on tour. Heading to the UK/US/EU for 5 weeks which will be sick! Can't wait to play to some new audiences. Then next year I know we are really keen to get started on some new stuff as well as continue to tour the album.


Question: Was there a moment you contemplated throwing in the towel?

Little May: Nope. There are challenging periods but you need those times. I could never and would never considered giving up on Little May.


Question: Do you prefer performing live or recording?

Little May: There is such a big difference between the two I couldn't choose. The spaces are completely different. I have always loved performing since I was about 6 when my love was dance and then it became acting and now Little May. I think the only reason why I would possibly lean toward live performance is because I get restless sometimes during the recording process when the cabin fever sets in.


Question: What/who was your inspiration to go into the music industry?

Little May: I was inspired to write by artists like Fleetwood Mac, Bruce Springsteen, Crowded House. Liz also really inspired me from the beginning and I wouldn't be a writer if it wasn't for her I don't think. We never made a decision we wanted to be in the industry I guess but we did make a decision that we wanted to write sweet tunes together.


Question: What is the biggest challenge you have faced along the way to your musical success?

Little May: Biggest challenge was actually gaining the confidence to even consider that I was any good to be a part of Little May. I went through I faze where I just didn't feel like I could contribute enough and was in a bit of a rut. In time and with some hard work that feeling has begun to pass.


Question: What's a typical day like?

Little May: Haha no typical days. Some days we get together and work through emails and the business side of things. We will rehearse vocals some days only or head into the city to do a full band rehearsal.


Question: What has been your favourite part of becoming a music artist?

Little May: Travelling the world playing the music we wrote to lovely people with 4 of my best mates :).


Question: If you could collaborate with another artist, who would it be?

Little May: Blake Mills or Bruce Springsteen.


Question: Do you have a website fans can visit?

Little May: Yes! Our website is www.littlemaymusic.com


Question: What is the story behind the band's name?

Little May: Haha I wish we had a really incredible story but Liz's Mumma suggested it when we were thinking of potential names. What a legend!


Interview by Brooke Hunter