Emily Ebert (Jessie) Interview for Disney Live! Mickeys Rockin Road Show
Question: How long does rehearsal go for before taking the show on the road?

Emily Ebert: This year we rehearsed for about 1 ½ weeks before we opened the show


Question: Are you a fan of Toy Story?

Emily Ebert: I am a fan! I could watch Toy Story over and over again because it's so fun and clever.


Question: Do you get to wear cool costumes?

Emily Ebert: Yes! My costume looks just like what Jessie wears in the movie. It's super authentic.


Question: What was it like when you found out you won the part of Jessie?

Emily Ebert: I was excited to portray a character I never had before. And it was fun to learn a new skill (hoola hooping) for the part.


Question: What is your most memorable moment on stage?

Emily Ebert: My most memorable moments are always ones where something goes wrong. For some reason it makes the show more fun and exciting when things don't happen like they normally do.


Question: What is your signature dance move when you're at a party?

Emily Ebert: I like to be silly when I dance. I just can't take myself seriously.


Question: Do you have any dance tips or secrets you can share?

Emily Ebert: My advice is to have fun and be confident in whatever it is you are doing. The people watching you will enjoy it more and you will enjoy it more too.


Question: What is your favourite Disney movie?

Emily Ebert: It's hard to choose just one but I really like A Goofy Movie.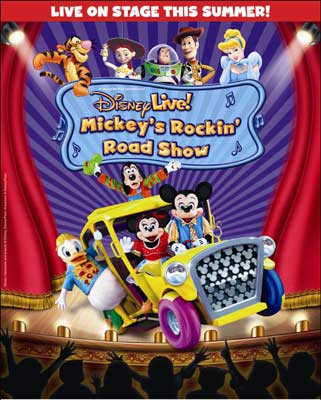 Disney Live! Mickey's Rockin' Road Show
School holiday family fun with all your Disney friends

An inside look at DISNEY LIVE! MICKEY'S ROCKIN' ROAD SHOW, touring this summer

If you're looking for something the whole family will love these school holidays, look no further than Disney Live! Mickeys Rockin Road Show. A live stage spectacular produced by Feld Entertainment, the show tours this December, January and February and is set to whisk audiences on a wacky, fun-filled journey with Mickey, Minnie and all your favourite Disney friends.

The excitement begins when Mickey and his pals decide to put on a talent show, with Mickey as the director, Minnie as the costume designer, Goofy as the clumsy stagehand and Donald in charge of the big "Ka-Pow"! Realising that they need more performers, they embark on a road trip in Mickey's fantastical bus, where they face a series of misadventures and eventually round up a few friends to help put on their show.

"Families will feel like they are traveling alongside Mickey and Minnie as they set off on an exciting theatrical excursion, right in their hometown," Producer Alana Feld comments. "Disney Live! Mickeys Rockin Road Show is a combination of hilarious escapades, hip music and modern choreography that fuse together to present the Disney characters like you've never seen them before," she says.

The show is based on the concept of a live cartoon, which is reflected through its use of special effects, innovative props and bright costumes. The stage is set for fun when Mickey surprises his pals with the vehicle for their adventure: an amazing bus equipped with unusual gadgets, which at a push of button transforms into a hot air balloon or submarine.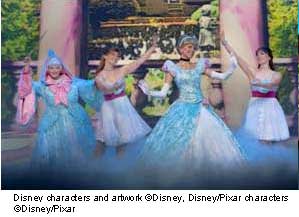 "These are things that only happen in cartoons, but we're doing them live on stage. In a cartoon, nothing is impossible. The silliest, craziest, funniest things can happen for no reason whatsoever, and in Disney Live! Mickeys Rockin Road Show, they do," says writer Bradley Zweig.

Special effects like the hot air balloon advance the storyline as the characters move from location to location. To transport audiences on their virtual journey, the bus functions inconjunction with original Disney video content displayed on a giant projection screen. The animated video establishes multiple scenic environments and captures the essence of each character's world.

Disney Live! Mickeys Rockin Road Show features a unique blend of music that incorporates both timeless and remixed Disney songs, along with hip tunes that pave the way for choreographer Robbie Mackey's distinctive dance numbers. From Cinderella's comical tap-dancing stepsisters and a Broadway-style kick line to a knee-slapping hoedown and Tigger's hip-hop-inspired bounce routine, Mackey combines a range of dance styles to create an energetic and fresh look that conveys a classic yet contemporary feel.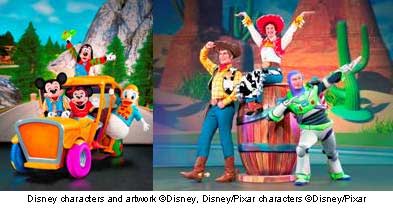 "What sets this show apart is how we unite characters that normally exist in separate worlds and incorporate the kind of music that kids listen to everyday to create a fresh, original story," says Director Jay Smith. "We want families to feel like they've played as much a part in the show as those on stage," he says.

In time for school holidays, Disney Live! is the perfect way to keep the kids entertained this summer. Plus, with Christmas around the corner, there's no better time than to give the gift of a truly magical Disney experience with tickets to Disney Live! Mickeys Rockin Road Show.

For tour dates and further information on Disney Live! Mickeys Rockin Road Show, visit www.disneylive.com.au.

Ticket Prices: A Reserve: $37.50 (*family ticket $140) / B Reserve: $29.50 (*family ticket $110) *Family ticket admits any configuration of four people / Children under 12 months free on the knee



TOUR DATES & TICKET INFORMATION
PERTH - Dec 28-30
Riverside Theatre, Perth Convention and Exhibition Centre
www.ticketek.com.au/disneylive

BRISBANE - Jan 6-7
Brisbane Convention and Exhibition Centre
www.ticketek.com.au/disneylive

SYDNEY - Jan 11-13
Sydney Entertainment Centre
www.ticketmaster.com.au/disneylive

NEWCASTLE - Jan 15-16
Newcastle Entertainment Centre
www.ticketek.com.au/disneylive

WOLLONGONG - Jan 19
WIN Entertainment Centre
www.ticketek.com.au/disneylive

ADELAIDE - Jan 21-22
Adelaide Entertainment Centre
www.ticketek.com.au/disneylive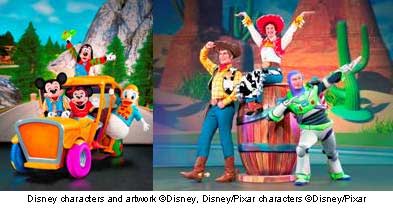 MELBOURNE - Jan 24-27
The Plenary, Melbourne Convention Centre
www.ticketmaster.com.au/disneylive

LAUNCESTON - Jan 30-31
Silverdome
www.silverdome.com.au

HOBART - Feb 2-3
Derwent Entertainment Centre
www.ticketmaster.com.au/disneylive

CANBERRA - Feb 9
AIS Arena
www.ticketek.com.au/disneylive

CAIRNS Feb 13
Cairns Convention Centre
www.ticketlink.com.au

TOWNSVILLE - Feb 16-17
Townsville Entertainment and Convention Centre - TECC
www.tecc.net.au

DARWIN Feb 23-24
Darwin Convention Centre
www.yourcentre.com.au