Years ago, Sandra Bullock & Kelly Clarkson each bought homes with extreme Southern charm; Kelly's home is in Tennessee and Sandra's home is in Georgia. Both homes are featured this week at TopTenRealEstateDeals.com


"Kelly Clarkson's Gorgeous Tennessee Lake Home"
With her professional life now centered in Los Angeles, singer-talk-show-host Kelly Clarkson has just lowered the price on her Tennessee lake home - originally $8.75 million is now at $6.95 million.

Kelly has owned her Nashville-area home for almost ten years, perfectly positioned for a full view of Old Hickory Lake with a grassy lawn going to the wide-water's edge, encompassing four acres and adjoining an additional two-acre Army Corp of Engineers public plot. A fun place to live for the whole family, the exterior has a covered two-boat boathouse with lift, a volleyball-sand court, an outdoor children's play area and a pool-spa terrace with a covered pavilion for outdoor dining by a fireplace. All accessed via a double-sided-curved staircase descending from the upper terrace. Gardens are laid out in the English style and for the green-thumbed, there is a greenhouse.

The home, decorated by Kelly in her unique style, is reached via a long-gated driveway to the entrance car park with center fountain. An impressive foyer greets guests with its soaring double staircases. Measuring 20,121 square feet of living space, the home has seven bedrooms and eleven baths. The master suite has its own seating area in front of a fireplace and a celebrity-worthy master bath. In addition to the more formal rooms, theater, game room, gym and two-story office, there is an especially fun entertaining venue: a cowboy bar with its saddle-bar stools. Not at all surprising that Wayfair chose Clarkson as a brand ambassador in an exclusive furniture-and-decor collection inspired by her style.

Kelly is living on the West Coast while filming her weekly talk show, The Kelly Clarkson Show and will continue as a judge on The Voice in 2021. She will be releasing a new album soon with songs written about her marriage and upcoming divorce from her husband, Brandon Blackstock. The year, 2021, will be a very active year for Clarkson with an additional star added to her Hollywood Walk of Fame, and also hopes to start her Las Vegas residency that was postponed from 2020 due to coronavirus concerns.

Only a 26-minute drive to downtown Nashville, Hendersonville is well known for its Old Hickory Lake and the beautiful waterfront homes surrounding it that have been drawing Nashville's music elite since the 1950s. Its 97 miles of shoreline are an idyllic getaway for hard-working and hard-touring musicians to get downtime, whether fishing, boating, visiting marinas, the two campgrounds, the arboretum or docking at the Rudder Restaurant for a lazy Sunday lunch. Many of Nashville's finest have called it home such as Johnny Cash, The Oakridge Boys, Ferlin Husky, Lee Ann Womack and Porter Wagoner. Hendersonville's real estate records read like a Who's Who in Country Music.

"Sandra Bullock's Sweet Georgia Island Home"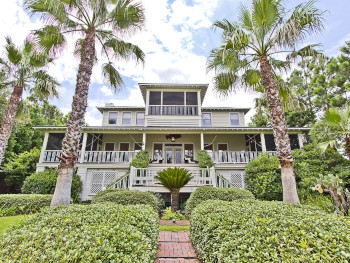 Sandra Bullock isn't just America's sweetheart, an Oscar-winning actress and great mom, she's also a real estate mogul with properties from coast to coast, who has invested her money and time wisely. She put her charming Tybee Island home up for sale in the spring of 2019, which just sold.

Bullock purchased the beachy 3,360-square-foot cottage and 2,848-square-foot guest house in 2001 for $1.5 million. An architecturally stunning main house and guest house on almost three acres made up of nine parcels, the home has private access to one of the prettiest white-sand beaches in the country. The estate has the capacity to sleep 12 family and friends with a large pool, game room, gym and basketball court. Structures include the 3,360-square-foot plantation-style main house with multiple screened verandas, double-height living room ceiling with beachy decor, and a 2,848-square-foot guest house with living room fireplace, a crow's nest and an outdoor grill. Overall, there are seven bedrooms and six baths between the two buildings. The home is decorated with emphasis on white linen and wicker with a contemporary airy, coastal vibe, and all furnishings were included in the sale.

Sandra Bullock isn't the only celebrity to discover the tranquility of Tybee. Other stars have also been keeping it under their hats such as musician-actor John Mellencamp and best-selling-author Mary Kay Andrews, who also have homes on the island. Miley Cyrus and John Travolta have frequented the area and, although his home is on Hampton Island, one of Ben Affleck's favorite restaurants, the North Beach Bar and Grill, is also on Tybee. When celebrities unwind and want a little fun, they can hop over to Savannah for a dose of deep-south exploration.

Academy Award-winning Bullock tested the waters of Netflix as so many Hollywood actors have been doing recently. Her film Bird Box was so successful that she has signed to star in their film Unforgiven. She will also be producing and starring in The Lost City of D for Paramount in 2021.