Keiynan Lonsdale has today released his thirst-quenching single and sensual music video clip for his sultry new track, "Rhythm & Music" to the Australian market.

The multi-talented Australian actor, singer-song writer and dancer has quickly made a name for himself as a multi-hyphenate talent, starring in major motion pictures, television series and now independently releasing his own original music.

From "Dance Academy" to Hollywood fame, the accomplished actor was the 2020 recipient of GQ Magazine's "Actor of the Year" Award and has most recently been seen oozing coastal cool in the sun-drenched drama, "Eden".

Lonsdale is no stranger to the screen, he has been confirmed as a lead actor in the LGBTQ Rom-Com "My Fake Boyfriend" from Lionsgate & Buzzfeed, featured in the #1 Netflix feature film "Work It", had a starring role in Twentieth Century Fox's film "Love, Simon," which garnered $66 million at the world-wide box office making it one of the top 10 highest grossing teen romance movies of all time and is one of the first openly queer actors to play the iconic Wally West superhero in the hit CW series "The Flash".

Aside from his work in film and television, Lonsdale is extremely passionate about creating music, and is constantly writing and recording new records. His independently released album "Rainbow Boy" earned him a nomination for 'Outstanding Breakthrough Music Artist' at the 2021 GLAAD Music Awards and reached over 5 million streams in just a few months. And his recent performances for Billboard & Stonewall has cemented his passion and talent as a triple threat performer.

The Aussie-raised, LA-cultured pop star shows his stripes as a highly trained dancer, actor and musician in this raw and sensually-charged new video clip "Rhythm & Music", championing his identity with a touch of 80's nostalgia.

'I think Rhythm & Music really shows me at my most stripped back and highlights my passion and confidence. It is representative of my journey to being unapologetically who I am today. The right energies really came together in this video clip, I hope it strikes a chord with people." - Keiynan Lonsdale

"Rhythm & Music" is the first release in a string of productions through which Lonsdale intends to share with his Australian fanbase, who have grown up with him from the time he was the face of MTV Australia and New Zealand until 2014 and his breaking role as Ollie Lloyd in the hit television series, Dance Academy.


Interview with Keiynan Lonsdale
Question: How would you describe your music?

Keiynan Lonsdale: Eclectic fantasy storytelling with Pop & RnB roots.


Question: What inspired Rhythm & Music?

Keiynan Lonsdale: We wanted to make something that had a nostalgic 80's edge to it, something as an ode to my love for Michael Jackson. Lyrically, it was inspired by my desire to try non monogamy.


Question: Can you tell us about the music video?

Keiynan Lonsdale: It's a call back to my dance roots, and I wanted to involve some romantic chemistry that felt tense and charged. The whole thing lives in this both very grounded stripped back space as well as in this fantasy dream like state. I had the best time shooting it, everyone involved in the production was a dancer at some point in their careers as well, which meant that we were all speaking the same language.


Question: Is there a particular message you hope listeners take from your music?

Keiynan Lonsdale: Live free of your own chains, the ones they made us believe in. Be your own champion, even if you've spent so long being your own worst enemy. Forgive life for it's often unjust reality, accept what, where and who people are, and embrace the mess of humans - I believe this offers a clearer perspective of how to navigate the world with the kind of unconditional love that gives you your best chance at peace.


Question: How has LA influenced your career?

Keiynan Lonsdale: Well it's a true creative hub, full of artists from all over the world.. including many Australians. With it has come many harsh lessons, and many beautiful and cool ones too. I think I always knew I wanted to be here, to have the chance at certain acting projects and to be seen/heard in certain music spaces. Most of all, living in this strange awesome place has fostered creative assertion and more freedom to be whoever I want to be, I've become maybe a bit more whacky and confident to make bold career decisions.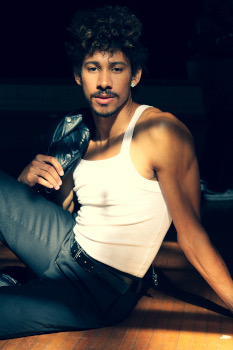 Question: Do you prefer singing or acting?

Keiynan Lonsdale: I love storytelling. Usually I find that music allows me more freedom to tell the stories the way I believe I can do best, through singing, acting and dancing.


Question: What motivates you most when writing music?

Keiynan Lonsdale: It depends, most times I write based on what I'm feeling strongly at the time, it could be about love, romantic relationships, the world, family, an insecurity, self-realisation… and sometimes I'm writing to escape from what I'm feeling.


Question: Which music/artists are you currently listening to?

Keiynan Lonsdale: Olamide, Peter Collins, Joyner Lucas, Kai, Laura Mvula.


Question: What or who was your inspiration to go into the music/acting industry?

Keiynan Lonsdale: MJ and Janet Jackson were obviously big role models. Usher, Boys 2 Men, Neyo, Chris Brown, Beyonce, Ciara, Rihanna, James Fauntleroy…. these were some of the folks I looked to growing up. Films like The Wiz, Harry Potter, The Fifth Element, American Dream, Save The Last Dance, Center Stage, Men In Black, Jurassic Park, Moulin Rouge…. they got me hooked to the big screen.


Question:
Keiynan Lonsdale: Anyone from the above list would be a dream come true and I wouldn't know what to do with myself. It's a dream to write with James Fauntleroy one day, in fact I've been holding back reaching out to him about it so I'm going to do it right now lol. Also, I got to work alongside Neyo earlier this year for 4 months on STARZ 'Step Up' Season 3… I had to pinch myself so many times, he's been a hero of mine for a long time.


Question: What moment in your career stands out the most?

Keiynan Lonsdale: Filming Step Up this year was definitely a huge stand out moment for me. Starting as a dancer in Australia and getting to train with some of the best while growing up... and then getting to film a show in Atlanta doing the combination of all the arts I love, surrounded by some of the best dancers on this side of the planet… it was full circle. It pushed me past limits, and I loved the gruelling training of being a full time dancer again.


Question: What advice do you have for aspiring artists?

Keiynan Lonsdale: If you connect with multiple forms of art and storytelling, then nurture them all, you don't have to identify with only one if that's not who you feel you are. Each form can and will inform the other, and you become more well-rounded.


Question: What's a typical day like?

Keiynan Lonsdale: It can be chaos or it can be complete calm. Most days I am bouncing around to several different kinds of jobs / tasks, it might look like a tornado on the outside, but it's how I make the best progress in different areas and it keeps my brain firing. I always find time to dance and have music going in between or during the work though, I try to keep it a good time.


Question: What's next, for you?

Keiynan Lonsdale: I just wrapped up a really dope Rom Com film in Toronto Canada called My Fake Boyfriend, that'll be out next year sometime. I just got back to LA so I'm taking off the film set hat for a good while and diving back into music full time. We have the next release and visuals to shoot, I'm back in the recording studio writing, and I'm prepping for my next live show… it'll be the biggest I've done to date.


Question: Can you share your socials? (links please)

Keiynan Lonsdale: Instagram


Interview by Gwen van Montfort