Kate McArthur-Jones The Hidden Health Cost Of High Heels Interview
Many women can relate to the love hate relationship when it comes to high heeled shoes. In the name of fashion we've all crammed our feet into tight fitting; stiff shoes at one point, or subjected them to the unnatural angles of stiletto high heels. Walking from meeting to meeting and standing in them all day, do your shoes leave you wincing in pain? Mister Minit's resident podiatrist, and owner of City Feet Clinic, Kate McArthur-Jones shares the most common foot problems which can all be easily avoided and simply treated.

'While the high-fashion shoe options are often beautiful and on-trend, wearing them every day may lead to serious health consequences. We tend to find shoes that work with outfits, make our feet look smaller and often ignore the functional role of a shoe," Kate says.

'Women need to educate themselves on the hazards of wearing heels so they can protect themselves from developing a painful, acute condition or a chronic physical illness that only lengthy, professional medical treatment can reverse."

Most of the women that Kate sees at her practice have experienced the dull throb of aching feet. Although an increase in standing or walking may be the cause, the culprit is often ill-fitting shoes. Below Kate expands on some of the most common issues she sees:

Aching on the balls of your feet

Wearing high-heels raise your heel and cause your center of gravity to be pushed forward, shifting your body weight onto the balls of your feet. In fact, 75% of your body's weight is applied to the balls of your feet when wearing heels. Inserting cushioning, such as a Miss Minit Velvet Soft Cushion ($9.95), will help ease the pain and give your shoe a bit of extra padding for those occasions where high heels are a must!

Lower back pain

After spending a day walking around in heels most people feel a bit of pain in their lower back, this is caused by the way the high-heels place the foot. High-heels put feet into an unnatural position, affecting both the foot and your posture. Taking shorter strides will reduce the load on the hip flexors and reduce any lower back pain.

Tight around the toes

It's quite self-evident cramming your toes into a narrow toe box, or ignoring the pain can also cause damage to nerves, toes and toe nails, it can even cause bunions. The problem of too-tight-shoes actually has a very simple solution; Mister Minit can stretch leather shoes by up to half a size.

Another issue of having a reduced internal space at the front of your shoes is that you can cause swollen joints or pesky nodules to develop on your toes. These nodules are the result of pressure points caused by ill-fitting shoes. A number of solutions exist including Miss Minit gel heel grips ($6.95) to help keep the shoe secure to the foot. Layering comfort items such as Miss Minit Foam Latex Cushions ($9.95) and Miss Minit Velvet Cushions ($9.95) will assist pushing the toes forward and keep them from holding onto your shoes.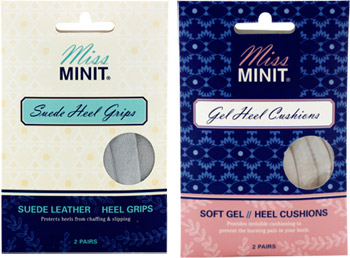 Stretched Achilles Tendons

Your Achilles tendon run up the back of your leg from the heel and is easily injured from prolonged high-heel wearing. The tendon is designed to be flexible, it's meant to move easily when the foot moves around. But prolonged high-heel wearing can shorten the tendon because the tendon is tightened as the heel is constantly pointed upwards. To avoid serious damage to the Achilles tendon you should avoid wearing heels for long periods, and also avoid wearing them on consecutive days.

The good news is you don't have to give up high heels for good, but to avoid any long term damage here are Kate's five top remedies:
Next time you're out shoe shopping make a few sensible decisions – try and select shoes with low heels and a wide heel base, or even better, a slightly thicker heel. Narrow, stiletto-type heels provide little support for your feet.
Make sure your shoes fit properly. You don't want to buy shoes were your feet are sliding around. Slip in a pair of the Miss Minit Gel Heel Cushions ($9.95) to ensure a snug fit.
Try and wear heels on the days you know you don't have as much walking or standing to do.
Wear soft insoles like Miss Minit Foam Latex Cushions ($9.95) to reduce impact and push feet away from the toe box.
Alternate your shoes, wear heels one day, a wedge the next and then some flats to give your feet a rest.

For more repairs, products or advice, visit one of Mister Minit's 254 stores nationally. All shoe repairs have a six month wear and workmanship guarantee. For more information and store information visit www.misterminit.com.au.



Interview with Kate McArthur-Jones
Question: How can we combat the effects of wearing high heeled shoes, daily?

Kate McArthur-Jones: There are a few things you can do to ensure you're looking after your feet. Try and change up the shoes you wear, change heel height, widths, toe box shapes (alternate between pointed, rounded, or squared toes), platform, non-platform etc. You can also use products like the Miss Minit Velvet Soft Cushions ($9.95), these give your feet a bit more cushioning at the ball and reduce forefoot loading.


Question: What are the main health concerns you see from women who wear high heeled shoes?

Kate McArthur-Jones: The main health concerns I see are, pain in lower back, hips, knees. I also get a lot of patients with tightness in calves, weakness in quads.


Question: Are there certain high heeled shoes that are better for our feet, than others?

Kate McArthur-Jones: While all heels can cause long term issues, wearing a wider heel will give you a sturdier step. The other thing to look out for is a wider forefoot, make sure the area around your toes isn't too tight or too loose.


Question: Can wearing high heels have long term health affects?

Kate McArthur-Jones: They can, as mentioned above I see women for a range of health issues which are directly related to their shoes. High heels aren't the best for us, so you need to pay close attention to any pains or aches after wearing heels and consult your podiatrist.


Question: How often should we wear flat shoes instead of heels?

Kate McArthur-Jones: A lot of flats available today are almost or just as bad as heels. They will claw the toes to fit into tight shoes and this makes the muscles work just as poorly as heels do. However, all that said, they are better for your feet than heels so you should try and wear them more often.


Question: When wearing heels, how do you avoid foot problems?

Kate McArthur-Jones: Try to only wear heels on days when you don't have a lot of walking to do, less time on your feet will minimise the damage. You should also always use in shoe products to give your feet extra cushioning and support. The Miss Minit Foam Latex cushions (two pairs for $9.95) provide extra support for your feet and pairing these with some Miss Minit Gel Heel Grips ($6.95) will not only reduce the risk of blisters, it will also secure your foot into your shoe and offer maximum support.


Question: Can you talk us through how to know whether a shoe fits us correctly?

Kate McArthur-Jones: This requires an appointment with your podiatrist/shoe specialist as every person and shoe are extremely different and would require different approaches per person. If you do buy a pair of shoes that are too tight around your toes you can always take them into a Mister Minit repairs store and they will be able to stretch the shoe out for you.


Question: What originally inspired your interest in Podiatry?

Kate McArthur-Jones: All through my youth I was interested in outdoor activities like mountaineering, kayaking, rock-climbing and horse riding. As a teenager I moved to a warmer climate and got a job in an outdoors store, here I worked in the footwear section. At age 18 I was offered a podiatry scholarship to do podiatry. I love biomechanics and luckily have a cast iron stomach :) Sometimes I think my job should also be called a professional problem solver.


Question: How often should a woman who wears heels visit a podiatrist?

Kate McArthur-Jones: This is really a case by case question, if you're wearing them a lot you should book in now just to get an understanding of the damage you might be causing your feet, but also to find out what you can be doing to prevent any further damage. Depending on how quick thickened skin builds up and if you're having any toe nail problems, you should be considering visiting a podiatrist anywhere from every four weeks to every three months. Try and think of it as a medical pedicure.


Interview by Brooke Hunter