Kate Kendall Blackmores Wellbeing Check Interview
The Blackmores Wellbeing Check offers consumers a personalised summary of their overall health and wellbeing, at www.wellbeingcheck.com.au. This interactive portal aims to empower all Australians to feel their best and be a well being in 2016.



Interview with Co-founder and Director of Yoga at Flow Athletic, Kate Kendall
Question: How do you begin your day?

Kate Kendall : A typical day for me starts with a big glass of water before I sit down to meditate, and then breakfast is usually a really hearty smoothie.

I also do a personal yoga practice every day. I have to; it's my medicine and burns up the crazy! It can be anything from 20 to 90 minutes depending on how much time I have and what I've got the energy for. I feel like the older I get, the more gentle my practice is, and the kinder I need to be to myself.


Question: Why should we be taking mindfulness seriously, in 2016?

Kate Kendall : To me, stillness is the most important ingredient for personal wellbeing that we have in today's society. Sure, we may be still when we're watching TV or reading a book, but I'm talking about real stillness, where you're lying back or sitting in meditation and just taking a few minutes to completely digest and reflect on the day. We need to create more space in our lives to simply -be'.


Question: What is your top three tips for beginning to be more mindful?

Kate Kendall : Firstly, be still. Find two to three moments in the day (including the very start of it, in the morning) to be completely still and just observe the breath. Stillness is the most under-utilised tool we have for productivity and fulfilment.

Secondly, practice mindful eating. When you're eating, eat slowly and savour each mouthful. Not only will you be less likely to over eat but your digestive system will thank you. Be mindful of the types of foods that over stimulate and cause -crashes', (typically caffeine and sugar). Instead, opt for natural sources of energy and vitality such as the Blackmores range of superfoods, which have added Nature Boost – concentrated vitamins and nutrients, extracted from nature to further enhance the superfoods existing nutritional content.

Thirdly, make time to digest your day. At the end of your day, take five minutes to sit and reflect. Acknowledge the conversations, actions and activities in your day. Give gratitude for the things that were great and – without necessarily wading in them – recognise the areas you could have acted with more integrity or kindness. Processing your day is key to sleeping well and clearing your head.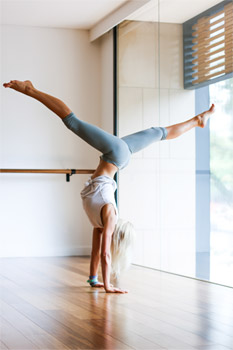 Question: How does yoga relate directly to mindfulness?

Kate Kendall : The practice of yoga teaches us to be present in the moment; it trains us to feel more deeply, focus more intently, engage more passionately and savour the feelings and sensations around you everyday… and that is mindfulness.

Personally, yoga has taught me to have more gratitude, to be more aware of my thoughts and to stop being so crazy! The physical benefits are just the cherry on top. Yes it can give you long, lean muscles and yes it has been the practice that has shaped and transformed my body more than anything else, but the real gold is in the mental benefits.


Question: What advice do you have for someone who is new to yoga?

Kate Kendall : My advice for someone new to yoga is to be kind to yourself and only ever do what feels right for you personally. Don't ever judge yourself or compare your posture to the person next to you. Yoga is about a lot more than just poses and it teaches you skills that you can use off the mat in every day situations no matter what you are doing. It's important to remember that yoga means something different to everyone single person and as such, everyone takes something different from it.


Question: What should we take and wear to our first yoga class?

Kate Kendall : Something supremely comfortable!


Question: Can you share your top five wellbeing tips?

1. Kate Kendall : Take time for stillness each and every day
2. Also make time for gentle exercise each and every day
3. Make a date with nature at least twice a week – be it a big nature walk, a dip in the ocean or getting bare foot in the park on your lunch break.
4. Create more space in your schedule to dream. Block out times in your week where it's just you in the -dream room'
5. Have more belly laughs – which means you get to hang out with people who make your sides hurt, watch funny TED talks and TV shows and generally have more fun.


Question: Can you talk us through your favourite meals?

Kate Kendall : I'm a bit of a routine kind of girl; I like my rituals and routines when it comes to eating. A typical day for me starts with a big glass of water before I sit down to meditate, and then breakfast is usually a really hearty smoothie. We're really lucky to have Orchard St just across the road from my work and they do great smoothies. If I make it myself I'll add in things like spinach, chia seeds, banana and coconut water so it's quite filling. Morning tea is a handful of nuts, and lunch might be a takeaway vegan salad from Orchard St. They do this awesome Buddha bowl salad with half an avocado and loads of cabbage, spinach and seaweed. Quite often I'll add some extra protein like grilled fish. Afternoon tea is a piece of fruit or a protein bar, but it has to be a pretty clean one. Dinner is really simple – one of my go-to dishes involves steaming my favourite vegetables like squash, asparagus, bok choy and red onion, putting them in a bowl (because everything tastes better in a bowl!), then mixing in half an avocado, some hummus, fresh fish and cayenne pepper or chilli flakes. Stir that all up and it creates a beautiful, creamy bowl of deliciousness. I am getting more and more experimental with my cooking. I love Lola Berry's cookbooks and Jess Sepel has got some good recipes too.

If I'm eating out, I choose the fresher, closer to the earth options. For instance, if I'm at an Italian restaurant I might order the fish dish. I also love Japanese, Vietnamese and tapas.


Question: Do you have a delicious smoothie recipe to share?

Kate Kendall : At the moment, this is my favourite smoothie, especially for the mornings when I need a little extra boost.

Blackmores Matcha Green Tea + Nature Boost Vitamin
Frozen Banana
Chopped apple
Spinach
Cucumber
Fresh mint
Almond milk
Coconut milk


Question: What did you get on the Blackmores Wellbeing Check?

Kate Kendall : 92%! (You can do this here www.wellbeingcheck.com.au)


Interview by Brooke Hunter