Growing up in Canada, and at the age of sixteen, her performance on a Canadian television show caught the eye of none other than Celine Dion. The world-renowned diva went on to ask Karine to perform at her wedding."That was really the start," she recalls. "It was such an incredible moment, and I was driven to pursue this endlessly to fulfill my dreams as a world class singer.

Karine relocated to New York City. Within weeks of moving to the Big Apple, she linked up with none other than Jim Steinman (Meat Loaf, "Bat Out Of Hell") and began collaborating with him. For the next few years, nearly every major label courted her, but she didn't find a home until Cash Money Records/Republic Records/Universal music co-founders Ronald "Slim" Williams and Bryan "Baby" Williams heard a recording from her in their lawyer's office and signed her. She is their one and only signed artist that is a pop artist.

Their partnership kicked off with Karine's incendiary debut single "Burning Up", co-written and produced by Josh Harris. Climbing the billboard charts and making it all the way to number five.

That's only a prelude to what followed. Her next single co-written by Michael Jay called "Victory" which landed in the top 10 on the Billboard charts. Karine nods her vocal influences to legends such as Gladys Knight, Patti LaBelle, Jennifer Holiday, and as well as French and European artists she heard on the radio as a child. As a result, she's got something completely her own and electrifying.

Ultimately, Karine stands poised to capture the world's attention with her voice. "I want people to feel something massive in their soul after listening to me interpret a song, whether it's an original or a cover tune," I sing from the soul, and I hope it reaches listeners."

Karine's new cover of Van Halen's hit "Jump" strips away the wildness of David Lee Roth, and instead pulls at your heartstrings as this up-beat classic power ballad goes classical. Instead of the use of an attentive synth, the music flows through a beautiful piano melody. These simplistic instrumentals allow Karine's soulful, honest voice to shine through. Karine's voice is filled with elements of an authentic 80s ballad with a mix of grit, glottal attacks, and rasp. Van Halen's "Jump" is a song that had us want to dance madly, but Karine gives us a more tender perspective of the lyrics. "You gotta roll with the punches to get to what's real" now feels like a sentimental ballad, and allows us to relive the classics in a more honest fashion.


Interview with Karine Hannah
Question: How would you describe your music?

Karine Hannah: I would describe my music as "adult contemporary, over the top pop".


Question: Can you tell us about your cover of Jump?

Karine Hannah: Jump is one of those songs that has an infectious anthemic synthesized 80s theme, originally done by Van Halen. People know it as an up-tempo song and I completely reimagined it and made it into a tender ballad.

Question:
Is there a particular message you hope listeners take from your music?
Karine Hannah:
I hope that when they hear my music, that the way that I interpret every song, the emotions and soul touch them and make them feel happy, or sad or a euphoric feeling.
Question:
How has moving to New York influenced your music?
Karine Hannah:
I think moving to New York was one of the greatest things that I ever did musically. Coming from Montreal, I grew up with American music, Canadian music and euro music. I was heavily influenced by European music and coming to New York, the whole singer-songwriter vibe and how they construct a song and the melodies have made me a more well round artist.
Question:
How does it feel to have worked with Jim Steinman and sing for Celine Dion's wedding?
Karine Hannah:
Working with Jim's team it was a dream come true. I was obsessed with his music when I was a kid. His sound resonated with me so strongly, that I almost felt at a very young age that his music should be my music and then how my voice on a demo got to him somehow and the rest was history. It was surreal, because of all songwriters in the world he would have been my number one. It must've been fate. And of course singing at Celine Dion's wedding was also a dream come true, she spotted me on a local French TV show and was blown away, contacted my manager… it was a night I'll never forget. I couldn't believe that Celine Dion was dancing to me singing and standing there and applauding to me along with her 500 guests. I'll never forget how we sat on the floor of the ballroom at the end of the night, Celine was in her massive dress and had a 50 pound headpiece on her head. She was complaining to me that it was killing her and felt so heavy. A few days later in the news there was a picture of her, with a hairdresser and how they had to literally cut it out of her head it was stuck. And she had long hair, they had to cut it short. Great memories…
Question:
Which is your favourite song to perform live and why?
Karine Hannah:
That's a loaded question. I think that if you ask any artist a question it would be hard to answer unless they are on the road currently and have a specific Setlist that they can choose from. I can't answer it because I have a favorite depending on the song list. I have a love for so many songs it's crazy...
Question:
Which music/artists are you currently listening to?
Karine Hannah:
I am listening to Adele, Bruno Mars, John Farnham, James Morrison, the Weeknd, Tina Arena, Dua Lipa, and then the rest is 80s, classic bands like Toto, Journey, Genesis, Little river band and 70s pop hits.
Question:
What or who was your inspiration to go into the music industry?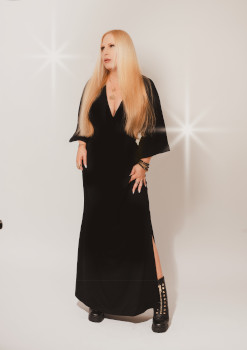 Karine Hannah:
I would have to say big vocalists such as Barbra Streisand, Gladys Knight, Patti LaBelle, Celine Dion, Tom Jones. Hearing them as a vocalist, and feeling like I was one of them, definitely propelled me to do what I'm doing in the music industry. This is all the earliest influences and all through my mother.
Question:
If you could collaborate with another artist, who would it be?
Karine Hannah:
I would have to say James Morrison. He is so talented, incredible singer songwriter, great vocalist and has such a soul for Voice. It would be so cool to do a duet with him.
Question:
What moment in your career stands out the most?
Karine Hannah:
Probably getting signed to a major label and then doing all the things that come along with the major label like big recording budgets and major music video shoots, travel, tours.. and then having to top 10 billboard charging singles. But of course let's not forget about having the opportunity to record and work with Jim Steinman, and then singing at Celine Dion's wedding. So that's a bunch of career standouts for me.
Question:
Was there a moment you contemplated throwing in the towel?
Karine Hannah:
No I never contemplated it, although record company executives and industry business people well make you feel like you should throw in the towel if you are over the age of 29. Unless you have already succeeded, they make you feel like you're too old to keep trying to break in and become known. If you have the passion, the talent to focus, no one should ever stop you. It's never too late to be creative.
Question:
What has been your favourite part of becoming a music artist?
Karine Hannah:
I would have to say my favorite part is that I get to do what I love for a living, and I wish that everybody had the opportunity to spend their life doing what they do best and not just as a sideline career.
Question:
What's a typical day like?
Karine Hannah:
A typical day for me is going to bed just as most of the world is just waking up, I lead a very vampire-ish life. I sleep in, and then have to have at least one cup of black as night coffee while I go through my messages. I slowly make my way into my home studio and start working on music until I get hungry and then I take a break to eat and get back to it…
Question:
What's next, for you?
Karine Hannah:
I am recording for this album project that the single Jump is part of. And I hope to keep releasing singles, and eventually when the time is right and Covid is less of an issue, I will get on the road and tour.
Question:
Can you share your socials? (links please)
Karine Hannah:
Website
Facebook
Instagram
Interview by Gwen van Montfort