VEN THE EASTER BUNNY WILL BE LEAPING TO TASTE JUMPING GOAT'S EASTER COCKTAILS
With the 'chocolate egg' season right around the corner, many of us are preparing to spend the upcoming long weekend with our families and friends. In the time of decadent lunches and an overload of sweet goodness, it would be remiss not to mention all the incredible things that pair perfectly with your favourite Easter treats. Introducing, the Jumping Goat Easter Cocktail range. Leading coffee-liqueur brand Jumping Goat has leaped into the Australian market just in time to provide you and your loved ones with delicious, caffeine-filled cocktails served in delicious hollow chocolate eggs this Easter.
Jumping Goat Coffee Liqueur was created in 2013 and is now being distributed across 12 countries including Australia most recently, offering two unique coffee-infused varietals including the Jumping Goat Coffee Infused Vodka Liqueur and the Jumping Goat Coffee Infused Whisky Liqueur.
Jumping Goat Liqueurs start by using 100% organic, batch-roasted coffee beans from Papua New Guinea before being mixed with a blend of spices and either pure, redistilled NZ whey vodka or a premium blended whisky…the result? Two handcrafted, high-quality coffee-liqueurs with vibrant and playful attitudes, just waiting to become your new late-night staple or essential cocktail ingredient.
These Easter-Bunny approved cocktails are bound to have you hopping your way delightedly through the weekend festivities, and are perfectly designed with the right balance of coffee, chocolate and liqueur! So, pick yourself up a bottle of Jumping Goat Coffee Liqueur this festive season and try your hand at these 'adults-only' cocktail treats!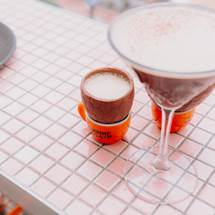 EGGspresso Martini
In a shaker mix 30ml Jumping Goat Vodka Liqueur, 30ml Fresh Espresso Coffee, 1 tbsp Nutella, 10ml Kahlua, 10ml Butterscotch Liquor.
Fill shaker with ice & shake hard.
Double strain into 100g hollow egg or across several mini hollow egg shots.
Garnish with a dust of chocolate powder and a mini caramel egg.
Tipsy Bunny
Muddle 1 Cadbury crème Egg into a shaker.
Mix 20ml Vodka, 20ml Jumping Goat Vodka Liqueur, 20ml Butterscotch Liquor & Crème De Cacao.
Fill shaker with ice & shake hard to help loosen egg.
Single strain into a 100g hollow egg or across several mini hollow egg shots.
Garnish with hot chocolate powder & easter egg.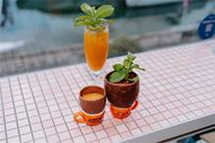 Bunny's Lunch
Layer 1 shot of Jumping Goat Vodka Liqueur & 2 shots of OJ into a 100g hollow easter egg or alternatively a tall prosecco glass.
Garnish with a long mint sprig to resemble a carrot.
Cottontail-tini
Rim martini glass with marshmallow fluff & shredded coconut.
In a shaker, mix 30ml Jumping Goat Vodka, 20ml White Rum, 20ml Coconut Syrup, 20ml Pineapple Juice.
Add ice to shaker and shake hard.
Double strain into a 100g hollow egg or across several mini hollow egg shots
Garnish with large marshmallow.
Jumping Goat Liqueurs have an ABV of 33% and are available to purchase at Dan Murphy's Australia-wide. RRP $55.99.
ABOUT JUMPING GOAT
Jumping Goat's Vodka and Whisky Coffee Liqueurs are produced in Tauranga, New Zealand. They're packed full of real organic coffee and spices, then infused with the best quality base spirits around, all the while having a vibrant and playful attitude that is unlike any other coffee liqueur in the market. Jumping Goat's Coffee Liqueurs have won multiple international awards including Double Gold at the San Francisco Spirits Awards.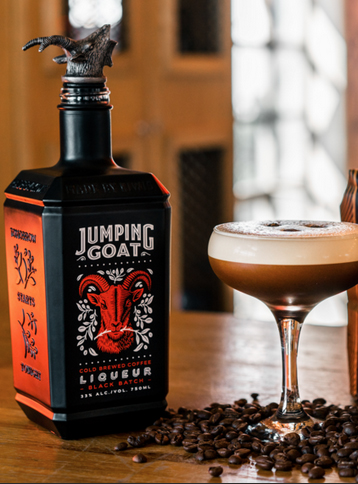 Jumping Goat Coffee Infused Whisky Liqueur
After creating our tasty coffee and vodka elixr, a certain someone had a few too many from the company stash and accidently (but fortuitously) siphoned whisky into our vodka tank. Call it Visky, Wodka, whatever, this cock-up of a concoction will give you a kick with full hoof. This Black Batch Coffee Liquor is the Black Goat of the family. A coffee liquor for shot takers and cocktail makers. Shake it, savour it, sip it or shoot it. Hell, we're not going to tell you how to have a good time.
Review: A delicious blend of Vodka, Whiskey with Coffee flavour. I do love my shots, so this will fit nicely into the collection, not too sweet, but flavoursome with a great coffee kick. Rather enjoyed it on ice as well. The goat pourer is a must, definitely a point of conversation. Interested to try with mixers over the weekend, will let you know.