A free-spirited woman in her 50s seeks out love at L.A. dance clubs.
Cast: Julianne Moore, Sean Astin, Alanna Ubach
Director: Sebastián Lelio
Genre: Comedy, Drama, Romance
Running Time: 101 minutes

Synopsis: Gloria (Julianne Moore) is a free-spirited divorcée who spends her days at a straight-laced office job and her nights on the dance floor, joyfully letting loose at clubs around Los Angeles.

After meeting Arnold (John Turturro) on a night out, she finds herself thrust into an unexpected new romance, filled with both the joys of budding love and the complications of dating, identity, and family.

From Academy Award winning director Sebastián Lelio comes a sophisticated romantic comedy that shows love can strike at any time, relationships are never simple, and nothing can get you down as long as you keep dancing.

Gloria Bell
Release Date: April 25th, 2019


Director's Statement
I am often asked "Why a re-imagining of your own film?" I could talk for hours as to why, but there's one very simple answer: Because of my admiration for Julianne Moore.

I met Julianne on a summer day in Paris in 2015. I had been told that she loved Gloria, but I hadn't thought she would want to remake it. I was close to starting two new movies, and the film was somewhat farther from my thoughts. But the conversation with Julianne was magical. I was touched by her strong passion for Gloria's character and story. At the end of our meeting, she said, "I would only do this if you direct it," and I immediately replied, "And I would only direct it if you are in it."

Having the chance to revisit my own materials, to find a new vehicle to examine what is universal about the original story and to see it reborn with a supreme artist like Julianne Moore was too tempting, too exciting. Having the chance to work with Julianne, John Turturro and the other amazing actors was revitalizing and inspiring.

Gloria Bell is like the cover of a melody that we created, played again in a new moment, in a new context, and by a new band. We tried to honor the discoveries and DNA of the original film; at the same time, we were searching for new tones, new vibrations, new sparkles. We did it for the joy of making a film, for the excitement of the risk, and for the artistic challenge. It was an act of freedom.

Gloria Bell is a very intense and incisive portrait of a woman. We see her in every frame of the film. Every single scene is about how she exists in the world, moment by moment. Gloria is kind of a secondary character in the life of those around her. The game of the film is to turn that secondary character into an absolute protagonist. It's about leading the spectator to observe this woman from every possible angle, going through the entire emotional spectrum.

This insistence invites (or forces) the spectator to go underneath Gloria's skin and to feel her experiences from within her. Because the spectator never stops looking at her, there is the opportunity to deeply connect with her feelings. For me, Gloria Bell is a film about feelings – Gloria's and our own.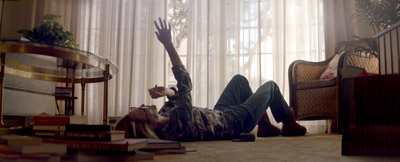 I made two films after the original Gloria " A Fantastic Woman and Disobedience " so I was somewhere else as a person and as a filmmaker when we started shooting Gloria Bell. I suppose that new place from where I was operating made its way into the fabric of the film; in terms of the style, colors, camera language, the way of using score. There is a new energy that lives in the film.

The world has also drastically changed since 2013. It seems to have moved backward in terms of politics with the re-emergence of the extreme right. Suddenly everything is once again operating from that old place of fear. Frontiers are closing rather than expanding to embrace the complexity and diversity of life, so the story of a woman who refuses to give up has a new urgency, a new relevance. She claims her right to be seen and heard, her access to pleasure, her will to keep dancing.

Like everyone, Gloria gets hit by the world, but she continues to stand up. She resurrects herself and keeps on looking to experience the beauty of life. That is my inspiration and reason for sharing her story " for the Glorias of the world to been seen and heard.
- Sebastián Lelio

Gloria Bell
Release Date: April 25th, 2019