Create your own Summer inspired mocktail or cocktail with The Juice Brothers Sparkling
The Juice Brothers Sparkling fruit drinks range is made with 30% real Aussie fruit juice and refreshing sparkling water, contains no added sugar and less than 50 calories each making them the perfect soft drink replacement.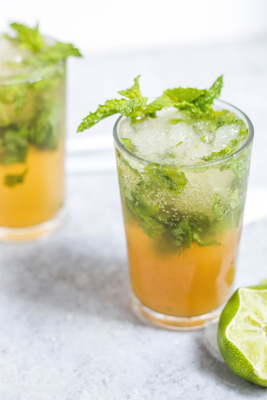 Ingredients
1 x highball glass
1 x muddler
1 x bottle of your favourite Juice Brothers Sparkling Fruit Drink
5 x ice cubes
Muddling ingredients (dependent on your chosen Juice Brothers Sparkling Fruit Drink flavour)
50ml of Cape Grim 666 Vodka (for cocktails, only).

Method
Add your muddling ingredients to a highball glass, choose from the following:
Apple and Raspberry: seasonal berries, a slice of lemon and a pinch of lemon zest
Apple, Pear and Blueberry: a handful of blueberries and a sprig of mint
Orange: a spring of rosemary and a twist of orange rind
Tropical Fruits: fresh passionfruit pulp and a few mint leaves

Using a muddler, press down lightly on your ingredients against the side of the glass and give a few gentle twists to extract maximum flavour
Add the ice cubes to the glass
Roll your chosen bottle of The Juice Brothers Sparkling Fruit Drink to blend the fruit throughout and pour into the glass
Sip and enjoy the fresh, sparkling goodness.
To turn this delicious mocktail into a cocktail, simply add 50ml of Cape Grim 666 Vodka.