Jill Ogai Telstra Ballet Dancer Award Interview
When you look up on the stage watching a ballet performance – everything is so polished, perfect and profound. As an audience member, you'd think that these spectacular dancers have had their hair and make-up done for them professionally every night to look that remarkable. Well, you might be surprised to hear that they actually do their own hair and make-up…! Somehow fit in between all the practice, rehearsals and workouts they do each day.

The Australian Ballet and Telstra have recently announced six incredible dancers as nominees for the most prestigious prize in Australian ballet, the Telstra Ballet Dancer Award, an Award that helps dancers rise the ranks. These six dancers are in the running for one of two prizes, the coveted $20,000 prize for the grand winner, and also the People's Choice Award, decided by public vote which receives $5,000.



Interview with Jill Ogai
With a Japanese father, there's been one phrase that sticks in her mind and pushes her to where she is today: -Ichi-go, ichi-e'. Jill was born in Sydney in 1993, and grew up on Bondi Beach. At the age of four she and her twin brother, after watching a ballet video, surprised their parents by asking if they could start ballet classes. She began at The Ballet Class Rose Bay. When her family moved to Adelaide she continued training with Sheila Laing and Elayne Cherry before moving to Melbourne at age 14 to begin full-time studies at The Australian Ballet School. Jill toured with The Dancers Company in 2010 and 2011 and joined The Australian Ballet Company in 2012.

Jill has a twin brother, Oscar, and at age 8 he was her first pas de deux partner. In her spare time, Jill likes to paint, draw, make origami and her own clothing. She also enjoys doing hip hop / jazz classes and going for a bodysurf at the beach.

She met her boyfriend on a bus one day. She saw him in front of her and knew that was the love of her life – she promised herself that if she ever saw him again she would do something about it. So next time she saw him she made an origami crane, wrote her name on it and her number. He later messaged her and said -you're amazing at origami, I'm sorry I'm in a relationship'… four years later, they're now together.


Question: How does it feel to be chosen as a nominee for the Telstra Ballet Dancer Award?

Jill Ogai: It's a huge honor to be nominee for the Telstra Ballet Dancer Award this year. It's recognition of how I've developed and what I've achieved as a dancer, but it's also inspired me to push myself to meet the standard of the dancers that have previously been nominated. It's not often that I pause and give myself a pat on the back, but when I found out I had been nominated, I was proud of myself.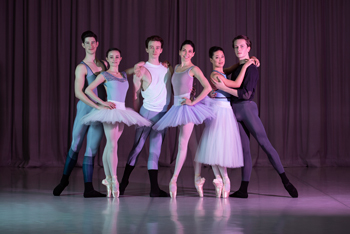 Question: Can you talk us through a typical day, for you?

Jill Ogai: I start my day off with a good breakfast, a coffee, and then head to the studios for Pilates, strength training or a general warm up. I then do a ballet class, which gets me in tune with my body, and is also the best opportunity to push myself and improve my technique. After class I launch into two and a half hours of rehearsals for an upcoming season. At the moment it's a mix of the modern ballet -Nijinsky' and a ballet classic, -Coppelia.' I then have a few hours off, which I spend by having a balanced meal, and sometimes a physio session before heading into the theatre to prepare for the show. I generally start makeup and hair around 5.30, then warm up at 6.30, and add all the finishing touches around 7 which leaves me half an hour to go through steps and get into the right headspace for the show. After the show I like to get home, take a shower (usually a long one because I have to get all the hairspray, gel and makeup well and truly off….), have something to eat, read a book (I read a variety, right now I'm obsessed with the Shadowhunter series…) and then SLEEP!


Question: Can you provide your tips to perfecting a ballet dancer's natural look?

Jill Ogai: Perfecting a ballet dancer's natural look comes down to balance, and working with the natural structure of your face. Don't try and create someone else's cheekbones, or someone else's shaped eyes, focus on highlighting your own! Once I have an even base, have shaped my eyebrows, and applied mascara, I shade underneath my cheekbones and above my eyes to accentuate my natural bone structure. I then apply a touch of blush to the apple of my cheek and lightly apply highlights to the top of my cheekbones and around my eyes. My best tip is to use a hand mirror to check all the angles of your face, especially your profile. Notice your expressions, the way your cheeks curve and move when you smile and make sure you are shading just enough, but not too much! You don't want to hide behind your makeup you want your expressions to shine through!


Question: How did you go about learning these stage makeup techniques?

Jill Ogai: Advice, feedback, experimenting, watching and more advice! I am still constantly learning, and playing with subtle techniques. Don't be afraid to ask someone you trust about what they think, and what could be better. I often ask dancers with lots of experience if they can have a look when I'm on stage, because sometimes things change under lights! My mum said to me after one show, -your lipstick was very red!!!' and I've now changed to a warmer slightly lighter red, because after all, I can't see myself from the audience! All the details are important!


Question: Do you also do your own hair?

Jill Ogai: Yes! I've always loved doing my hair, and I am constantly being asked to do other girls'. Especially to braid and to fix up French rolls! For performances, I always use lots of hairspray and gel to keep everything immaculate and in place. Except for a season last year! I was part of an amazing contemporary work called -Filagree and Shadow' and at the time I had a short bob. The choreographer wanted me to take my hair out so I would flick my head around more when I was dancing, and he loved it so much, he asked me to keep it for the performances!


Question: What originally inspired your love of ballet?

Jill Ogai: When I was 4 years old, my father rented a video of a performance of Swan Lake. I fell in love with the sheer beauty of it. The shapes, the movement, emotion and the music. I then started ballet classes, and the way it made me feel, made me fall even deeper in love with it.


Question: Do you have pre-show rituals?

Jill Ogai: My only ritual is when it comes to my pointe shoes. I put them on early and put socks over them to warm them up, but I don't tie up the ribbons properly until I'm side stage. I tie and untie the ribbons about 3 times until they feel perfect. If they happen to feel great the first time though, I just go with it!


Question: Can you talk us through your diet and training schedule?

Jill Ogai: I tailor my training schedule depending on how heavy my workload in rehearsals and performances are. Pilates is always a constant as it keeps my strength and alignment in check, and helps balance out my body if I'm being overworked in a particular area in rehearsals. I also try to do a few cardio sessions a week, which trains me to be able to push further in class and rehearsals, and helps me reach the peak of my fitness for a performance season. In terms of my diet, I love cooking, and try to cook all my meals. It means I'm constantly getting a good balance of vegetables, protein and carbohydrate. I dance better when I am well nourished, and I also have much better focus, concentration and mood, all vital for a ballet dancer.


Question: What advice do you have for young ballerinas?

Jill Ogai: Be kind to yourself, listen more, and learn even more. Sweat, work hard, experiment in the studio, and when you perform, let yourself be free and let that work carry you through effortlessly. And I know I talked about contouring, shading, blush and highlighter, but when it comes to perfecting any look, ballet dancer or not, the most important thing is to be joyous and smile.


Interview by Brooke Hunter