Break the Cycle and Help a Little Sister Fly
There are too many teenage girls that have experienced domestic violence, abuse, neglect and poverty in Australia.

SISTER2sister is a program designed to break this cycle, helping Australia's most marginalised girls grow into strong independent women capable of taking their place in the world. Since inception, it has changed the lives of 500 young women.

Being the only program of its kind in Australia, SISTER2sister needs more support to help keep up with demand of at-risk teen girls that come their way. That's why SISTER2sister is calling on Australians to 'help a little sister fly' and actively support their mission in doubling the amount of vulnerable at-risk teenage girls in their life-changing programs by 2020.

SISTER2sister partners at-risk teen girls with female volunteer mentors or 'big sisters' to support them through an in intensive, year-long one-on-one mentorship and education program.

"Providing an environment fostering self-worth, skills of resilience to overcome challenges, we prepare them with the know-how of mastering life's challenges. We understand that trauma can take time to heal, and just a $58 donation would provide a one-off little sister counselling session, providing her with a safe adult to talk to" says founder and CEO, Jessica Brown.

Of the girls who enter the program:
• 100% come from broken families, live in care or have adult responsibilities
• 59% not feeling safe within their own home
• 87% experienced sexual, emotional and physical abuse of neglect, with basic needs not being met
• 70% bullied at school or online
• 68% attempted suicide or made plans to end their life

The sobering statistics heighten the necessity of the programs efforts to break the generational cycle of suffering, with outcomes that last well into adulthood.

However, the growth and development of the girls at the completion of the program is remarkable:
• 84% of girls go on to finish high school. 64% of those girls will be first generation in their family to do so
• 86% can identify relationships that are bad for them
• 100% feel safe with their big sisters
• 79% now believe in themselves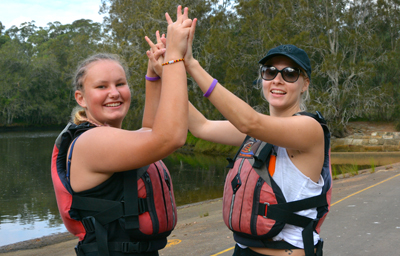 Jessica explains, "although the mentorship runs for a year, the girls forge life-long bonds with their mentors and have continued to receive support, following the completion of the program.

"We wouldn't be able to do what we do without the support from our partner, NIVEA, and the public, which is why our goal is to double those lives we positively impact with our program."

NIVEA has been an active support partner of SISTER2sister for over ten years, including funding, executive-level support and having its own staff involved as 'big sisters'. Over this time, Clynton Bartholomeusz, Beiersdorf Managing Director ANZ, has witnessed the positive impact the program has on 'little sisters', with the majority committing to their education, seeing an increase value in life and believing in themselves.

Clynton explains, "Jessica, her team and the dedicated 'big sisters' have transformed the lives of 500 at-risk teen girls in Australia, yet there is greater demand for their care. NIVEA proudly continues to support SISTER2sister but with your help, their impact can be so much bigger."

To find out more about SISTER2sister, give a donation or join the sisterhood, visit http://sister2sister.org.au and help a little sister fly.


Interview with Jessica Brown, S2S founder and CEO
Question: What is SISTER2sister's goal for 2019?

Jessica Brown: SISTER2Sister's current mission is to double the amount of vulnerable at-risk teenage girls in our life-changing programs by 2020. As the one program of its kind in Australia, we need all the support we can get to keep up with the demand of at-risk girls who want to be part of the program and would love for our fellow Australians to support in any way they can – whether that be giving a donation or joining the sisterhood as a Big Sister.


Question: Can you talk us through one of the transformations that the program has seen, lately?

Jessica Brown: I am constantly overjoyed by the transformations that we see in the Little Sisters throughout the program, each and every one of them is a stronger, more open person than they were when they began. However, one particular story does stand out for me.

Sharon was a teen that joined the program a few years ago, having grown up in Sydney's Western Suburbs Sharon in a highly dysfunctional family with two parents suffering complex mental health issues. She had little self-belief, direction and no one to talk to. Sister2Sister provided her with a safe and stable role model, for the first time in her life, to support and guide her through life's challenges. All she needed was someone to encourage her and believe in her potential and with gained confidence, she started to thrive. Since completing the program, Sharon has now graduated with a business degree, presented on stage with Anthony Robbins in the USA as a youth ambassador and is the founder of her own not-for-profit organisation.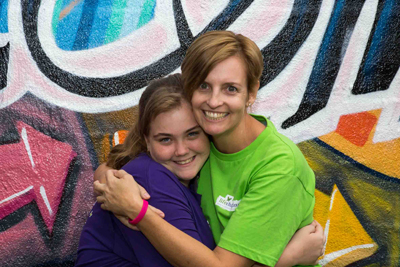 Question: What is the current demand for further mentorship for young Aussie women?

Jessica Brown: The demand really stems from the experiences of the at-risk teen girls that we work with. We work with school counsellors, youth workers, community service caseworkers, welfare agencies and police enforcement to identify the girls in greatest need of education, support and guidance.

All of the girls who enter the program come from broken families, live in care or have adult responsibilities but are also facing other issues that many teen girls have trouble overcoming. For example, 68% of the girls who take part in the program have faced bullying at school or online, 87% have experience some sort of abuse or neglect and have not had their basic needs met, while 68% have attempted suicide or made plans to end their own life. Its these sobering statistics, along with the amazing transformations of the 500 girls that we have worked with since the program's inception that push us to do more and expand the program further.


Question: Who can qualify as a big sister?

Jessica Brown: To become a Big Sister volunteer mentor, you need to be over 25 years of age, have a strong passion to help out your community and motivation to dedicate your time and love to other women and be able to commit for the full 8-month program period. The program includes a three-day mentoring training program alongside Big Sister mentoring meetings and team outings once a month. More information on the Big Sister application process can be found here: http://www.lifechangingexperiences.org/our-programs/sister2sister/apply-to-become-a-big-sister/


Question: How do these big sisters and the programs empower teenage girls?

Jessica Brown: SISTER2sister provides guidance, education, mentoring and a safe-haven for our Little Sisters, to break the cycle of abuse and neglect and help them turn their lives around. By equipping the Little Sisters with crucial survival and life skills, the resilience to overcome challenges, and an environment fostering self-worth, the SISTER2sister mentoring program empowers them to make positive choices for a better future.

Over an 8-month period, the teens and their Big Sisters meet once a month for counselling sessions and workshops aimed at building the girls self-confidence and social skills as well monthly team outings. Each of these sessions in focused on educating and mentoring the girls on topics that are directly applicable to their everyday life and the trauma that they have undertaken such as how to communicate their feelings, self-defence and overcoming self-harm. Although the program only runs for a year, many of the girls forge life-long bonds with their 'sisters' and continue to receive support from them following completion of the program.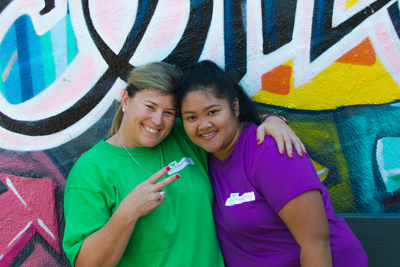 Question: How can Australians support SISTER2sister?

Jessica Brown: Help us 'help a little sister fly' by donating to the program or becoming a Big Sister. No amount is too small, with just a $58 donation proving a little sister with a one-off counselling session, providing her a safe adult to talk to. You can make a donation through the Sister2Sister website here: https://sister2sister.org.au


Question: What's a typical day like, for you, currently?

Jessica Brown: I spend most of my time fundraising to keep the Sister2Sister program going, whether in the form of writing grant proposals or seeking sponsorship for our annual fundraising event, The Crystal Ball. I am also currently working with our long-term support partner, NIVEA on our 2019 campaign. They've brought their agency partners together on a pro bono basis to generate further awareness about the program, and ultimately more donations and support. With many meetings it's been an amazing journey seeing the campaign unfold and I'm blessed to work with such clever and talented people.


Interview by Brooke Hunter