It Is Never Too Late For A Second Act
Cast: Jennifer Lopez, Dave Foley, Vanessa Hudgens, Milo Ventimiglia, Leah Remini, Treat Williams, Freddie Stroma
Director: Peter Segal
Genre: Comedy, Romance
Running Time: 104 minutes

Synopsis: As Maya Vargas (Jennifer Lopez) celebrates her 43rd birthday, she has one wish. A promotion.

After 15 years at Value Shop, the past six as assistant manager, she's ready to run the big box store in Queens. Her resumé doesn't scream upper management, but her track record sure does. She's an innovator who listens to customers, knows what they need and finds a way to deliver. But Value Shop hires "the right man for the job" – a man with an MBA – not GEDcertified Maya. Maya's boyfriend Trey (Milo Ventimiglia) and best friend Joan (Leah Remini) try to boost her spirits, but Maya is frustrated as once again street smarts doesn't equal book smarts. Was her entire future determined when she was 16, or can she actually reinvent herself in her 40's?

That question is at the heart of Second Act, a new comedy from Peter Segal (Anger Management, Tommy Boy), one of today's most successful comedy directors, for STXfilms. Maya's prospects brighten when, out of the blue, she lands an interview at the elite Manhattan consumer products firm, Franklin & Clarke. CEO Anderson Clark himself (Treat Williams) wants to meet her and invites his daughter Zoe (Vanessa Hudgens), a rising star at the company, to check out Maya, too.

While Zoe is skeptical, Anderson is dazzled by Maya's ability to think on her feet – not to mention her Wharton degree, Peace Corps service, mastery of Mandarin and overall power player vibe. But unknown to Zoe, her father, and initially even Maya herself, those credentials were invented by Maya's godson, who surprised her with a brand-new online identity for her birthday.

Thanks to her years of experience working at the Value Shop Maya lands the job, although she's uneasy about the deception, and unsettled about her other secrets, she's confident she can do the job. Her first day at Franklin & Clarke pits Maya against Zoe in a big product development competition. Franklin & Clarke's heavy hitters align with Team Zoe, but Maya and her tiny crew of corporate misfits are determined to succeed.

Second Act
Release Date: Nov 29th, 2018
About The Production
Maya Vargas has ridden the bus to the Ozone Park Value Shop in Queens for 15 years.

Each day, she puts on her smock and name tag and handles the store's business with a firm and friendly hand. She knows she has what it takes to be the boss. The problem is convincing the chain's CEO that she's qualified.

But Maya, still wrestling with choices made as a teenager, has lived with regret ever since, and it's holding her back. The people close to her would say she's suffered long enough. But Maya has never even told her longtime boyfriend about this part of her life, and keeping that secret from him adds to her burden.

Second Act was written by veteran writer Justin Zackman (The Bucket List) and Elaine Goldsmith-Thomas. The idea started incubating with Zackham and Goldsmith-Thomas over six years ago. Goldsmith-Thomas said, "I had this idea about reinvention, why so many people are stuck in lives they don't want dreaming of lives they do, only to realize they had the power all along to change, so I wrote it down and started looking for a writer to collaborate with. I thought Justin Zackham's work had a lyrical quality, and we started talking and really digging in."

Zackham recalled the early days of their collaboration: "We cooked up this story about a woman who feels she never got a fair shake. But then she gets an amazing opportunity, albeit not entirely honestly, that changes everything for her. She gets to know what life is like when your dreams come true."

Goldsmith-Thomas and Zackham pitched the idea to STXfilms and started writing. A couple drafts later, with Jennifer Lopez attached, director Peter Segal entered the picture. Peter, Elaine and Justin hunkered down to take the script to the next level, working on it in various locations, including sleepaway-camp writing sessions in upstate New York.

Goldsmith-Thomas appreciated the input. "Pete opened this thing up and really brought a lot of humor, emotion and pathos," she said. "I've enjoyed every minute of working with him."

Zackham was psyched. "If you are a male around my age, Tommy Boy is a seminal film," he said of Segal's iconic 1995 comedy, starring Chris Farley and David Spade. "We hit it off from the first minute. Also, this is Pete's tenth studio film and he is a pro. He knows exactly what has to happen at every minute and yet he's open to ideas from everyone."

SECOND ACT happened to hit some of the director's sweet spots. "This is the kind of movie I love," he said. "It reminded me of Working Girl, Tootsie, The Secret of My Success – wish fulfillment movies where someone gets a second chance, and a disguise through the storytelling to become a different person. And then of course they have to deal with the fall-out of their lies while achieving their goal. The audience knows you're heading towards a cliff. They enjoy it, but also cringe at what they know is about to happen."

He responded to the story's emotional side, too. "Maya really is an every person," he said. "We all have dreams and often don't achieve them all. Maya is a person who made certain choices because of things that happened early in her life. There was a lot of regret about how it could have been different. As she tries to climb the ladder and things don't go her way, she sees some of those past decisions as the reason. I think a lot of people can relate to that."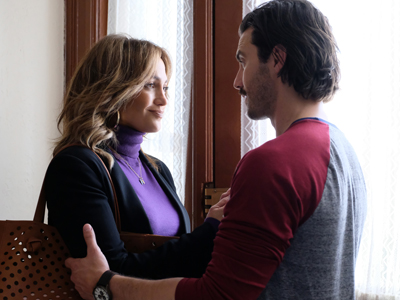 With Friends Like These:

Goldsmith-Thomas had always envisioned Lopez as Maya. She also began to imagine Annaleigh Ashford, a 2015 Tony Award winner for You Can't Take It With You and 2013 Tony nominee for Kinky Boots, as conniving Franklin & Clarke executive Hildy. Zackham wrote the quirky Ariana character for comedian and 2009 Waldo Salt Screenwriting Award winner Charlyne Yi.

Lopez had some casting visions of her own as she read the SECOND ACT script, particularly for the role of Trey, a stand-up guy who coaches baseball and loves Maya.

"I only saw Milo Ventimiglia for Trey," said the actress. "His face always popped into my mind. He's so busy now with his hit show and probably one of the biggest moments in his career, but he read the script and once we spoke we both knew it was something we wanted to do together."

"An actor like Milo, whose heart and emotions are so wide open to whatever might happen in the moment, is a real pleasure to work with," Lopez continued. "You don't have to hide. You can really just let all the feelings go."

Emmy Award-nominated in 2017 and 2018 as "Outstanding Lead Actor in a Drama Series" for his portrayal of Jack Pearson in "This Is Us," Ventimiglia was shooting the hit NBC drama in Los Angeles at the same time SECOND ACT was filming in New York. Scheduling his scenes wasn't easy, but it all worked out in the end.

"The chemistry between Milo and Jennifer was immediate," said Segal.

Ventimiglia felt the same way. "It's nice to play with Jennifer because it feels sincere," he said. "It feels real. For everything she has going on in her universe, she has an appreciation for the moment she's in right now."

Lopez was equally sure who should play Maya's ride-or-die friend Joan – her own friend Leah Remini, winner of the Primetime Emmy® Award in 2017 (and a nominee in 2018) for her acclaimed series "Leah Remini: Scientology and the Aftermath."

It worked for Segal. "It was an absolutely natural choice because in real life they are two of a kind," he laughed. "They're hilarious. Leah does not hold back. She will punch Jen, push her in the face, it's no holds barred. She brings moments that are not on the page and you suddenly forget you're watching a movie."

"We'd been trying to work together for a long time and this felt heaven-sent," said Lopez. "We're such good friends in real life that we've lived those moments where we had to push each other through difficult times. The more it got real, the better it was, whether we were laughing and acting really stupid like we would normally do, or if it got really emotional. Either or was perfect." For Remini, too. "It's very natural for me to play with Jennifer and do what I do as we are in real life. You can't take chemistry for granted."

"This film shows how women support each other through thick and thin," the actress observed. "Maya is destined to be bigger than her friends. My character Joan is focused on being a mom, but wants Maya to get her chance. She believes that out of all of their friends, Maya is the one who will make it. But when Maya starts to lose sight of who she really is, it's Joan who keeps her grounded."

Of course, not every woman is as supportive.

Hildy, the product development executive assigned to work with Maya, sees her as a rival. "They're supposed to collaborate and come up with a product together, but Hildy wants to be top dog and will do anything to get there, including stomp on her fellow lady," said Ashford, who portrays the brittle blonde. "She's also one of the first people to see through Maya, and question if something else is going on."

Zoe, the CEO's ambitious daughter, has her guard up, too. "Zoe is not Maya's biggest fan when she arrives at Franklin & Clarke," said Vanessa Hudgens. "She's another woman. Another woman is a threat."

But gender is also the reason Zoe's attitude quickly changes. "To see another woman hold her own in a male-dominated space is something that I think most women look up to," said Hudgens. "Zoe respects Maya and through that, they form a connection that Zoe didn't expect." Playing opposite Lopez was a revelation for Hudgens.

"When I came in to meet with Jennifer, I was so nervous that I actually laid down on the floor beforehand," said the young actress. "To just try to calm my nervous system. But as soon as I got into the room and started working with her, all the worries disappeared."

"She's all the things I wanted her to be. But even better. She is literally my ultimate role model."

When Maya's friends show up to make breakfast before her first day at Franklin & Clarke, a spontaneous Salt-N-Pepa dance party breaks out in the kitchen. Lacretta, a stage actress who makes her film debut as Maya's friend Suzi, was excited about dancing with Lopez, an icon since her 1991 debut as a Fly Girl on "In Living Color."

"I was stretching and doing yoga for two weeks before we shot that," she said. "I'm not a great dancer but she is, so I studied her moves – that last video she did in the subway? I want to take some of those moves."

Dierdre Friel, a theater actress who plays Big Ant, was philosophical about her own moves. "The worst dancer on Broadway is gonna dance with the best dancer in the world," she laughed. "But I almost feel that the worse I look, the better it might look on film because that could be the funniest or the most touching real thing."

British actor Freddie Stroma, aka snake-in-the-grass Franklin & Clarke exec Ron, partnered Lopez in a dance scene (choreographed by La La Land's Mandy Moore) at the company Christmas party. "I've never really danced in anything and then I'm suddenly dancing with Jennifer Lopez," Stroma said. "It was kind of like never driving and then suddenly being given a Ferrari."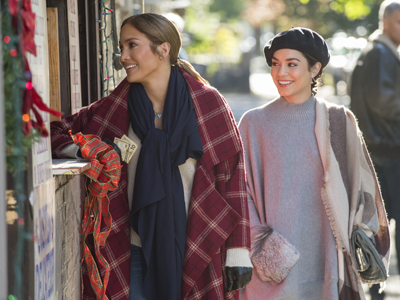 Well New York City Really Has It All:

Maya Vargas, a born-and-bred Queens girl, is having her "Is that all there is?" moment when SECOND ACT begins. As Goldsmith-Thomas put it, "Maya is disappointed when we meet her, but then she gets to cross the bridge!"

With that crossing, she becomes Manhattan Maya.

Maya's leap from Queens to Manhattan is a familiar trip to Lopez, who grew up in the Bronx and lived there until she was 25.

"I remember when I was coming up as a dancer, taking that train into the city, and how profound it was to leave the Bronx," Lopez reminisced. "It's like going to another planet. It changes you. It's almost like, okay, I've made it. You know, as they say in the song, if I can make it there, I'll make it anywhere."

To the delight of all the principals involved, Second Act was shot entirely in New York City. Principal photography began October 20, 2017 and wrapped on December 15, 2017.

Filming Maya's passage was a dream come true for Segal. "It was a bucket list item of mine, not only to shoot a love letter to Manhattan, but also to do it during the holiday season," said the director. "We shot everything from Central Park to the Hayden Planetarium (where I literally grew up, on the Upper West Side), to Grand Central Station, to downtown at 4 World Trade Center, to the Brooklyn Bridge, to Queens (where my dad grew up), to Long Island City."

Other locations included Bethesda Fountain in Central Park, the Highline, the streets of Soho, South Street Seaport, Madison Square Park, Food Bazaar in Queens, Rockefeller Center, the Villard Mansion at the Lotte New York Palace Hotel, Dean & Deluca's, inside a Metropolitan Transportation Authority subway car and on an elevated train platform.

One of Segal's favorite scenes was filmed at Michael Jordan's The Steak House N.Y.C. at Grand Central Terminal. Maya, Zoe and her dad are having lunch when Maya's Queens friends, posing as old Ivy League chums, pop by to check on their girl.

"We get all of the women together and see them interact, and I think that's when the real soul of the movie comes out," he said.

Treat Williams, the film, television and Broadway star who plays Zoe's CEO dad Anderson Clarke, loved that scene, too.

"Those women are so funny! That was my only scene with them and I wished I could have had more," Williams lamented. "And Leah Remini is a heroine of mine. Watching her work was really a joy."

The glamourous Franklin & Clarke Christmas party sequence was filmed at Bar 65 on the 65th floor at 30 Rock. A stunning setting for the scene, it was misery for Zackham. As a writer, he had endowed Maya's Franklin & Clarke assistant Ariana with a bad case of acrophobia and it came back to haunt him when those scenes were shot. "Ariana's fear of heights is all me," he confessed. "I couldn't even look out the windows for two whole days."

The fictional Value Shop where Maya works was portrayed by a Food Bazaar store in Queens – a store which happens to be open 24 hours a day and did not close for filming. "It was a lot of people walking around, but it was great," said Lopez.

The production frequently found itself interacting with the public. "Many locations were public spaces," Segal explained. "You can't shut down the High Line and you can't shut down Central Park. While we were out there trying to shoot, 400,000 other tourists were trying to get their shot of Jennifer Lopez. So, we did our best to move quickly."

It was a new experience for non-New Yorker Hudgens. "Paparazzi were everywhere, and it was kind of crazy, I'm not gonna lie," she said. "I remember filming a scene under a bridge, a beautiful location. I was having a really beautiful moment with Jen – until I looked away and was staring down the barrel of a paparazzi's lens. It threw me, but it also made the whole experience that much more exciting."

Dress The Part:

As Maya's wardrobe is one of the first things that changes when she moves from Value Shop to Madison Avenue, the Second Act filmmakers needed a costume designer who would make the most of that shift.

For Jennifer Lopez, that meant one person: Patricia Fields.

Among many career highlights, Fields received Oscar and BAFTA Award nominations for her work on The Devil Wears Prada. She was nominated for five Emmy Awards, with one win for "Sex and the City," and received six Costume Designers Guild Award nominations for the landmark HBO series, with four wins. The recently closed Patricia Field Boutique in Greenwich Village was a sacred site in the New York City fashion world for a full 50 years.

Plus, she's from Queens, and knows Queens style. As Fields said, "Name necklaces? Like in "Sex and the City"? Where did I get them? The Queens girl."

Her longtime collaborator Molly Rogers agreed.

"Maya in Queens was a bit sassier than Manhattan Maya," said Rogers, "with a big hoop earring and bigger hair. Attitude! Borough girls naturally know how they want to look because they're exposed to a lot of street style."

Fields enjoyed creating the contrast. "Maya becomes the chic girl in Manhattan – some silks, some softer silhouettes – without completely abandoning the original. Because you can't do that. It's not a lobotomy. The original has to remain there to be believable."

"For me it's about mixing," Fields continued. "Head-to-toe one thing is not as interesting. If a dress was soft, I'd couple it with something tailored. Or if a trouser had a full leg, I'd put a belt there to give it a waistline, a sexy ingredient. It's interesting for people to see combinations they wouldn't have thought of."

Working with Lopez was satisfying. "She knows what she likes, and she knows how to explain," said the designer. "If there's something she doesn't feel she'd be comfortable wearing, she'll tell you why. And it makes sense. She has experience with herself and can communicate it. Which is the dream."

"Jennifer chose the Christian Siriano dress for the Christmas party scene," Fields continued. "She dances at the party and knew what she needed to move in. You always have to consider what a garment is going to do in a scene. It's not only the look of something – you have to tell the story. It's not a fashion runway."

Lopez knows that and had a great time with Fields. "Working with Pat Fields has been so much fun. I love fashion and I love being open to stuff you wouldn't normally do – in the name of character and in the name of painting a beautiful picture."

"I put total trust in Pat because she's an artist I really respect," Lopez continued. "She made me do things I would never do. When she said, 'what about the loafers?' I said I've never worn a loafer in my life. She says they're five-inch loafers from Louis Vuitton, so I'm like okay, maybe I'll try that."

It was a true meeting of the minds. "Jennifer came in with good ideas during prep and just started trying on different pieces we had pulled from stores (Century 21 and Ina's)," Rogers recalled. "Once she felt good and right in a few key pieces, it laid the foundation for her closet and where we should head. Dior boots and an off-the-shoulder blouse were some of her first faves. Jennifer knows what looks good on her and it was a happy atmosphere to be creative in."

Ashford was fitted by Fields for her very first film role, in Sex and the City. "When they told me I was going to get a fitting with Pat, I dropped the phone because she's magical. I used to go into her store and just walk around."

In Second Act, Ashford's character is icy Hildy. "After my fitting, I gave Pat a hug and said thank you for helping me find my Hildy. To have your clothes make sense with your character, for me, does so much of the work."

Fields made Segal feel good, too. "I adored her because I'm not the best with wardrobe," the director teased. "I said 'Pat, I need your help. I think she should look warm here. It's hot today. Maybe she should look less warm.' Those are kind of my notes. And Pat's like, 'Look, stand over there. Here's what we're gonna do.' I'm so thankful she was with us."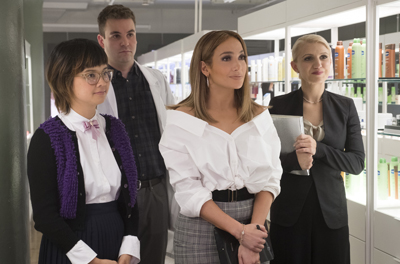 When The Good Stuff Happens:

Second Act inspired many conversations during filming, about second chances and reinvention and not giving up. About women empowering themselves and each other. About not letting one event become your whole story. About going for your dream, no matter your age or background or zipcode.

"Maya learns she does not have to be stuck forever," said Lopez. "You can always reinvent. You can always make a change. You can always keep growing and to me that message has so much relevance for everybody, but especially for women."

Goldsmith-Thomas agreed. "This movie itself is a reminder that everything deserves a second look, a second chance. I think it's coming to the world at a time where people need to be reminded you just have to get creative when you're thinking about what you're going to do with the next 40 years."

As a veteran of many musical theatre productions, Ashford offered another interpretation of the film's title. "Second Act for me always means the second act of the show – when all the good stuff happens," she said. "It's where we back up the story; it's where our hero confronts their biggest battles, and where we have the opportunity to make the biggest, boldest choices."

"The mantra for Second Act is 'the only thing stopping you is you'," said Lopez. "You don't have to hide. You really can just let all those feelings go."


Second Act
Release Date: November 29th, 2018