Give Back This Christmas
The festive season is upon us and what better way to celebrate than truly giving back this Christmas. We know it's the little things that make life more enjoyable, and this silly season, Jamaica Blue is offering the perfect escape and refresh for those most deserving. Jamaica Blue has teamed up with Australian swimmer and Olympic medalist, James Magnussen to spread some festive cheer onto one special Sydney hospital.

This week, James Magnussen will be out and about spreading Christmas happiness to the hospital staff, who are spending the silly season at work. For a limited time, Jamaica Blue is offering FREE coffee for one special hospital, to show their support to the dedicated workers, roughing the late hours over the Christmas period.

James Magnussen said: "I am so honoured to be part of such a special campaign. The hospital staff's resilience has been a true inspiration to me throughout my career. I'm sure it's not easy for these staff to be here during Christmas, and thanks to Jamaica Blue I can help make their Christmas a little more happy."

Drew Eide, General Manager from Jamaica Blue said: "At Jamaica Blue, we go above and beyond to put more happy into your day. This Christmas, we'd really love to show our support to the community who make it their job to do so for their patients. We hope our limited edition Christmas blend will help to put a bit of a smile on their face and provide that caffeine fix to make those long nights more bearable."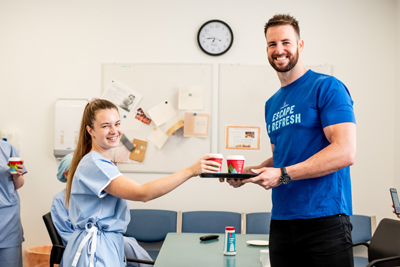 Interview with James Magnussem, Australian swimmer and Olympic medallist
Question: Can you tell us about the campaign you've teamed up with Jamaica Blue for?

James Magnussem: I've teamed up with Jamaica Blue to bring some Christmas kindness to the hospital staff around Sydney. Working with the great team at Jamaica Blue, we are delivering Jamaica Blue coffee's to those hospital staff who need it most. It is a great cause to keep spirits high in what can be a stressful time of year!


Question: What has your time at the Sydney hospital been like?

James Magnussem: It was a very rewarding visit. I have the utmost respect and admiration for hospital staff and the services they provide. I have recently had my grandparents in hospital and seeing what hospital staff deal with on a daily basis was a real eye opener, they are a special breed.


Question: How else are you giving back, this Christmas?

James Magnussem: I have helped out with a small school up near Port Macquarie that was affected by the bushfires. Given Port Macquarie is where I grew up this was a cause close to me.


Question: How will you be spending Christmas day?

James Magnussem: I will be spending Christmas day with my Mum's extended family. She is one of nine children so there is no shortage of noise and excitement on the day. The next generation of children is expanding in numbers every time I visit too!


Question: What has life after swimming retirement been?

James Magnussem: No more alarm clocks, wet swimming towels or chlorine hair! No but seriously, my life now has a lot more balance. I can eat and drink more freely, stay up past 10pm and catch up with friends whenever I want!


Question: How often do you still swim?

James Magnussem: In winter I didn't do much swimming at all but, now the sun is out, maybe once or twice a week.



Question: Can you tell us about The Swim Squad?

James Magnussem: The Swim Squad is a company I set up that runs swim clinics and programs for local swimming clubs, schools and young kids. I have spent the last 6 months traveling all over NSW holding swim clinics in rural and country towns. I also ran a program here in Sydney where 64 young swimmers were put through their paces over 4 sessions. I jump in the water with the kids to show them how to correctly perform different skills. I believe it is important for me to pass on my knowledge and skills while they are still fresh!


Question: What inspired you to begin The Swim Squad?

James Magnussem: I remember when I was younger having an Olympic swimmer – Libby Lenton, come and visit our swimming club in Port Macquarie. This was a source of inspiration for me for many months. I want to create this same experience for the next generation of young swimmers as well as upskilling them to help them achieve their swimming goals.


Question: What's next for you?

James Magnussem: Next year I will be looking to expand The Swim Squad and bring on more staff and mentors. I hope to diversify our market into triathlon, surf swimming, CrossFit, water polo and corporate. The sky is the limit and I am really enjoying the new challenge


Interview by Brooke Hunter