Izzy Stevens is an LA based Australian/American Actress, Writer, Producer, and Award Winning Director known for her lead roles in Occupation, Occupation: Rainfall, Underbelly, Puberty Blues, and Another Mother. Izzy will also be starring as the lead, Maddison Wakefield, in the Australian thriller 'Him' which will be released in October 2021!

Best known for her lead role as Bella Bartlett in the Australian film franchise Occupation, which can be found on Netflix, and the sequel Occupation: Rainfall which released nationally across Australia on January 28th and is gearing up for a Worldwide Release! The worldwide release schedule is as follows: New Zealand full cinema release on February 18th, North America/Canada release in June 2021, UK release in September 2021, and the rest of the world is TBA.

Izzy recently start her own business, Creative Luminaries, which is an online film school where she coaches young actors and filmmakers to reach their full potential. Izzy also directed, produced, wrote, and acted in her own short film, Sea Foam, which will be released later this year.

Izzy has starred in a number of short films including the short film, Swipe Left in which she was nominated for Best Actor Award at Maverick Film Festival. She previously wrote, directed, edited, and starred in Placidyl, Phenomena, and Leap. Placidyl (Or The Diary Of A Madwoman) was Izzy's debut short film which was selected for Cinema Australia's Sunday Short's Program in 2017. The Short Film, Phenomena, became a Tropfest Finalist, and the short film, Leap, WON Best Experimental Film at Redline International Film Festival.

In her free time, Izzy loves yoga, pilates, ballet dancing, hiking, swimming and camping. She is a huge fan of Imperfect Foods as she is passionate about maintaining a sustainable and environmentally friendly household. Izzy loves to cook and especially loves a glass of red wine. She is a huge wine connoisseur and enjoys exploring wineries and vineyards around the world.

Izzy Stevens is a leading lady that continues to prove she is one to watch in the industry!


Interview with Izzy Stevens
Question: Can you tell us about your role in Occupation and Occupation: Rainfall?

Izzy Stevens: I play Bella Bartlett, a young resistance fighter who becomes instrumental in the war against the alien invasion. Bella is incredibly loyal and tougher than she looks, she's all about keeping her family safe. Playing Bella has exposed me to how fun and challenging action sequences are.


Question: Did you always want to pursue a career in the entertainment industry?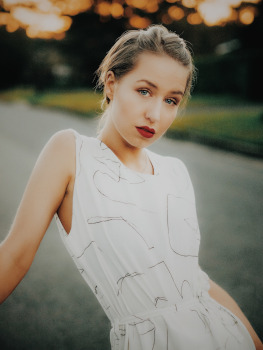 Izzy Stevens: I've always been expressive and creative, but I don't think I would have gone down this road as seriously as I did had I not booked Underbelly during high school. Being on set hooked me deeply in a way that I couldn't shake. I even began studying at Sydney Uni after I graduated, thinking I'd become a lawyer, but then I booked Puberty Blues and saying yes felt like a no-brainer. Set was the only place I wanted to be. Still is!


Question: Has moving to LA influenced your career?

Izzy Stevens: Absolutely. Looking back, I realize that by moving to LA I was jumping into the deep end and I had to figure out how to swim. That's definitely my pattern, acting instinctively and then figuring out the rest as I go. I've grown in ways I wouldn't have if I'd stayed in Australia and waited for the 'right time' to move. There's never a right or easy time to leave your network and family behind. Being out here, I've been exposed to so many opportunities and experiences I just wouldn't have had in Australia. I think the challenge out here is to maintain a really tough skin, but not let it make you hard on the inside. I definitely feel more confident, less afraid, and more excited than ever about what is to come.


Question: What or who inspired your love of acting?

Izzy Stevens: When I was a kid, I felt deeply frustrated when people would be quick to judge others. I'd tell my family off all the time if they were saying something about a stranger, or if kids at school were gossiping. It annoyed me deeply, it still does. I'm that girl in the group that's like 'Well he's probably just had a bad day.' But people are different when they watch films and TV, they identify with characters on a screen in a way they can't in real life. Being an actor and a storyteller for me means creating more empathy and being a connection point for how people relate to each other.


Question: What moment in your career stands out the most?

Izzy Stevens: Standing on a dark stage in front of thousands of people at Tropfest as they watched my film Phenomena. There is a really intense reveal at the end of the film, and when that moment played, I heard the sound of thousands of people gasping simultaneously. My blood ran cold, it felt intoxicating to physically feel the film affecting people. And then the lights came up on stage and I had to go straight into an interview. My legs were jelly!


Question: If you could work with any other actor or director, who would it be?

Izzy Stevens: That's a big list! I'd love to work on an Emerald Fennell film alongside Jake Gyllenhaal.


Question: What advice do you have for aspiring actors?

Izzy Stevens: Don't play by the rules, there aren't any. If you listen to what everyone else tells you to do, you'll just be limiting yourself. There's a pretty powerful voice inside that can guide you so listen closely.


Question: What's next for you?

Izzy Stevens: A few exciting things in the works. I just played an FBI Agent in a thriller film which was great fun. I'm also in post-production on three short form projects right now which will be released later this year, and I recently started my business Creative Luminaries, which is a coaching platform that helps actors and filmmakers go from script to screen so they can stop waiting for some elusive big break. I'm seeing some amazing short films and projects come out of my clients, it's an exciting time to make your own work.


Connect With Izzy Stevens

Instagram
IMDB
Facebook


Interview by Gwen van Montfort