Born and raised in Venezuela, Actress Ariana Ron Pedrique moved to Mexico City at twenty-one to pursue her budding acting career. After garnering a very impressive acting resume while in Mexico, she made the decision to move to Los Angeles to follow her dreams of being a globally recognized actress. Best known for her lead role in the Sony's hit series 'Rosario Tijeras,' which became the #1 Netflix series in LATAM and Mexico, Ariana is also beloved for her outstanding performances in 'Two Lakes' (available on Amazon Prime) and 'José José El Príncipe de la Canción' (available on Netflix U.K. and Netflix LATAM).

Now, Ariana is set to star in her debut feature film 'Ayar,' directed by the Emmy Award winning Director, Floyd Russ, and premiering at the 2021 SXSW Festival. After becoming one of the top actresses in Latin America, Ariana is continuing to expand her acting career to a global market here in the U.S. In her free time she practices yoga, and her right hook with her boxing coach.
Interview with Ariana Ron Pedrique
Question: Can you tell us about your role in Ayar?

Ariana Ron Pedrique: I play the role of Ayar, a first-generation American Latina who is tormented with guilt over leaving her newborn child behind to pursue her dream of becoming a singer. After five years of an unsuccessful career in Vegas, my character is determined to return home and amend the relationship with her daughter Jasmine (Calliah Sophie Estrada) and mother Renata (Vilma Vega). But when Renata refuses to allow her to have contact with Jasmine due to COVID, my character is forced to grapple with past mistakes and peel back the layers of who she has become to figure out who she should be.


Question: What or who inspired your love of acting?

Ariana Ron Pedrique: Growing up in Venezuela, the highlight in my household always was getting the family together and watching as many films as we could. I love great stories. Ever since I was a child, I have always been touched by beautiful performances.

Furthermore, I believe I have always been an artistic person. The first time I stood on a stage was when I was three years old. The Emil Friedman School, institution that I attended from my very first years of life until my college years, taught us students the importance of connecting with our artistic side from a very early age. From percussion lessons, Llanera harp classes, to my first experience as a performer playing the role of Juliet in Shakespeare's iconic play, I was fortunate to have been under the wing of this school whose mission is to develop their students to reach their full potential. But it wasn't until I was invited to join the Performing Arts School CEFAT located in Mexico City that I became fully aware of my passion for acting.


Question: How has moving to LA influenced your career?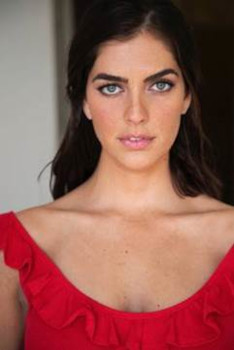 Ariana Ron Pedrique: By virtue of moving to LA I am now able - more than ever- to pursue my biggest dreams which inevitably has had a powerful effect in my career as well as my life. Ever since I became an actor I have always wanted to be part of a story like Ayar and play a character like this. Playing Ayar was terrifying and exciting at the same time because I had to be outside of my comfort zone. I had to sing and learn how to play the piano. This was my first role in the US, so I needed to speak English throughout the whole film and it was all filmed during a pandemic; which was definitely a huge challenge for all of us. Ayar made me stronger in many ways and most importantly, it reminded me that my dreams are valid. That anything is possible. And I wouldn't have been able to be part of Ayar if I wouldn't have moved to LA in the first place.


Question: What moment in your career stands out the most?

Ariana Ron Pedrique: Today I understand that each step in my career as well as my personal life has been essential for my growth as an actor. From starting out as a TV Host in Venezuela, to leaving behind my family and country to pursue my passion for acting in Mexico City, and then I ended up following my dream to the United States. But if I have to choose one moment in particular, it would have to be when Floyd Russ – Ayar's Director – called me after a challenging audition process and said "Welcome aboard Ayar".


Question: What's your favourite part of your job?

Ariana Ron Pedrique: I love seeing the world through someone else's eyes. The moment I have a script in my hands, I get to experience life from my character's viewpoint. And I love that. It gives me perspective. It also teaches me empathy.


Question: If you could work with any other actor or director, who would it be?

Ariana Ron Pedrique: This is a great question, because I have a big list of actors and directors that have inspired me throughout my career and that I would be absolutely fortunate to work with. It is very hard for me to narrow this list down to one. Natalia Almada, Miguel Arteta, Cristina Ibarra, Alfonso Cuarón, Alejandro González Iñárritu, Guillermo del Toro, Patricia Riggen, Ava DuVernay, Damien Chazelle, Darren Aronofsky, Denzel Washington, Meryl Streep, Javier Bardem, Julia Roberts and Jennifer Lawrence are just a few of the extremely talented people that I would love to work with.


Question: What advice do you have for aspiring or actors?

Ariana Ron Pedrique: I know this can be a tough career path. But when you finally make the courageous decision to pursue this dream, do it without expectations and with huge hopes. Work harder than anyone. This will give you the confidence to believe in yourself so much, that others have no choice but to believe as well. Because you have nothing to lose and everything to gain.


Question: What's a typical day like?

Ariana Ron Pedrique: When I am not on set, I usually wake up early around 6:30 am, make myself a cup of tea, meditate, catch up on my reading. Then, I eat my breakfast, do Yoga in my living room, go for a walk with my dogs, work on the script I am writing, check out any new potential auditions, I catch up on my emails, and then I finish the day watching a new film with my husband. We try to watch as many films and shows as possible, that's another amazing way to keep honing my acting skills.


Question: What's next for you?

Ariana Ron Pedrique: I recently received an offer to film a new feature film by the end of this year. I have also been working with a producer and writer friend of mine in developing two potential feature films. If everything goes as planned, we will be hopefully filming one of those projects soon.


Interview by Gwen van Montfort