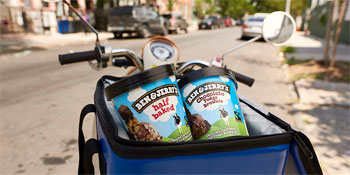 International Ice Cream Day: 20,000 Free Tubs of Ben and Jerry's
Ice cream lovers rejoice! It's about to get a lot easier to get your hands on a tub of the chunkiest and swirliest ice cream around. Ice cream scoop-er-heroes Ben & Jerry's has officially partnered with foodora to enable fans to order their favourite flavours and have them delivered straight to their door whenever they need an indulgent fix of ice cream.

The foodora website and app will give fans access to many of Ben & Jerry's legendary flavours without having to leave the comfort of their own home or their office. All you'll need is a spoon and you'll be ready to satisfy your sweet tooth!

To celebrate the new partnership, Ben & Jerry's will be running a special Big Tub Giveaway across Sydney, Melbourne and Brisbane where 20,000 tubs of its delicious super premium ice cream filled with chunks and swirls, will be up for grabs for FREE. If ever you needed another reason to enjoy a tub of ice cream, the Big Tub Giveaway will also take place on an extra special day - Sunday 16 July - which marks International Ice Cream Day, celebrated on the third Sunday of July each year.

Fans can enjoy classic Ben & Jerry's favourites including Salted Caramel, Karamel Sutra and Chubby Hubby which will be given away at the following locations and times on the day:

Sunday 16 July – foodora and Ben & Jerry's Big Tub Giveaway

Sydney
Queen's Victoria Building forecourt (next to the statue): 11am to 1pm
Manly Wharf: 3pm-6pm

Melbourne
Luna Park entry St Kilda: 12pm to 4pm

Brisbane
168 Grey Street, South Brisbane: 1pm-3pm

Chunk and swirl lovers wanting to join the ultimate ice cream celebration should get in quick at their local pick-up point before it's too late! For those who can't get along or can't get enough, foodora will still be open for business, delivering Ben & Jerry's ice cream on the day and every other day.

For more information, head to the Ben & Jerry's Facebook page or website.