Interview with Inez Garcia
Question: Can you talk about how dressing right can make us feel more powerful in the workplace?

Inez Garcia: What you wear communicates to the world how you want to be seen. If you feel great, you will project confidence and authority. If you feel uncomfortable, it will show in how you interact with others. One thing all women of great style have in common is that they've worked out what suits them best and they stick to this regardless of seasonal trends. Find what works for you, what makes you feel great every time you wear it and get rid of anything in your wardrobe that doesn't!


Question: How can we steal Claire Underwood's look?

Inez Garcia: Claire's wardrobe is simple but always so perfectly tailored, ensuring it's flattering but never frivolous. You can recreate her look by investing in classic, tailored separates in a timeless, neutral palette of black, white, navy and tan.


Question: What do you love most about Claire Underwood's wardrobe?


Inez Garcia: I love how Claire's style is an extension of her intriguingly seductive character, with a wardrobe that so perfectly compliments her potent mix of strength and femininity.


Question: What is hot in work wear, currently?

Inez Garcia: Modern Tailoring - taking classic techniques and silhouettes, then experimenting a little with their proportions - exaggerating lapels, cropping hems, molding seams and introducing less traditional fabrications.


Question: What are the top five pieces we should have in our work wardrobe?

Inez Garcia: a classic silk blouse
a blazer in black or dark navy
a flattering pair of tailored black pants
a black shift dress
a camel coat


Question: Can you give us an example of women who always get their work look right?

Inez Garcia: Amal Clooney, Cate Blanchett, Michelle Obama, Olivia Palermo, Yasmin Sewell, Taylor Tomasi Hill, Jenna Lyons and Elise Pioch.


Question: How can we dress to feel more confident?

Inez Garcia: The most important thing is to maintain your clothes - make sure they fit properly and have them cleaned and pressed regularly so you don't look disheveled and unkempt. Pay a little extra to have your hems and sleeves altered, spot clean your tailored pieces and invest in good wooden hangers.


Question: What inspires you when choosing your outfit, for the day?

Inez Garcia: To be honest, it always starts with the shoes - I choose my shoes based around what I'll be doing that day (i.e sneakers vs sandals vs heels vs loafers) and the rest just happens from there.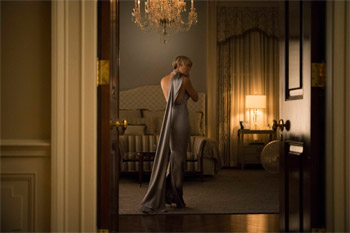 Question: What's your earliest -fashion' memory?

Inez Garcia: Shopping with my mother - she was my first -model'. I used to wander through stores, selecting outfits and encouraging her to try new styles and colours.


Question: What's a typical day like for you?

Inez Garcia: Ha! As a freelance stylist, writer and mother there is no typical day. Whilst I LOVE the sense of calm that order brings, there is so little of it in my life - my day could be anything from showroom appointments, shooting on location, meetings with clients or else madly trying to make copy deadlines, all whilst chasing around after my two very busy little boys!


Question: What are you wearing, right now?

Inez Garcia: Today is an office day (read: lots of quality time with my computer) and so I've opted for a Vince grey marle cashmere fine knit cardigan, a Jac+Jack white -Mitch' tee, a pair of Bassike lo-slung pants and my Toga Pulla loafers.


Question: Who should we be following on Instagram for fashion inspiration?

Inez Garcia: @isabelmarant
@carineroitfeld
@modaoperandi
@tommyton
@studiodore
@thecoveteur
@cosstores
@benah
@margaret__zhang
@yasminsewell
@laurabrown99
… and of course @inezdaily



House Of Cards Season 3 DVD
Cast: Kevin Spacey, Robin Wright, Michael Kelly, Mahershala Ali, Molly Parker
Genre: Drama
Rated: M
Running Time: 691 minutes

President Underwood and his First Lady are back in the third season of the critically acclaimed political drama House of Cards. Boasting spectacular performances from Golden Globe® winners Kevin Spacey (American Beauty, Seven, Horrible Bosses 1 and 2) as the ruthless, cunning President Francis Underwood and Robin Wright (Forest Gump, Unbreakable, Moneyball) as his gorgeous, ambitious, and equally conniving wife Claire (Robin Wright).

In Season 3 of House of Cards the shockwaves continue. Will Frank be able to hold onto the Presidency and keep those who are coming for him at arm's length? When walking the halls of power in Washington D.C you can't keep your back turned for too long. Mystery, intrigue and deception run rife in this dramatic series.

Special Features:
Backstage Politics: On the set of House of Cards

Blu-ray Special Features:
A Death in New Mexico: A Featurette that chronciles the surprising Chaper 39.

House Of Cards Season 3
RRP: $49.95
Blu-ray: $59.95