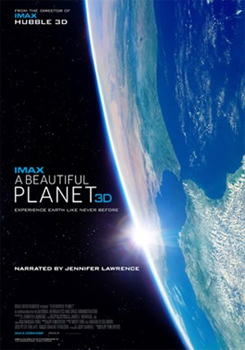 IMAX Bright Young Minds
The team at IMAX Melbourne Museum is thrilled to invite VCE students to register for IMAX Bright Young Minds: A Beautiful Planet 3D + Q & A with Astronaut Marsha Ivins, taking place on September 7 at 4pm.

This free event screening is the first in the all-new IMAX Bright Young Minds series of events aimed at providing STEM-facing VCE students with an educational and entertaining afternoon out in the Melbourne Museum precinct, at no cost.

'Here at IMAX we are keen to provide senior students with the opportunity to meet an aspirational individual and watch a related documentary film in the very best format available. We are proud to welcome the extraordinary NASA veteran Marsha Ivins to Melbourne and to introduce her to some of our brightest young minds.

'A Beautiful Planet 3D is a spectacular film - it aligns to the Victorian STEM curriculum. Our aim is to inspire the students to really consider a career in the STEM fields", says IMAX Melbourne Museum General Manager Richard Morrison.

Students are invited to arrive after school on September 7 at 3.45pm for a 4pm screening of A Beautiful Planet 3D followed by a 30 minute Q & A with Marsha. At the time of registration, students can submit a question for the Q & A session.

Registrations can be made on Eventbrite. Join the conversation online! #IMAXBrightYoungMinds IMAX Bright Young Minds will run quarterly with the next screening to take place in January featuring David Attenborough's MUSEUM ALIVE 3D.