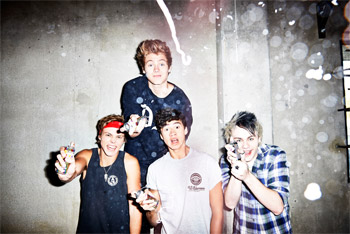 Iggy Azalea and 5SOS to Perform at the U.S. Kids' Choice Awards
Nickelodeon's 28th Annual Kids' Choice Awards airs in Australia live from LA – Sunday, 29 March at 11am (Aedt)

The Australian take-over of the U.S. Nickelodeon Kids' Choice Awards (KCAs) has begun! Announced today, award winning pop-rock band, Sydney siders 5 Seconds Of Summer and Aussie rap goddess Iggy Azalea will perform at Nickelodeon's 28th Annual Kids' Choice Awards at LA's legendary -Fabulous' Forum on Sunday, 29 March (AEDT). The broadcast will air LIVE to Aussie audiences at 11am and then prime-time at 6pm.

'We are so excited to be nominated and perform at the Kids' Choice Awards! It's our first time at the show and it's going to be awesome!" said 5 Seconds Of Summer

Grammy-nominated, hip-hop phenomenon Iggy Azalea will wow the crowd with her hit 'Trouble," featuring Jennifer Hudson, and 5 Seconds Of Summer will captivate kids with chart-topper 'What I Like About You." Multi-talented Nick Jonas will also add to his hosting duties with an opening performance of his number-one radio hit 'Jealous" and Billboard Top 20 smash 'Chains".

Hosted by Nick Jonas, Nickelodeon's 28th Annual Kids' Choice Awards will be a celebration of kids' favourite stars across the worlds of film, television, sports and music. As only Nickelodeon can, Kids' Choice Awards offers a front-row seat to stunts, slime and celebrities. Additional performers and presenters will be announced in the coming weeks.

Adding to the Australian invasion, Iggy Azalea, 5 Seconds Of Summer, Hugh Jackman and Liam Hemsworth are nominated for the sought-after orange blimp alongside mega-stars Beyoncé, Cameron Diaz, Jamie Foxx, Ariana Grande, Meryl Streep, Bruno Mars, Nicki Minaj, One Direction, Katy Perry, Taylor Swift, Jennifer Lawrence and many more.

Voting is now open and kids can cast their votes in five Aussie/Kiwi categories plus 21 global categories at KCA2015.com and on Nickelodeon's Twitter feed using #KCA. Three brand new awards in the Aussie/Kiwi categories will see Directioners battle Arianators for Aussie/Kiwi's Favourite Fan Army and Grumpy Cat take on Taylor Swift's Cats – Meredith Grey and Olivia Benson for Aussie/Kiwi's Favourite Animal. Voting closes 27 March.