Blaze and the Monster Machines
Next Monday, Nick Jr. will delight pre-schoolers with the series premiere of Blaze and the Monster Machines. Airing weekdays at 10.30am, each action-packed episode centres around a Science, Technology, Engineering and Maths (STEM) curriculum, building on Nick Jr.'s philosophy of learning through play.

Created by Jeff Borkin (Team Umizoomi head writer) and Ellen Martin (Bubble Guppies supervising producer), Blaze and the Monster Machines is the first pre-school show to cover all areas of STEM in every episode, such as adhesion, friction, force, trajectory and magnetism. The interactive series follows the amazing monster truck Blaze and his eight-year-old driver, AJ, who embark on adventures that explore the physics of how things move; tackle problems through scientific inquiry and mathematics; and discover the parts needed to make everyday technologies work.

"Blaze and the Monster Machines is unlike any other preschool show on TV because of its rich interactive curriculum focused entirely on STEM," says Teri Weiss, EVP of Production and Development, Nick Jr. Pre-school. 'Blaze gets children excited about STEM by encouraging their curiosity about how things work, which will help them get ready for school and their future in today's high-tech world."

In the hour-long series premiere, 'Blaze of Glory," Blaze and AJ are introduced to a world of racing monster machines in the town of Axle City. When Crusher, a troublemaker truck, uses his dirty tricks to try to win the championship race, Blaze does everything he can to help his friends and beat him to the finish line. Throughout the adventure, pre-schoolers will be introduced to STEM concepts including buoyancy and trajectory. The series launch will be followed by three weeks of premieres in its regular timeslot at 10.30am on Nick Jr.

Meet the Blaze characters:
Blaze – Blaze is Axle City's greatest hero and its number-one racer! He knows everything about science, technology, engineering, and math.
AJ – Blaze's pal and driver. He's a technology expert who knows all about different machines and how they work.
Crusher – Blaze's biggest rival, Crusher, is a tractor-trailer that will do anything to beat the other racers to the finish line.
Pickle – Crusher's over-enthusiastic and underappreciated sidekick.
Gabby – Mechanic with serious monster truck know-how.
Darington – Ultimate showman who loves to dazzle with amazing tricks and stunts.
Stripes – Impetuous tiger truck who is always ready for action.
Starla – Hootin', hollerin' cowgirl Monster Machine.
Zeg – Part monster machine, part triceratops, Zeg is Blaze's best prehistoric pal.

Kids and parents can continue to play along and learn with Blaze on www.nickjr.com.au by watching music videos, downloading colouring pages, activity packs, posters and trading cards.


Interview with Professor Lyn English, Professor of STEM in Education at QUT, and Hugh Baldwin, Director of Television and Digital Content at Nick Jr.
Question: What is STEM education?

Professor Lyn English: STEM is an acronym referring to science, technology, engineering and mathematics. STEM interlinks these topics and teaches young children through real-world scenarios and practical implementation, so that pupils can apply important ideas outside the classroom in their everyday lives.


Question: How does STEM education help in pre-school learning?

Professor Lyn English: It's important for pre-schoolers to be introduced to STEM concepts early on in their learning experience. Helping them to join the dots between these interconnected STEM concepts early in life is a great way to prepare them for full-time schooling, as well as increase their confidence in solving practical problems around them.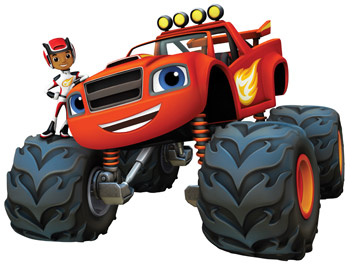 Question: How is Nick Jr. including STEM education in their programs?

Hugh Baldwin : Nick Jr., has launched a new programme for pre-schoolers, Blaze and the Monster Machines, which is Australia's first pre-school TV show to cover STEM in every episode. Blaze includes STEM by providing appealing, thought-provoking content that exposes little ones to key concepts, and gets them excited about STEM by encouraging their curiosity about how things work.

The show educates young viewers about STEM by including them as -active' watchers. For example, the adventures of monster truck Blaze and his eight-year-old driver, AJ, lead them to explore the physics of how things move; tackle problems through scientific inquiry and mathematics; and discover the parts needed to make everyday technologies work. Interactive features such as maths problems, which appear as thought bubbles, encourage children to identify vital engine parts, bring STEM concepts to life on the screen and make them appealing to their young audience.


Question: Can you talk about how Blaze and the Monster Machines covers all areas of STEM in every episode?

Hugh Baldwin : Each episode is filled with monster trucks, physical humour and upbeat original songs that highlight STEM concepts such as adhesion, friction, force, trajectory and magnetism. The concepts are closely tied into the characters' adventures so that pre-schoolers watching naturally pick them up and apply them to their own life experiences. The four areas are addressed in the following ways:
Science: In every episode, pre-schoolers are introduced to a new 'big" scientific concept to help develop basic scientific vocabulary and process skills.
Technology: Blaze and the Monster Machines encourages young children to explore tools, machines, and materials used to solve problems.
Engineering: Every episode shows viewers how to design and construct powerful machines.
Maths: The series explores how math and science are interrelated and explains that math concepts are needed to solve problems in science.


Question: What are the areas of STEM education?

Professor Lyn English and Hugh Baldwin : The four areas of STEM are: science, technology, engineering and maths.


Question: What are buzz words and how are they featured in Blaze and the Monster Machines?

Hugh Baldwin : Buzz words, noises and songs are utilised in each show to organically weave STEM into every episode. For example, in every episode Blaze and AJ enthusiastically say 'Let's Blaze!" which initiates an iconic speed boost to make Blaze drive go super-fast. Blaze then deploys special thrusters and a rear spoiler that help him take off so fast that he leaves nothing but a blur of colour in his wake, consistently bringing these engineering concepts to the fore.

Music also plays a key role, with a new original STEM pop song used to introduce a scientific terms in each episode. These songs all feature a high-octane rock/pop sound with relatable, catchy lyrics that explain things like adhesion and friction. There is also a reoccurring travel song in each episode, which sits over a high energy montage of Blaze and AJ speeding to next destination.

Finally, Blaze also has a signature horn honk ditty that he uses to punctuate moments of high action.


Question: Can you talk us through the positive impact educational TV programs can have on children's learning in general?

Professor Lyn English: Pre-schoolers are blessed with great confidence when it comes to learning; often they are not given enough credit for their problem solving abilities, when problems are presented to them in an environment that is challenging and appealing. Educational shows provide just such an environment, presenting potentially tricky topics in a way that is relatable for little ones.

Concepts presented by their favourite onscreen characters will soon be ones pre-schoolers reference in their own play. Young children like to imitate behaviour and ideas, so by capturing their interest and imagination educational shows give them further reference points that will help them to learn.

Educational shows also provide a platform for parents to apply the ideas they feature to their child's everyday life. Families can enjoy watching the shows together, and talk about what they've seen. They also encourage children to ask questions and help parents to focus their answers to ensure their little one is learning something new.


Question: How will shows such as Blaze and the Monster Machines better equip 2 to 5 year olds when they start school?

Professor Lyn English and Hugh Baldwin : Introducing children to STEM concepts early gives them a head start. When it comes to starting school, they will already be familiar with core concepts that appear in STEM, and will be confident in applying them to new scenarios and problems. Educational shows such as Blaze familiarise children with the learning process; they will be comfortable taking on new information and keen to seek out new ideas.


Question: What other shows feature STEM education?

Professor Lyn English and Hugh Baldwin : Nick Jr.'s Blaze and the Monster Machines is Australia's first pre-school TV show to cover STEM in every episode.


Interview by Brooke Hunter