Reshaping power board design


HPM - a leading supplier to the electrical industry - has launched The Pod, a new power board range designed with both style and safety in mind.
The sleek curved profile, bold black and white colouring and soft-touch finish make HPMs new power boards perfect for use when the power board can not be hidden or disguised.
Available in four or six outlets, optimal safety was a key consideration in the development of The Pod. Its unique rotating covers remain closed when not in use, creating a stream lined look, and keeping inquisitive young fingers safe. It is also fitted with very high surge protection (900J) and a surge protection indicator to let users know when the surge protection feature has been exhausted and a new power board is recommended.
Conveniently fitted with keyhole mounting slots, The Pod can be easily fitted on a wall to remain fixed in a desired position. Other features include non-slip feet and a slimline side-entry plug.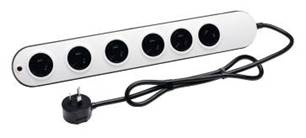 Finally a powerboard that can accomdate large adapters, HPM Legrand Powerboards are not only designed with safety in mind but now they are funcation too as they can accomodate larger adapters, perfect for Christmas decorations & phone chargers.
HPM powerboards are the benchmark in quality and value.
For more information please contact HPM Legrand on 1300 369 777.