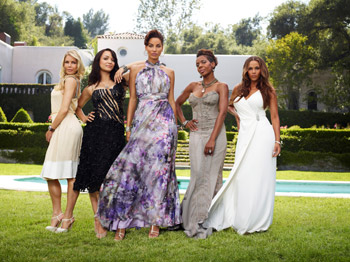 Hollywood Exes
E!'s new series 'Hollywood Exes" introduces viewers to an eclectic group of women who are now separated from some of Hollywood's most famous men. Simply put… these ex-wives are starting over. Each and every one of them were married and divorced at a young age, and are eager to reinvent themselves. Whether they are raising children, dipping a toe in the dating pool or starting a new business, these women are ready to kick off a very busy year.
At a glance, the group are all at very different places in their relationships with their exes. The lucky few have remained friendly, while the others can barely stand to say their ex-husbands names out loud. Regardless, the women have the support of each other to fall back on in hard times. Some have known each other even before they were married, so there are established bonds within the group dynamic.
This series will prove that through the struggles of a high profile divorce, these women can and will emerge from the shadows of their ex-husbands' fame, and show the world that they are much more than just a trophy wife with a pretty face. The cast of -exes' includes Sheree Fletcher, ex-wife of A-List actor Will Smith, and current wife of retired NFL player Terrell Fletcher; Nicole Murphy, ex-wife of actor and comedian Eddie Murphy, who is now engaged to retired NFL player and TV personality Michael Strahan; Mayte Garcia, ex-wife of pop star Prince; Jessica Canseco, ex-wife of former baseball player Jose Canseco; and, Andrea Kelly, ex-wife of R&B singer R. Kelly.
Don't miss a thing when 'Hollywood Exes" premieres on Wednesday, November 20 at 8.30pm AEDT only on E! (E! is available on Foxtel on Channel 121)