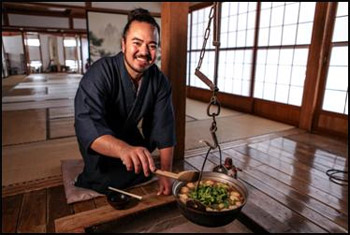 Destination Flavour: Japan
Begins Thursday 19th of September at 8pm on SBS One

Adam Liaw is set to host a new 10-part series that dives deep into the story of Japanese cuisine and culture in Destination Flavour Japan, following on from the first popular Destination Flavour which aired on SBS in 2012.

In the new series Adam will take food lovers on a journey of discovery along the entire length of Japan – from its frozen north, through the cherry-blossomed mainland, and down to the tropical sun-soaked southern islands.

Adam has a close affiliation with the country, having lived and worked there for seven years and married his Japanese fiancé Asami in 2012. Adam will visit farmers, fishermen, Michelin-starred chefs and passionate home cooks to reveal the heart of Japanese food and lifestyle – from its ancient dishes and traditions to the bright lights of Tokyo, one of the world's greatest food cities.

In this feature series from the SBS food pantry Adam will delight even the most serious food devotee with his fine-tuned insight into cookery and his passionate knowledge and creation of wonderful recipes.

Destination Flavour is always on the move in an attempt to quench a never ending thirst to meet interesting food heroes, celebrate fabulous produce and explore the various cultures and cuisines of Australia and beyond.

Instantly recognisable with his warm smile and topknot, 34-year-old Destination Flavour host and winner of MasterChef series 2 Adam Liaw is one of Australia's favourite new cooks and commentators. His talent for creating Asian-inspired dishes with clean, fresh flavours also translates to print, and his best-selling 2010 cookbook Two Asian Kitchens was called -thoughtful and beautiful' by The Sydney Morning Herald. Critics and fans are eagerly awaiting his next book, Asian After Work, scheduled for release in-store on 24 September. Articulate and witty, Adam brings a unique perspective to everything he does " as evidenced in his popular food and culture column for Wall Street Journal website Scene Asia. In 2012, Adam's sense of humour and regular musings on Twitter won him a spot on PopSugar's list of -Top-20 most entertaining celebrities to follow'.

Born in Malaysia to an English-Singaporean mother and Hainanese Chinese father, Adam's family lived in several countries through his youth and his culinary influences are far reaching. Although Adam was encouraged to cook from a young age, it wasn't until he moved in with his Chinese grandmother in his early teens that his real passion for cooking was ignited.

Adam became a qualified lawyer at 21. After starting his career in Adelaide, he spent six years in Tokyo working as a lawyer for The Walt Disney Company. His love affair with food and cooking blossomed during this time, and he dreamed of one day opening his own izakaya (a casual Japanese restaurant). After hearing about MasterChef he returned to Australia in 2009 when his auditions proved successful. In July 2010 over 5 million people tuned in to watch him win MasterChef series two.

In 2012 he began filming a food and travel series with SBS, Destination Flavour which followed Adam and his co-hosts as they met food producers, celebrated chefs and local food heroes on a road trip around Australia. The series was hugely successful, and Adam's presenting skills in particular won him excellent reviews, a TV Week Logie nomination for 'Most Popular New Talent" and a bevy of new fans.