One of the Hardest Working Bands in Australia
Grasshole are a stoner-punk three-piece from Melbourne that exemplify the hard work required to make it in today's music industry. Since the release of their debut EP (Grasshole), a second EP (The Unification Proclamation), and their debut album (Fuzz of Flavour) the band have completed three national and two international tours, playing shows across Spain, Sweden and Indonesia, including several festivals. The tour for their debut album spanned 85 shows across a year and a half. They have since developed a reputation for a high-octane live show that has gained a very strong following both locally in Australia and internationally.

Grasshole's back catalogue has earned them a significant amount of spins on community radio in Australia and college radio in the US. Their 2nd EP, The Unification Proclamation, was added to rotation across 90 US Radio Stations and debuted at #1 on a handful of stations.

Grasshole started recording album number two in 2019 with peerless producer Lindsay Gravina (Hole, Jet, The Living End, Cosmic Psychos). Title track 'Wildfire' is the first taste test taken from the band's forthcoming second album due for release in March 2020.


Interview with Karis Hawkins, vocalist/guitarist
Question: How would you describe your music?

Karis Hawkins: Scuzzy Fuzzy Wuzzy Garage Punk.


Question: Can you tell us about Wildfire?

Karis Hawkins: It's the title single from our second album out March 2020. We set out to create something truly reflective of the energy we create live and really feel the main hook sums up our band ethos, work hard - play hard.


Question: What motivates you most when writing music?

Karis Hawkins: So many amazing bands out there continually putting out awesome music, some of our favourites have ridden a path for 20 + years without a top ten hit, totally suiting themselves and dedicating a lifetime to their art in spite of their chaotic lives.


Question: Do you prefer performing live or recording?

Karis Hawkins: Recording is such a cathartic process for us. To just stop, take it in and hear layers building and sonic scaping to the microfrequency is pure joy.


Question: Which is your favourite song to perform live and why?

Karis Hawkins: At the moment, Bumblebee from the new record has been wild. We trialed this playing across Germany last year and never failed to raise the energy bar of a crowd. It has this long brooding build at the start and by the time the band comes in it's a proper kick in the teeth!


Question: If you could have anyone, in the world, attend a show, who would it be?

Karis Hawkins: Steve Hughes (comedian) - just an all-round proper legend that reflects a lot of our world views through humour.


Question: What is the story behind the band name?

Karis Hawkins: It's just a silly word, we wanted something that made people more curious about the music than the brand...it does evoke some lush imagery though ey?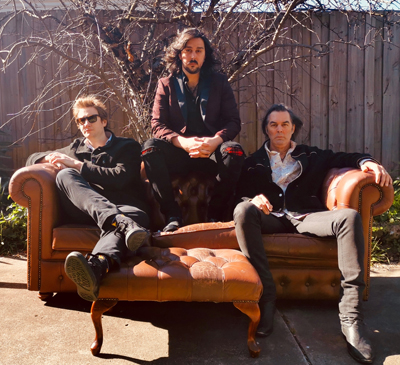 Question: How did the band come together?

Karis Hawkins: Rick (drummer) and I have been playing together for close to 15 years (Father & Son) combo. We decided to ramp it up a few moons ago and leave a legacy of wild tunes we could be really proud of!


Question: Which music/artists are you currently listening to?

Karis Hawkins: Fangz from Sydney are wicked. The Bronx. Berri Txarrak (from Basque Country), Richard Hell and The Voidoids, Steel Panther (everyone needs a non PC giggle), The Subways, Dengue Fever (Cambodian rock/garage psych)… too many to list!


Question: What or who was your inspiration to go into the music industry?

Karis Hawkins: We are all suckers for punishment so makes sense we would find ourselves there (laughs).


Question: If you could collaborate with another artist, who would it be?

Karis Hawkins: Matt Caughtran from the Bronx would be a dream, need to write something heavy for him to lay some screams on first though.


Question: What is the biggest challenge you have faced along the way to your musical success?

Karis Hawkins: Record, Tour, Rinse, Repeat! It's a seriously tough industry to pursue especially with a rock sound (predominantly in Australia). Lucky we believe in what we do and hope one day that translates to as many people as possible.


Question: What's a typical day like?

Karis Hawkins: We all work 9-5's, but leading up to a release I'll be clocking on a 6-11 shift after writing a bajillion emails and finding bands for a tour or even bringing out some killer Spanish bands to Australia. Got Willis Drummond, a fantastic rock band coming on their first tour in a few weeks, keep an ear out!


Question: What has been your favourite part of becoming a music artist?

Karis Hawkins: Self-expression in a recording studio and the riders can be decent if you get a venue that loves ya.


Question: Can you share your socials?

Karis Hawkins: http://www.grassholeband.com
https://www.grasshole.bandcamp.com
https://www.facebook.com/grassholeband
@grassholeband
Youtube Channel
Spotify
Soundcloud


Interview by Brooke Hunter