Good wine has to do with the people who make it!
I was reading an article about wine and it's comparison to driving a new jaguar, I am not sure where the author of the article was going with this, but one paragraph in the article has stuck with me.
Good wine according to Simon Berry, (British Wine Merchants, Berry Bros & Reed) "is to do with the people who make it more than anything else. It is to do with the weather and the region, of course, but it has an extra magic, that ineffable quality".
I think this statement is absolutely true. It's the wine makers passion, humour, mischief, and grace that add the magic to the wine. Terroir, weather and the region all work together to make the optimum grape, but it's the winemakers flair that produce an optimum wine.
Recently I went with friends to the Young Guns Wine tasting at The Prince Wine Store in South Melbourne. The Young Guns Awards, have been recognising outstanding wine since 2007. It is a completely unstuffy weekend of wine tasting, eating & buying wine. Judges vote for the best drop, and people's purchasing power is also taken into consideration for the nominations of the People's Choice Awards - a very egalitarian way of deciding.
I could wax lyrical about the Young Guns Wine Awards, but it is best to go onto their website and have a look for yourself, its well worth your time. And do yourself a favour, and put the dates into you calendar, diary, outlook, iphone or however you organise yourself, and go next year.
www.ygowaward.com.au
Coming back to the comment by Simon Berry that it is the wine maker's ineffable qualities... Going to the Young Guns tasting, I got to meet some of our young up and coming wine makers, all are fabulous, but two really stood out for me. Firstly, Adam Foster of Syrahmi and The People's Choice Awards winner for two years running. He makes his wine in Heathcote Victoria, sourcing his grapes from the area. In 2008 it was a gargantuan fight against the elements; remember the heat wave in March in Victoria? Adam was lucky enough to have picked his grapes the week before so luckily he escaped the worst of it.
From that fight against the elements, Adam produced his wine 'Maelstrom', which is a dramatic name and goes to the heart of how he was feeling at the time. I really love this wine, not only for the humor Adam has with the marketing of his wine, the wine is a very sexy drop. Intense, spicy, with raspberries and cherries, it is finely textured and medium bodied. The sort of wine you would want to buy to impress, plus he also makes hot salami that is fantastic!
http://syrahmi.com.au/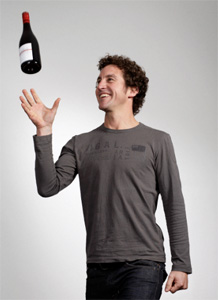 My other favourite was Mac Forbes of Mac Forbes. I have been a huge fan of his Pinot for a long time. Mac Forbes is a Yarra Valley man born and bred, and he has spent some time in Europe which has influenced his old world sensibilities. Mac is kind of like the Hugh Jackman of the Australian wine industry, the quintessential Aussie bloke. Restraint and elegance are words he uses to describe his wines, he is not vying for the big wine mantle, and he is keen to introduce some different varieties to our palate such as Gruner Veltliner & Blaufrankisch. Long names for varieties, but you will be on your last drop before your friends get their lips around the 'ner' in 'Veltliner'.
www.macforbes.com
I recommend you try these wines for yourself.
Diana Kerr