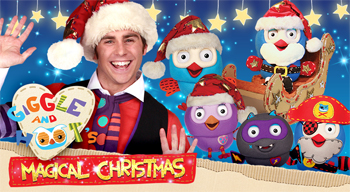 Giggle and Hoot's Magical Christmas
It's Christmas time in the land of Giggle and Hoot and everybody is busy, getting ready for the arrival of Hootoclaws for his special Christmas Night Watch.

Trees are being decorated, presents are being wrapped and all that is left to be done is Twinklify the very dark night sky… but what happens when all the stars suddenly disappear?

Will Jimmy Giggle and Hoot be able to brighten the sky again and help save Christmas? Will they need help from some special Owl Pal friends?

Find out in this live musical spectacular, Giggle and Hoot's Magical Christmas, on a stage near you.

Starring Jimmy Giggle, Hoot, Hootabelle, Gigglefangs, Pirate Hootbeard and of course… Hootoclaws and his dancing Elves, Giggle & Hoot's Magical Christmas promises to be the most… well, magical show of the season.

Tickets for all shows go on sale 10am this Friday, September 23.

My Live Nation members can be among the first to secure tickets inthe pre-sale commencing 10am tomorrow, September 21. For complete tour and ticketing details, visit: livenation.com.au.

Giggle and Hoot, the much loved ABC4Kids preschool program, focuses on preschoolers' lives and routines through songs, stories, friendship, laughter and imagination.

The live show, incorporating these themes, will be one of the most anticipated and hottest tickets for families this year.
So Owl Pals, get your giggle-tastic selves ready because Giggle and Hoot's Magical Christmas is coming to a theatre near you this December.


Sat 10th of December: Qpac, Brisbane
Sun 11th of December: Empire Theatre, Toowoomba
Tue 13th of December: Glasshouse, Port Macquarie
Thu 15th of December: Riverside Theatre, Parramatta
Fri 16th of December: Joan Sutherland Performing Arts Centre, Penrith
Sat 17th of December: Seymour Centre, Sydney
Mon 19th of December: Frankston Arts Centre
Tue 20th and Wed 21st of December: Playhouse, Arts Centre Melbourne

For complete tour and ticketing details, visit: abc.net.au/abcevents and livenation.com.au