Jos Ruffell Garage Project Interview
Us Aussie's love New Zealanders for their ability make sublime Sauvignon Blanc and rival Melbourne on the coffee scene, but it's time to bring to the attention of Aussie's their insane craft beer scene.

Wellington NZ's trailblazing brewery, the Garage Project, has taken home the top gong at the annual NZ Society of Beer Advocates (SOBA) Awards, winning Best Brewery in the country for 2014 - and the good news it is sold in Australia!

Distributed Australia wide by Phoenix Beers, Garage Project co-founder Ian Gillespie says people should be able to find it in all states and all main centres.

With creative ingredients including cornflakes, chocolate wheat, milk sugar, vanilla, pinot noir juice, smoked chipolte chili, Vietnamese mint and rose water, the boys at GP are certainly taking the beer world by storm.

While Wellington, New Zealand has long been known for its location nestled between two of the country's top wine regions, there is a new brew on the block in the capital. Craft beer is experiencing a boom across the ditch, with boutique breweries and specialist beer bars popping up all over Wellington city. Breweries such as Parrotdog, Panhead Custom Ales, Tuatara and Baylands Brewery have helped turn the capital into a beer hub, creating a close community of brewers. Garage Project have established themselves as the frontrunners in the craft beer race, with their always intriguing and often polarising beers making a splash. Brewed in a suburban former petrol station, Garage Project beers often feature unique ingredients such as chipotle chillis, grapefruit peel, seawater, cornflakes or golden syrup.



Interview with Jos Ruffell, Co-Founder, Garage Project
Question: What is Garage Project?

Jos Ruffell: Garage Project is a small brewery based in an old petrol station in Wellington, New Zealand. It was started in 2011 by Pete Gillespie and Jos Ruffell with help from Pete's brother Ian. It's a place where we try to push the boundaries of what beer can be.


Question: Where did the idea for the Garage Project come from?

Jos Ruffell: The idea came from wanting to bring brewing back to Wellington. At the time there were no breweries operating in the city, and also as a response to the idea that beer can be much more than just bland and bitter. We wanted to do things differently and give people experiences they might not expect to find in a glass of beer. In a very short space of time it's amazing to see how Wellington has developed into a hub for fantastic beer, bars and breweries!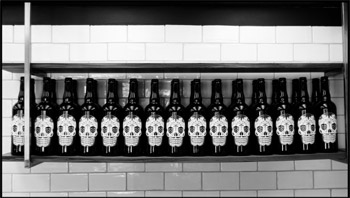 Question: Can you talk about the experience of beer you had prior to creating the Garage Project?

Jos Ruffell: Pete and myself had quite different backgrounds. Pete had been working as a professional brewer for 10 years - originally in England at some very traditional breweries, and then more recently at The Malt Shovel in Sydney producing the James Squire beers. My background was far more on the 'tasting side', having become hooked on American style craft beer through several years of travel up to the West Coast of America.


Question: The beer ingredients are a little different, can you talk us through them?

Jos Ruffell: We take a very open approach to brewing and will consider using anything and everything to achieve unique and memorible flavours. Brewing beer with just four base ingrediants is a relatively new thing in the history of brewing. For thousands of years, beer has included all sorts of wonderful botanical, herbs and spices, so in some ways, we're going back to some older traditions but viewing them through a modern lens.


Question: How did it feel to win Best Brewery at the Society of Beer Advocates (SOBA) Awards?

Jos Ruffell: We had a phenomenal year in the brewery - upgrading our equipment and winning a slew of awards including a medal at the World Beer Cup. In light of all that though, the SOBA award was in many ways far more satisfying and rewarding as it is not given by a small group of judges, but the wider beer drinking community of New Zealand. It's nice to know that we have the support and respect of the very people we work hard to give new experiences to.


Question: Where can we find Australian stockists for the Garage Project?

Jos Ruffell: We are stocked Nationwide, although we're told it can be very tricky to find our beers. Specialist bottle shops are the best starting point, and shortly a small amount of our cans of Hapi Daze will appear in Dan Murphy's stores for the first time.


Question: What's a typical day like at the Garage Project?

Jos Ruffell: There is no typical day and that's what makes Garage Project exciting and challenging at the same time. We produce a huge range of beers, and are constantly releasing new ones to keep everyone one their toes. A typical day could see us super heating rocks in a hard wood fire to flash caramelise beer, or juicing hundreds of fresh Yuzu for a new citrus sour. We might be hauling 20kg sacks of Kombu (seaweed) into the kettle, or hand bottling a run of experimental hop trial beers. Inevitably there will be artists dropping by to go over new work for an upcoming label, and if we're lucky, a quick moment to sit back, chat about some new ideas and plot out the next brew or two!


Question: What's next for the Garage Project?

Jos Ruffell: We're back at capacity and turning away orders again. Some new tanks on the way will help with this. We have several new beers coming up for festivals in Australia and America that we're excited by and a few collaborations with international chefs and bars in the planning. Today, it's a new fresh hop harvest beer and then shortly we will start racing over the hill to Martinborough to collect freshly crushed grape juice for our grape harvest beers. Later in the month, a liquid ANZAC biscuit will be brewed to release in late April. The great thing about being based in Wellington with all the bars, breweries, restaurants and cafes is that there is always something new to try!


Interview by Brooke Hunter