G Smooth Australian Red Bull Thre3style Championships Interview
Last weekend, the DJ'ing world set its sights on Melbourne for the Australian Red Bull Thre3style Championships, with impressive mixes and flawless technique playing out through the night; resulting in Melbourne Local G Smooth taking the crown.

Melbourne revellers were treated to turntable flare like no other, as six of Australia's top DJs went head-to-head in front of hundreds of fans and Thre3style heavyweights; Shintaro (2013 World Champion), Byte (2015 World Champion) and Perplexx (2 x AUS National Champion). Crowd favourites Lowblow and Chango Phat impressed early on however G Smooth's technical precision, manoeuvres, song selection and audience hype could not be beaten.

Red Bull Thre3Style pits the World's best DJs against each other, in a competition that values technical skill as much as the ability to thrill a dancefloor. Competitors are judged on their technical ability and crowd reaction, with each DJ given just 15 minutes each to mix three styles of music, to prove that they're the best in the room.

What began as an underground experiment seven years ago in Canada in 2010, Red Bull Thre3Style has grown to what is now the largest DJ competition on Earth; effectively changing the face of modern DJ battles.

From here, G Smooth will represent Australia at the 2016 World Finals in Chile where he will go up against the best in the business from around the globe, with 21 countries' top DJs pitted against each other.


Interview with G Smooth
Question: How does it feel to have won the Australian Red Bull Thre3style Championship?

G Smooth: Wow, it's such a great feeling!! Hard work pays off, so I take no day's off.


Question: What three genres of music did you play during your 15 minutes set at the Australian Red Bull Thre3style Championship?

G Smooth: I played a few styles ranging from Hip-Hop/Rock/RnB/House/Trap/80's etc.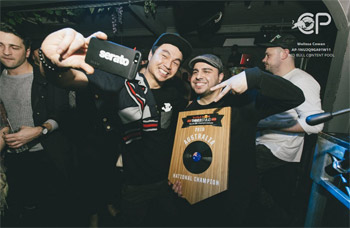 Question: What's next for you, now?

G Smooth: There is so much to choose from at the moment I'm just trying to stay open-minded.


Question: What are you looking forward to most at the 2016 World Finals in Chile?

G Smooth: I would love to put Australia back on the map and hopefully bring that crown back with me!


Question: What originally ignited your passion in music?

G Smooth: My father was a DJ throughout the 70's & 80's and would always school me on music growing up as a kid. It kind of turned me into a bit of an encyclopaedia at a young age.


Question: How would you describe your style, in five words?

G Smooth: Fresh, Powerful, Energetic, Class and definitely Smooth.


Question: How long have you been DJing for?

G Smooth: Well I really started paying attention to it around 95' and by 97' I was hooked.


Question: Do you have a particular artist whose music you enjoy mixing, most?

G Smooth: I can't say that I do but this is the beauty of staying fresh, there's never one favourite.


Question: What inspires you when you're performing a set?

G Smooth: It's a combination of things but usually the crowd infront of me and the energy in the room, although sometimes you have to create that energy!!


Interview by Brooke Hunter