French for Rabbits – the New Zealand-based, ethereal dream-pop project helmed by singer-songwriter Brooke Singer – are sharing "The Outsider," the delicate and warm third single to be released from the group's forthcoming album, The Overflow. The song follows on the heels of LP standouts: "Ouija Board" and the titular-track, "The Overflow."

Speaking on the origins of the song, Singer writes, "I wrote 'The Outsider' in the USA in 2019 with Marc Orrell (Dropkick Murphys) and Brooke Johnson. I'd been invited by a friend to a party not long after I landed in Los Angeles – a swimming pool, palm trees, musical heroes of mine (who were, of course, actually just lovely, interesting people). I'm quite a shy person, and the culture shock of coming into this from my normally quiet life in Wellington was real! The song is about being that introvert at a party, inhibitions and trying to fit in."

The music video for "The Outsider," just one of four films produced for the album, was shot in Christchurch, NZ, and was co-directed by Singer and her good friend and collaborator, Martin Sagadin, while Julian Vares handled the cinematography.

Singer, writing on her aesthetic inspiration for the video, recalls "...[we] wanted the film to have a 90s American movie aesthetic. My mum and I went searching out a street to film on, and came across this beautiful tree lined street. We also staked out the street the day before filming, trying to figure out when the street lights turned on, because I had an idea for a shot where as I walked past the street light…it would turn on. That turned out to be far too hard – but we did it with a candle instead in one of the shots."

Together French For Rabbits have released three records - New Zealand Music Award nominated EP Claimed by the Sea; Spirits, which includes the poetic and emotive singles "Goat" and "The Other Side;" and The Weight of Melted Snow.

They've toured in the US and Europe, opening for acts such as Lorde, Agnes Obel and performed at SXSW, Iceland Airwaves, WOMAD and in a castle for a fan's wedding in Switzerland. Despite racking up millions of streams and seeing their music appear in shows from Vampire Diaries to Being Human, the band have remained close to their DIY roots co-running local label Home Alone, and performing in various other bands in their Wellington home-town.


Interview with French For Rabbits (Brooke Singer)
Question: How would you describe your music?

Brooke Singer: It is both a reflection of self, and a collaboration. It is the music that resonates inside my bones - the conflicts, questions and emotions that spill over into song form. This gets pulled apart and put back together by the band to create a story that is bigger than words alone. I believe that something can be breathtaking, beautiful and complex. This is what we try to do.


Question: Can you tell us about Walk the Desert?

Brooke Singer: It's a song for running away from your feelings.


Question: What inspired your upcoming album?

Brooke Singer: I spent a lot of time co-writing for a separate solo project - and found this to be a very inspiring experience because it challenged me to break some barriers I didn't know I had in place for myself. I was inspired to follow the joy, and my intuition for the stories and emotions I felt compelled to share. There are songs about poetry, hoarding, having it all, anxiety, memories, kindness on the internet, and the end of the world.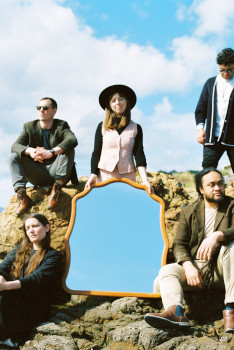 Question: Is there a particular message you hope listeners take from your music?

Brooke Singer: I would like them to take whatever is most useful to them from it. There are several stories and threads here. If listeners can get lost in it for a while, to be fully absorbed - that would be nice.


Question: Do you prefer performing live or recording?

Brooke Singer: I like both in different ways - one feeds into the other. I love to produce and record - this is my happy place where everything comes together creatively. The stage is a different kind of energy, it's really humbling to get up on a stage and have people come and listen to what you've created. I love the spontaneity of a show - I don't know what we will talk about, and I love the way laughter can ripple around a room.


Question: What is the story behind the band name?

Brooke Singer: A secret code to hide my real identity, when I was too afraid of singing in public and shared my first demos.


Question: How did the band come together?

Brooke Singer: John and I started the band in the late part of 2011 - I told him I didn't want any of those fancy jazz chords he knew how to play. Ben joined next...originally on drums (he's very talented) and then he shifted across to bass, guitar, and vocals (because he has a great voice!), and Hikurangi joined on drums. Penelope joined a little later, in 2016 to fill in on a tour to Iceland. We liked her so much, and she agreed to join the band.


Question: What motivates you most when writing music?

Brooke Singer: The feeling and the way a melody feels to sing.


Question: Which music/artists are you currently listening to?

Brooke Singer: Hand Habits, Beach House, The Weather Station, Bess Atwell...and lots of old assorted records.


Question: What or who was your inspiration to go into the music industry?

Brooke Singer: I think perhaps the New Zealand band Trinity Roots were an early formative inspiration. I remember going to see them perform in Kaikoura while I was still in high school. I teach at a local university alongside him now, which is a bit of a pinch me moment. I am still inspired by his ideas and musical integrity.


Question: If you could collaborate with another artist, who would it be?

Brooke Singer: I think I'd be curious to work on some music with Thom Yorke. Alternatively, I'd love to write a pop hit with Sasha Sloan.


Question: What has been your favourite part of becoming a music artist?

Brooke Singer: The opportunities it has given me to travel and follow my creativity. Also, the messages and conversations I have with people who have found our music profound for them in some way. That really does make all the worst parts of the music industry worthwhile (and the music industry is not perfect, by any means).


Question: What's a typical day like?

Brooke Singer: It depends on the season...whether I'm in a song-writing, teaching, touring or release season. At the moment it is the end of semester at university, and I'm deep in album admin too so it's very full on. In the morning I drink a cup of tea, pat the neighbours cat in the sun, write emails. About midday I often like to inspect the garden and see what is growing well (it doesn't grow very fast, if you check every day). Some days I am very focused, and other times I'll sit down at the piano and lose an hour or three. Right now it is 1am, and I really must go to bed.


Question: What's next, for you?

Brooke Singer: I'm going to creep into bed, probably. Our album is out on Friday!


Question: Can you share your socials? (links please)

Brooke Singer: Facebook
Instagram
Twitter
BandCamp


Interview by Gwen van Montfort