An enticing new rural romance from the bestselling author of The Wrong Callahan and Mr Right Now.
Farmer Georgie Henderson manages a cattle property in the New England region of New South Wales, but her dream has always been to buy back her family farm, Tamban.

When an unlikely meeting with Michael Delacourt at a rowdy B&S Ball sends them on a whirlwind romance, Georgie can't believe it's possible for life to be this good. For the first time ever, her dream of buying back Tamban takes a backseat to her happiness.

But her world shatters when she discovers the shocking secret Michael has been trying to keep from her.

Can Michael convince her they still have a future? And after having her heart so thoroughly broken, can Georgie ever trust anyone again?

Karly Lane lives on the mid-north coast of New South Wales. Proud mum to four children and wife of one very patient mechanic, she is lucky enough to spend her day doing the two things she loves most - being a mum and writing stories set in beautiful rural Australia.

Her bestselling novels include North Star, Morgan's Law, Bridie's Choice, Poppy's Dilemma, Gemma's Bluff, Tallowood Bound, Second Chance Town, Third Time Lucky, If Wishes Were Horses, Six Ways to Sunday, Someone Like You, and the bestselling Callahans of Stringybark Creek series - The Wrong Callahan, Mr Right Now and Return to Stringybark Creek. This is her fifteenth novel.

Fool Me Once
Allen and Unwin
Author: Karly Lane
ISBN: 9781760529246
RRP: $29.99



Interview with Karly Lane
Question: What originally inspired the idea of Fool Me Once?

Karly Lane : Like Georgie, I had dreams of buying back the family farm. When my grandparents sold their property, when I was younger, I was devastated. This book, in a way, was a bit of therapy. What might have been.


Question: What did you learn about yourself after writing this book?

Karly Lane : Interestingly, I found that after writing this book, I managed to put some of my own ghosts to rest about my sadness of not being able to fulfil my own dream of owning my grandparents farm. I've got so many blessings in my life, and remembering that helps ease that pain enough to know that it's ok.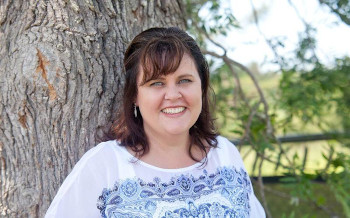 Question: Are the characters based on anyone you know, in real life?

Karly Lane : Not really. Although sometimes characters, mostly secondary ones, tend to take bits and pieces from people I may have met at some point.


Question: What's the main message you hope readers take from Fool Me Once?

Karly Lane : It is my hope that this book puts the spotlight onto female farmers. They should come immediately to mind when people think of the farming industry.


Question: What research did you do, prior to writing Fool Me Once?

Karly Lane : I'm lucky that when it comes to farming, I have a wealth of knowledgeable people around me who I can run ideas past or help me find the right answers to.


Question: What is the best thing about creating a character like Georgie?

Karly Lane : I love creating down to earth, likable characters, and with Georgie I was able to have a character that anyone from a small rural community could recognise as someone they might know.


Question: What advice do you have for aspiring writers or artists?

Karly Lane : Keep writing. When you finish a book, start another one. The more you write the more you improve.


Question: What or who inspired your love of reading/writing?

Karly Lane : My nanna inspired my love of reading, which eventually turned into writing. She always had a book in her hand and books would be laying around all over the house.


Question: What book are you reading, right now?

Karly Lane : I just finished The Mum Who Got her Life Back by Fiona Gibson.


Question: What's next, for you?

Karly Lane : I have edits due back for my December release, Something like This and I'm also working on the book scheduled for next May, set in Scotland which I'm very excited about.


Interview by Gwen van Montfort