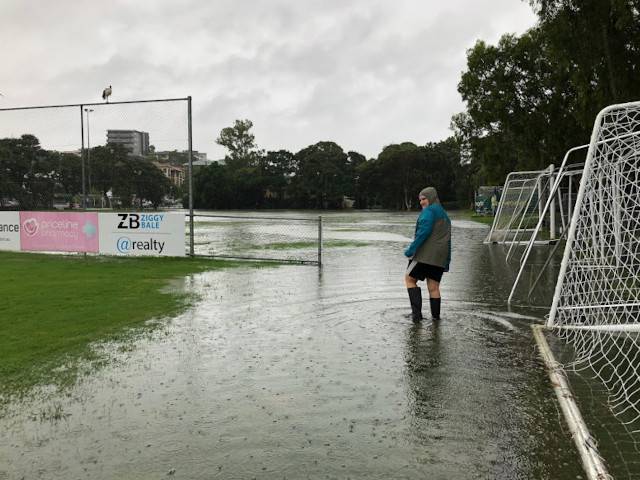 On Friday night, the CommBank Matildas created history defeating New Zealand in Townsville 2-1, but it was the off field support of two QLD Football Clubs in Brisbane City and Toowong FC that shared a message of resilience in a community that was left devastated by the recent floods.

As part of CommBank's Flood Relief Fund, the Brisbane clubs were both awarded $10,000 grants to aid their recovery to aid in the rebuilding of the recent devastation.

Brisbane City were set to be the official training grounds for the upcoming World Cup but have been left with extensive damage to their three training fields.

Brisbane City FC President, Rob Rossi said "All our three training facilities were completely flooded. Grandstand, changerooms, physio and gym, canteen, bar were flooded. We lost all of our football equipment including 14 goals, uniforms and kits were damaged as well. All fields were completely covered with water over the three days.

"The grants helped us get back on the ground within two weeks. We purchased everything from balls, bibs, cones, goals, repaired some of the canteen equipment which was a massive help. Getting that basic equipment such as goal posts so the kids can get back on the pitch to play was everything.

"It was wonderful to be up there to watch the Matildas and support them in Townsville on their way to the 2023 World Cup. The growth has been brilliant and we're very passionate about the women's game, so to be here live and watch some of the best players in the country is fantastic."

Toowong FC, who also experienced extensive damage, had also put the relief funds to good use.

"Our club was impacted quite significantly with flooding across our two fields, clubhouse, canteen, changerooms. Just about everything inside was destroyed and given the speed at which the waters rose we didn't have time to take anything out. Everything from fridges, soccer balls, merchandise - everything was impacted alongside the building's internals." Said Toowong FC Secretary, Becky Ashelford.

"The CommBank Flood Relief Fund Grant is going to be so important in getting us back on the field and out playing, which is the key thing for us. It's going to help us buy the equipment that we need to get back onto the pitch, it's going to help us to rebuild in a way that's sustainable for the future and provides the resilience if we're impacted again.

"We are incredibly excited to be here in Townsville to watch the Matildas play, it's been a very difficult month for us so to be able to be out here with CommBank to support the team is an amazing experience."

Comm Bank Australia alone, has seen over 1.5 million customers impacted by these floods with Spokesperson for CommBank Townsville, Donna Astbury (Executive Manager Regional and Agribusiness - Business Banking) adding, "Our thoughts are with everyone who was affected by the recent floods.

"As a bank for all Australians, we are here to provide our customers and communities with support, particularly in times of need. To assist community organisations impacted by the devastating east coast floods, CBA launched its Flood Relief Fund. Through the CommBank Flood Relief Fund, community organisations such as local football clubs can access grants of up to $10,000 to assist with clean-up, rebuild and recovery."