In spite of ever-increasing pressures around us, we're often our own biggest critic. Not good enough has become an unnecessary mantra - and it's time this stopped. In the new book, Flawsome: The journey to being whole is learning to be holey, author and feedback expert Georgia Murch says it's time for us to accept our imperfections and learn to be ourselves, flaws and all.

Murch shows readers that being flawsome is not just about accepting your inadequacies or the things you hide - it's understanding where they come from and rewriting how you see yourself, so you can live authentically as you are. After all, your flaws make you, you. Flawsome is a call to arms to drop your search for perfection and be OK with being enough, and Murch shows that it's easier to reach than you might think. In the book readers learn how to:
• Become more self-aware of how you impact yourself and others in the everyday moments
• Identify the things that triggers you and hold you back from learning and growing
• Search for the what is really true and not get caught in rumination
• Hold the space to evolve as a person and know it's in the small moments

Practical, engaging and accessibly written, Flawsome is a mustread for those looking to discover the awesome in being yourself.

About the Author:
Georgia Murch is a self-defined 'quirky corporate'. She has led people and culture, marketing, sales and recruitment. She initially started as an accountant. Go figure! Over her career, Georgia has learned that the key to any successful team is people: when they are at their best, the business is too. She has worked with some of the best teams from organisations around the world including Atlassian, Telstra, Dior, Australia Post, Canva, Airtasker, The University of Melbourne, MYOB and BP. Georgia is a keynote speaker, facilitator, trainer and mentor in strategic planning and workforce culture. Her MO is helping people become the best versions of themselves. This is Georgia's third book.

Flawsome
Quikmark Media
Author: Georgia Murch
ISBN: 9780648796305
RRP: $29.95
Interview with Georgia Murch
Question: What originally inspired the idea of Flawsome?

Georgia Murch: After 10 years of research and design feedback cultures I saw how poor we are at the feedback we give ourselves. When we are tough on ourselves that spills out to others. Whether we are aware of it or not. I wanted to get to the core of why and help people understand how they can move to making peace with who they are - because of their flaws. Not in spite of them.
Question:
Who do you hope reads Flawsome?
Georgia Murch:
How many authors say everyone? It does apply to anyone who wants to grow and evolve though. And let's be honest, not everyone is up for learning about themselves. It's not always pretty and sometimes painful. Yet the irony is that it's these ones who can't always see the impact they are having on themselves and those around them.
Question:
What did you learn, about yourself, whilst writing Flawsome?
Georgia Murch:
Great question. That I love writing by a pool sipping cocktails? But that's not what you mean right? What I learned about myself if that the more I am me, and show my mistakes, articulate them, don't hide them - the less tension I live with and create in others. Seriously. I ask people not to edit podcasts when I forget the question, I tell people I have no idea when they ask me about things, I am explicit with others about my poor decisions or leadership flaws. Life is ...so ... much... easier. I don't need to hide and people really like it. Go figure!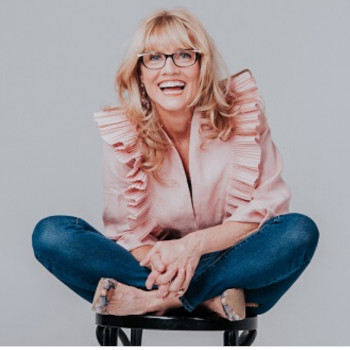 Question:
Was it difficult reliving certain aspects/times of your life, whilst writing Flawsome?
Georgia Murch:
I did have quite a few tears during the book. Because it is a raw account (the flawsome journey is) and life has a way of showing you things when you are ready to deal with them. My relationship with my Dad had always been complicated. Yet I realised that I had complicated it too by taking him personally. He died 70 pages in to Flawsome too. So the launch has been bitter sweet. But he loved it and asked me why I didn't write it sooner so he could have learned earlier. That was so special to hear.
Question:
What's the main message you hope readers take from Flawsome?
Georgia Murch:
That people are drawn to your acceptance of your flaws, not your perfection. Look at Celeste Barber. She is flawsome!
That making peace with who you are requires bravey. The courage to take responsibility for the impact you have and rewire your thinking to learn that what you believe about yourself might not be true.
That blaming yourself or others is a trap that serves no one.
Question:
Can you share some tips with us featured in the book?
Georgia Murch:
Oooo there's so many. But at the core it's about understanding what triggers you so you can ultimately learn from it and not be affected by these in the future. To do that a motto that has served me well when I can become frustrated or triggered by others is; 'How people treat you is a measure of their character. How you respond is a measure of yours'. This helps me regulate and become prouder of my role in the interactions.
I also find that in order to grow I need to pick my pain. The pain of growth or the pain of staying the same. What this means is that learning about yourself can be painful. It's hard to take responsibility for the role you might play, it's hard to stare at past pains and trauma to learn from them. But if you don't you keep repeating the same mistakes and staying frustrated by others and yourself. Pick your pain.
Question:
What research did you do, prior to writing Flawsome?
Georgia Murch:
I've run hundreds of workshops and coached hundreds of leaders, I've talked to thousands of people and interviewed hundreds for this book. I asked people a series of questions focusing on what it looks like to give yourself permission to be human and why they don't. My initial hypothesis was that our pursuit of perfection is the main reason why we don't give ourselves permission to be human. This was a factor but not the main one. Perfection is a symptom of dissatisfaction of self.
The interesting data showed that over 70% of people have a distinction about who they are at work compared to home. And one of the biggest issues is expectations. And this shows us where we believe we should or should do things to please others and manage our reputation. We 'should all over ourselves'. Just fascinating. This also holds us back from giving ourselves permission to be.
Question:
What or who inspired your love of reading/writing?
Georgia Murch:
You know what. I nearly failed English at school. The educations system way of writing was not my style. I never thought I would be an author. Let alone three books. I started writing weekly blogs over 7 years ago and people loved them. Go figure! They told me they liked that I wrote as I spoke. I thought to myself; "I can do that". So that's what I do. I write as I think and speak. It's much more real and much more fun.
I have always read from an early age. Fiction and non fiction. Love anything I can learn from and any world I can disappear into.
Question:
What book are you reading, right now?
Georgia Murch:
I just finished Where The Crawdags Sing by Delia Owens. What amazing writing! I could see everything she writes about. I am reading Byron Katies; Loving What Is. All about how our thinking changes our life. I always have a novel and a book to learn from on the go.
Question:
What's next, for you?
Georgia Murch:
Geez, that's like asking you when you are having a baby next when you are in hospital breastfeeding the one you just had. At this stage I am loving running Flawsome programs for anyone who wants to do the journey of self. After that let's see!
Interview by Gwen van Montfort