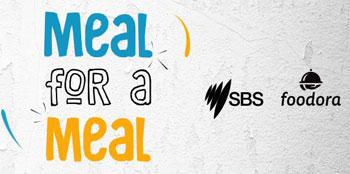 Filthy Rich and Homeless
SBS and foodora are collaborating on a meal-for-a-meal initiative giving people the opportunity to donate to feed members of the homeless community around the broadcast of immersive documentary series Filthy Rich and Homeless on SBS.
Airing over three consecutive nights from 27-29 June, Filthy Rich and Homeless aims to raise awareness of the hardships endured by the 105,000* Australians who are homeless on any given night by following five wealthy Australians as they trade in their privileged lives for 10 days and nights living among the homeless community.
The collaboration provides a way for people inspired by the issues SBS's Filthy Rich and Homeless explores to -pay it forward' by donating meals to the homeless through food rescue charity OzHarvest.
SBS Director of Marketing, Amanda McGregor, said:
'SBS aims to provoke debate and inspire change about important national issues through our programs; in this case, raising awareness of the complexities surrounding homelessness, which affects over 100,000* Australians today, in Filthy Rich and Homeless.
'We are also committed to providing opportunities to allow audiences to further explore these challenging topics in a range of ways, and as such we're proud to be working with foodora to empower people to make a difference by helping those affected by homelessness through supporting OzHarvest's important work."
foodora Chief Marketing Officer, Charlotte Rijkenberg, said:
'We are excited to support OzHarvest again through the partnership with SBS. Last year we were able to donate 10,000 meals to Australians in need via OzHarvest and our goal is to at least double that through the meal-for-a-meal initiative this year."
To donate to OzHarvest for the initiative, people can either add a donation at checkout when ordering a meal via foodora before July 2, or visit www.sbs.com.au/MealforaMeal to donate online. Those who donate via foodora will also receive free delivery on their next order.
The idea for the meal-for-a-meal initiative was collaboratively generated by SBS Australia and media agency Zenith, facilitated by Zenith Innovate.
For further information on the initiative, please visit www.sbs.com.au/MealforaMeal