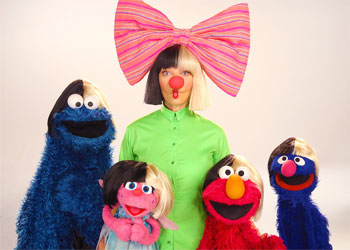 Sesame Street's Season 47
Plus A-List Celebrities Including Australia's own Sia, The Veronicas, Jason Derulo, James Corden, Tori Kelly, Little Big Town, Zachary Levi, and Anthony Mackie

Sesame Street has been educating and entertaining kids, helping them grow smarter, stronger, and kinder for 47 years. On Monday July 3rd, the gold standard in children's television will premiere a new season on ABC2 with a reimagined 'Elmo's World" segment, a kindness curriculum relevant to today's preschoolers, and segments with Australian celebrities Sia and The Veronicas.

As always, Sesame Street features a dazzling array of celebrities, including Australia's own multiple Grammy nominated singer/songwriter Sia singing 'S is for Songs;" R&B superstar Jason Derulo singing and dancing in 'D is for Dance;" Tony Award-winning host of The Late Late Show James Corden teaching kids about Father's Day; Grammy nominated pop star Tori Kelly singing 'K is for Kindness;" and action star of the Avengers series Anthony Mackie teaching Cookie Monster how to cook a healthy meal.

S is for Sibling celebrates all things family and in particular siblings. There might be one, there might be many, they might be younger, they might older, they might look different, they might look the same…they might even be The Veronicas! Australian singing sensations Jess and Lisa Origliasso from The Veronicas sing -S is for Sibling' in a fun, loving look at siblings.

This season, everyone's favorite red monster stars in an updated, fun, and fresh version of 'Elmo's World." In 25 five-min installments, lessons are taught through pre-school relevant topics, live action films, and interactive thinking games such as matching, sorting, and counting. Kids accompany Elmo and his friend Smartie, an animated cell phone and learning tool, as he uses his imagination to dive into the topic of the day. Tony Award-winning Bill Irwin returns as Mr. Noodle, and he has brought some new family members to join the fun! New characters include Mr. Noodle's two brothers, played by the Tony and Grammy Award-winning Daveed Diggs from Broadway's Hamilton and comedian Daniel Koren, and real pet dogs Schmoodle, Floodle, and Frank. Fans of the original 'Elmo's World" can still see Dorothy and the rest of Elmo's friends in select season 47 episodes, and in previous episodes of Sesame Street currently available on ABC2 and on Sesame Street's YouTube channel.

'We're excited to bring back an inventive and interactive take on one of the most successful children's television segments, -Elmo's World,' for today's kids," said Brown Johnson, EVP and Creative Director, Sesame Workshop. 'Kids love to learn with Elmo, and they are sure to enjoy the beautiful new chalk-drawn world Elmo creates in his imagination. We are also thrilled to be working with the legendary -original' Mr. Noodle, Bill Irwin, and proud to bring two new diverse and multi-talented Mr. Noodles into our -World.'"

In season 47, Sesame Street will introduce an important kindness curriculum to foster behaviours that can have significant outcomes throughout a child's life. In a study released recently by Sesame Workshop, it was revealed that nearly three-quarters of U.S parents and almost four-fifths of teachers say they 'often" worry the world is an unkind place for children. Additionally, around two-thirds of parents and over half of teachers believe that today's children are generally more disrespectful than respectful, and that people generally do not go out of their way to help others.1 Sesame Street's loveable monsters and diverse human cast address parents' and teachers' concerns by modeling positive interactions and the value of inclusion, listening to, and respecting others, and being empathetic, warm, and generous, illustrating for both parents and children how to be caring and compassionate citizens.

'Kindness and empathy are learned behaviors," said Dr. Rosemarie Truglio, SVP Content and Curriculum, Sesame Workshop. 'It's important for preschool children to see and understand what it means to be kind. Children can learn that kindness means understanding the feelings and needs of others and that being kind not only makes others feel good, it can make them feel good too."
Sesame Street's kindness curriculum is woven throughout the new season, including a new 'kindness cam" segment where kids, shown clips from the episode and live action films depicting real children doing similar acts of kindness, point out the kindness moment, thus reinforcing learning moments through repetition. In -The Kindness Kid' episode, Zachary Levi visits Sesame Street to spread kindness in the neighborhood. Grover wants to be a Kindness Kid too, but every time he tries to do something kind, he fails. Chris helps him realise that just trying to help someone is actually being kind.

Sesame Street content continues to be available to ABC2 viewers every weekday.