Born in Germany, raised in New Zealand, and now living in Australia, Fanfickk is a DIY indie music artist, creating irreverent pop songs and emo ambient music. Fanfickk's self-produced debut track, Shreds, in 2016 heralded the beginning of her musical odyssey, brought on by mistakenly bragging to someone that she was working on an EP when she wasn't. This white lie was the catalyst for more tracks, and the subsequent release of her debut EP Stay Shy.

Multiple collaborations, singles, remixes, and another EP followed, with several songs attracting radio play, indie chart placements, and a much-coveted Spotify editorial playlisting. Fanfickk's new release Summer Sun is the follow-up to her 2021 track, Everything's On Fire. As Fanfickk says about Summer Sun, 'It's an ambiguous love song, but it's definitely a love song.' And a love song like no other. Featuring Fanfickk's restrained idiosyncratic vocal performance set against a dreamy sonic backdrop, Summer Sun's languid rhythmic pulse reflects the track's narrative"a tale of joy as much as it is a song about admonition and starry-eyed discovery.

Summer Sun is not only an evocative musical exploration but a noteworthy one"with an unavoidable hook at its heart and Fanfickk's disarming and endearing creative powers in full flight.
Interview with Fanfickk
Question: How would you describe your music?

Fanfickk: I've heard it described as "upbeat melancholy" and "mutant pop"" both descriptions that I like!


Question: Can you tell us about Summer Sun?

Fanfickk: I wrote it in 2020 during one of the Melbourne lockdowns. It was inspired by a few different things, one of them being my friendships with people. I think I was feeling pretty lonely at the time and that sentiment bled its way into the song. It's also a little bit about my cat, and a Kpop idol called Haechan (they call him "full sun"). I would describe it as an ambient ballad.


Question: Is there a particular message you hope listeners take from your music?

Fanfickk: Nothing in particular, I just hope they enjoy it, and can relate to it in some way! If there's one thing that people take away from it, I hope it's my DIY approach.


Question: Has Australia influenced your music?

Fanfickk: I moved here just before the pandemic. I'd say the pandemic has definitely influenced what I've been making, and how I've been making it, but that's not really specific to Australia.


Question: Do you prefer performing live or recording?

Fanfickk: I don't perform live, so I'd have to choose recording by default. I don't enjoy singing in front of people. Conversely, my cat doesn't enjoy it when I sing in front of him, so I have to shut him out of my room when I'm recording.


Question: Can we expect any upcoming shows though?

Fanfickk: Not in the near future, unless I get over my fear of singing in front of people!


Question: What motivates you most when writing music?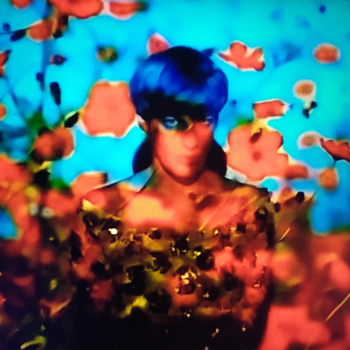 Fanfickk: I'm motivated by making something that satisfies my ears when I hear it. It's therapeutic to me as well.


Question: Which music/artists are you currently listening to?

Fanfickk: At the moment, I'm listening to a lot of TXT. I have an obsessive personality, so when I say I'm listening to TXT, I mean I'm listening to a handful of their songs on repeat for hours. I feel a bit bad for my neighbours, to be honest.


Question: What or who was your inspiration to go into the music industry?

Fanfickk: It was a Kpop group called History. I wrote my first song about them, and uploaded it to their fan site. I suppose that's slightly cringey, but I am a very cringe person and I don't have time to feel embarrassed about it!


Question: If you could collaborate with another artist, who would it be?

Fanfickk: If they hadn't disbanded, it would be History. I'd settle for ex-members of History. I'm also keen to collaborate with artists from different countries and in other genres, because I don't want to get stuck doing the same type of music all the time.


Question: Was there a moment you contemplated throwing in the towel?

Fanfickk: Lots of moments! Generally, right after releasing something, I feel terrible about it, regardless of whether it's well received or not. But I'll keep making and releasing music regardless, because I'm stubborn, and have yet to collaborate with any member of History.


Question: What has been your favourite part of becoming a music artist?

Fanfickk: Meeting like-minded musicians, and having people tell me that they can relate to my songs. Actually, people say that the most about a song I wrote called "Pity Party", haha.


Question: What's a typical day like?

Fanfickk: I roll out of bed, make a coffee, and start working. After work, I watch a lot of Netflix and YouTube, sometimes with my friends in a group chat. If I have energy or I'm feeling inspired, I might try to work on something creative. Whatever I end up doing, my cat, Kimchi On Rice, will attempt to be less than 5cm away from my face at all times. I'm a night owl, but recently I've been trying to go to bed before 1am.


Question: What's next, for you?

Fanfickk: I'm not sure yet! I have lots of ideas, but I don't know which ones will pan out. I've been thinking of doing something with VR, or an EP that's entirely made of found sounds. I've also been writing demos for other artists " maybe the next Fanfickk won't be Fanfickk after all!


Question: Can you share your socials? (links please)

Fanfickk: Twitter
Instagram
Facebook


Interview by Gwen van Montfort