It's Time To Give Comedy A Rewrite
Cast: Emma Thompson, Amy Ryan, Mindy Kaling, Ike Barinholtz, John Lithgow, Max Casella, Hugh Dancy, Megalyn Echikunwoke
Director: Nisha Ganatra
Genre: Comedy, Drama

Synopsis: After almost 30 years, a groundbreaking talk-show host suspects she may soon be losing her coveted seat on late-night television unless she manages a game-changing transformation in Late Night, the first feature film from Emmy-nominated writer and producer Mindy Kaling.

Legendary talk-show host Katherine Newberry (Oscar® winner Emma Thompson) is a pioneer in her field. The only woman ever to have a long-running program on late night, she keeps her writers' room on a short leash ― and all male. But when her ratings plummet and she is accused of being a "woman who hates women," Katherine puts gender equality on her to-do list and impulsively hires Molly Patel (Mindy Kaling), a chemical plant efficiency expert from suburban Pennsylvania, as the first and only female on her writing staff.

With rumours swirling that Katherine is being replaced by a younger, hipper male host, she demands that the writers make her funny and relevant again. A lifelong fan, Molly is determined to prove she's not just a diversity hire, but the one person who can turn her idol's career around. Going against everything Katherine has staked her reputation on, she urges her to make the show more contemporary, authentic and personal, a move that could make Molly's career ― or send her back to the chemical plant for good.

Late Night
Release Date: July 25th, 2019


About The Production
Much like the character Katherine Newberry in Late Show, actor, writer and producer Mindy Kaling is an entertainment industry pioneer, breaking down barriers by becoming the first woman and first person of color to write for the hit sitcom "The Office," then creating and starring in her own show, "The Mindy Project," and penning two best-selling books. Now, the creative dynamo, who has emerged as one of the most original comic voices of her generation, has channeled her own career experiences into her first feature screenplay, which takes a behind-the-scenes look at the world of television comedy.

As a college intern, Kaling got an up-close-and-personal view of late-night comedy on "Late Night With Conan O'Brien." She decided this male-dominated world would be a natural backdrop for a film, with one important "what if." Her protagonist, Katherine Newberry, is a woman who has long been at the top of the entertainment world heap, but whose star is fading fast.

"So much of television, in particular late night, is about exceptionalism," says Kaling. "Sadly, there hasn't been a female late-night talk show host on any big network since Joan Rivers' show in the 1980s, which lasted less than a year. During award seasons I can't help but notice how few women there are even on any of their staffs. In our story, Katherine was able to rise up through the ranks and become the exception to the rule."

Kaling is herself the exception to many television rules that she believes are ripe for change. "Women are socialized to believe there can only be one in a work environment, particularly Hollywood," she says. "It breeds a lot of competition. When it's the norm for only one woman to be hired, you feel like you're fighting for that one spot and so you can't support other women."

She imagined a female stand-up whose blazing intellect, unstoppable energy and provocative humor would provide young women interested in comedy with a role model. As it happens, her own personal hero, Academy Award-winning actress and writer Emma Thompson, began performing as a sketch comedian and quickly segued into what she has called "militant feminist" stand-up comedy. Before becoming a world-renowned dramatic actress, she hosted a comedy-variety television show in the U.K. Knowing Thompson would be perfect for the role, Kaling tailored it specifically for her.

"When I pictured this character, I always saw Emma playing her," she says. "She has been such an enormous influence on me. I think of it almost as a love story between two women of different generations who have the same passions: comedy and television, two venues that have not been very kind to women, and both characters are a bit like me. Molly is like me at the beginning of my career ― eager, hopeful and trying not to show how intimidated she is. As I have gotten more successful, I identify as Katherine, someone who has worked super hard to get where she is."

Kaling took her idea to producer Howard Klein, the Emmy-winning co-founder of talent management and production company 3 Arts Entertainment, who served as an executive producer on "The Office" and "The Mindy Project" as well as numerous other hit series. "She pitched me the idea, and I thought, this is fantastic, it's a comedy that has poignant moments, dramatic moments and great character stories," he recalls. "As it entertains you, it reveals a lot about the late-night world, which is a huge part of American popular culture. But people don't know a lot about the backroom stuff. What makes it truly special is that the movie includes a lot of things that Mindy has lived through."

30WEST and its sister company Imperative Entertainment also signed on to Late Night almost immediately. Imperative's Jillian Apfelbaum said "I was convinced that we needed to be a part of it," she remembers. "The writing is some of the best I've ever read, and the characters of Molly and Katherine are particularly well-drawn. Mindy is incredibly talented. Her sense of humor has been on full display in her previous work, but this script delves into observations about comedy and womanhood and competition. It's very sophisticated and really nuanced. It's the kind of movie I will watch with my mom, with my family and with my friends and really enjoy. There's so much darkness in the world right now, so it's great to see something so uplifting."

'I Am Molly'

Kaling and Klein knew it would be essential to find a talented director who had a personal connection to the story. They immediately thought of Nisha Ganatra, a feature and television director whose numerous credits include "Better Things," "Transparent" (for which she received an Emmy nomination) and "Brooklyn Nine-Nine," as well as "The Mindy Project." An Indian-American born in Vancouver but raised in California, and one of the rare female television directors, Ganatra brought unique insights into Molly's situation. "We felt she had the understanding and experience to tell this story like no one else could," Klein says. "Her approach to the script was really smart, so with her attached we were off to the races."

Ganatra says her first reaction to the script was: "I am Molly." The struggles the character faces mirror a lot of the challenges Ganatra has met in the television and film world. "Mindy had written this hilarious, amazing script that is very much her own personal story about starting out as an American woman of Indian descent on a television writing staff," says the director. "It really is an ode to hard work and she brought a lot of her life to it. Becoming a director wasn't a path I thought would ever be open to me as an Indian-American woman."

"Seeing Molly subvert the system through sheer chutzpah was inspiring and fun," says Ganatra. "To even have a shot at a job like that is fantasy fulfillment for me and a lot of people, as is the idea of Katherine as a late-night television host."

She and Kaling both recognize the irony that a film exploring the positive aspects of diversity in the workplace required hiring a mostly male, white cast. "I always want to work with a diverse cast, but that is not the reality in the world we are portraying," the director points out. "The whole point is the lack of diversity, so necessarily the cast is not going to be that diverse. That was a tough thing to get my mind around. But unfortunately, it's accurate. I often find I'm the only woman of color on a set."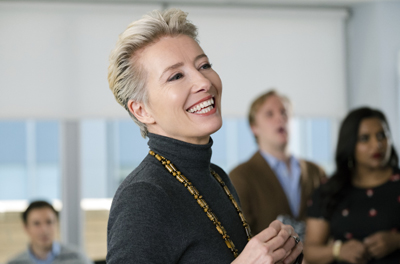 The Smartest Person in the Room

Katherine Newberry's wit and tongue are both razor-sharp, and years in a competitive field have given her the reflexes of a battle-hardened general. As played by Emma Thompson, she is used to being the smartest person in the room and sees no reason to hide it. "Emma takes her from the brink of making you hate her to making your heart break for her, and then she makes you laugh," says Ganatra. "Whether it's her completely unexpected, brilliant improvs or just the look on her face, she inherently knows what's funny. Emma brings everything you could ever wish for as a director, and when you meet her you think, 'How can I be like her when I grow up?'"

She may be best known for her dramatic acting, but she honed her comedy skills at Cambridge University's acclaimed theater club, Footlights, which boasts an alumni network that includes several members of Monty Python, Hugh Laurie and Stephen Fry, John Oliver, Peter Cook and, yes, even the Prince of Wales. She helped put together the group's first allfemale sketch comedy revue before launching herself as a stand-up.

Like Kaling, Thompson is a writer as well as an actor and is famously the only person ever to receive Oscars for both, winning Best Adapted Screenplay for Sense and Sensibility and Best Actress for Howard's End. "Emma Thompson is my favorite living actor," says Kaling. "She's one of the rare movie stars who can be hilarious but is also incredible at drama. For this role, she had to do both. I had my agents send it to her and she wrote back saying, 'We have to make this movie!'"

Katherine shares with Thompson a past that included Cambridge and a stint as a standup comedian, but from there she landed a coveted job as an American talk-show host. But after nearly three decades she has become complacent. "She's intellectually superior, a bit snobby and she really doesn't understand why the ratings are slipping," Thompson explains.

"In some ways she doesn't care. She's come to take her audience for granted. But things start to happen that wake her up, and Mindy's character becomes the catalyst for changes."

Kaling has written her a dream role, Thompson says. "I was astonished and honored that she had written it with me in mind. The quality of the script is extraordinary. When people say they've written something for you, it can be touch and go, but her comic take, her timing, the cadences in her writing are just beautiful for all the characters."

Thompson believes the film accurately conveys women's standing in the world of comedy. Pointing to the examples of brilliant comediennes like Victoria Wood, French and Saunders, Lily Tomlin, Carol Burnett, Rita Rudner, Tina Fey and more, Thompson says she has trouble understanding why she still hears people says women aren't funny. "Stand-up is very much a male bastion," she observes. "The actual form of it is extremely masculine ― come on, tell those jokes, talk about your dick a lot. Female comedy's very different. It's often circular, with little laughs in between. But Katherine grew in this very male world and swallowed it whole. Then this young woman says: Your show has become completely irrelevant, you're getting old and you're white. So what are you going to do about that? Molly modernizes Katherine, but in a very ironic way, which makes it very attractive."

Working with Kaling has been a joy, she adds. "Mindy's smart and sharp and fast. She can punch up scenes in the moment. I hope we'll be able to work together again. I mean, that's the best thing you can say, that you want to carry on working with someone because they are so inspiring and original. She's such an important voice in our world."

Though she was initially unfamiliar with Ganatra's work, Thompson was quickly won over by the director. "Nisha is quite unexpected," says Thompson. "She's extremely funny and sharp herself. Her work on 'Transparent' is well-known, but she's also done three features. She's worked hard to make her mark. She's always able to add something funnier to a scene, and she's marvelous at editing the acting. Her direction is very subtle and very true."

A Different Side of Mindy

Molly Patel is a big dreamer who grew up obsessed with "Tonight With Katherine Newberry" in general and with Katherine in particular, but from her suburban home in central Pennsylvania it all seemed so far out of reach. And with little experience as a stand-up and none in television writing, it still does. "Molly is an underdog," says Kaling. "I have felt like one since I was a child and I had a big chip on my shoulder. I just made Molly a more comically skewed version of a younger me."

Kaling confesses she too was fixated on late-night television growing up, watching "Saturday Night Live," "Late Night with Conan O'Brien" and David Letterman endlessly. "For me, there was such mystery in how they put those shows together," she says. "I thought that to write for a show like that must be the best job in the whole world. In some ways, the film mirrors my path. In this work environment, Molly is made to feel she is a token, and I have sometimes felt that I represent all minorities."

That said, it wasn't her intention to make Molly a "perfect" character whose treatment is always unfair. In fact, Molly's inability to take no for an answer, understand boundaries and listen before she speaks are a frequent source of uncomfortable laughter. "She makes a ton of mistakes," says Kaling. "She has this infuriating quality that a lot of young people have. When she starts, instead of doing the hard work of writing, she does an analysis of what's wrong with the show. My advice to Molly ― and to anyone trying to get started in this business ― would be to spend her time producing good material."

Her portrayal of Molly shows off a different side of Kaling, according to Ganatra. Although she is still wry and ready with a quip, the actress had to draw on some painful moments in her past. "This is a deep, soulful performance in places," the director says. "We talked a lot about her life before she 'made it,' before she wrote her books. Before she was Mindy from 'The Mindy Project,' she was just a young woman struggling and wanting so badly to be a part of the world of comedy and not seeing any way in."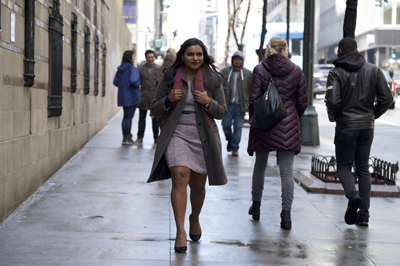 Funny Because It's True

The filmmakers soon discovered that when you have Thompson and Kaling as your headliners, you can assemble a cast that includes Oscar, Tony®, and Emmy Award-winning actors. "Rounding out the cast was surprisingly easy," says Kaling. "This is not a movie that people did for the paycheck. It's an indie movie with a limited budget, but fortunately some amazing actors wanted to be involved. We have John Lithgow and Amy Ryan!"

Lithgow plays Walter Laval, a retired manager of A-list comedians, who has been married to Katherine since before she landed "Tonight." Now suffering from Parkinson's, he is still Katherine's rock, the only person she really trusts. "It's a wonderful portrait of a long, successful marriage," says the actor. "Katherine is a piece of work and certainly a bit of a dictator, but when she's with Walter, she's a completely different person. My role in the film is to give her a relationship that reveals a different side of her character. That really drew me to the role. This is absolutely a comedy script, but it shows that comedy is serious business. That's a very tricky thing to capture."

With her career slowly sinking and no idea how to turn things around, Katherine has become frustrated and angry. "She has a tremendous talent that she's neglected," Lithgow observes. "Walter challenges her by saying, 'Sure you can give up. You're not very good right now anyway. Or you can fight back and get good again.' And that is what she counts on him for."

Lithgow brought real pathos and weight to his scenes, says Ganatra. "Watching him with Emma during some really intimate moments was very emotional," she reveals. "I was crying; the crew was watching as if it was a play and crying. We were all so moved by the raw emotion they found. It was beautiful to witness."

Even off camera, Late Night reflected the chaotic, anarchic energy of comedy, says Lithgow. "The actors who play the guys in the writers' room have terrific improv backgrounds. They kept their juices going between scenes with a ridiculous game where you hold a card on your forehead and try to guess what it says based on what everybody is yelling at you. It's a madhouse and a great glimpse backstage at the making of comedy."

Katherine's nemesis, network executive Caroline, played by Amy Ryan, is the only woman with the power to face her down " which she does with a fierce glee. Caroline is ready to cut Katherine loose, and Ryan's scenes with Thompson are some of the most intense in the film.

"Caroline gives Katherine a hard time, but she deserves it," says Ryan. "She has the talent to be extraordinary, but she's not doing anything like her best work, and it's frustrating. Katherine has been given this golden chance and she's just coasting. It may come across as all those terrible words that we use for women in power " bossy, bitchy, controlling " but it's really that she cares so passionately."

Ryan knows Kaling from their days together on "The Office" and has watched her writing talent evolve. "If I could sum up the way Mindy writes… I'd be as talented as Mindy," she says. "It's a magnificent script, but her mind was still working on set. She'd whisper an alternative line to you and somehow, the scene changed. She's very facile and she doesn't rest on her laurels. With this film, she is holding up a great big glaring mirror at us all. We save our ladies for daytime TV and I'm not sure why."

With a brief 25-day shooting schedule, Ryan was gratified to find that Ganatra still took the time to help the actors develop nuanced characters. "Sure, Caroline calls all the shots," observes the actress, "but she can still feel a little vulnerable or offended. And that reveals something new about her."

Caroline is holding the threat of a younger, hungrier successor over Katherine's head, the kind of comedian who plays giant arenas and has an avid social media following. Ike Barinholtz, who was one of the stars as well as a writer on "The Mindy Project," plays Daniel Tennant, a cocksure funnyman who is more than willing to shock. "His material's a little questionable," says Barinholtz. "And he is beginning to usurp Katherine, slowly take over her show, and turn it into 'The Daniel Tennant Show.'"

The actor first read the screenplay while he was still shooting "The Mindy Project" and admits it made him just a bit jealous. "It's such a good script! She came up with a fascinating world and two great anchor characters. The minute I read it, I knew it was going to get made."

Kaling's willingness to go to the mat for a laugh makes her one of the funniest people he has ever met, Barinholtz says. Whether it is getting a bag of garbage thrown in her face or falling down a flight of stairs, she never hesitates to go for it or to ask someone else to. "And she has spent enough time in writers' rooms to recognize the different archetypes of comedy writers. There's the super shy guy who has a hard time even getting words out, the alpha guy who's way too sure of himself, and then the bitter, surly guy who's really just holding on to his job. They are all in our writers' room and she nailed those types."

Roomful of Comics

When Ganatra and Kaling sat down together to brainstorm their fantasy cast, their dream list included Denis O'Hare, John Early, Paul Walter Hauser, Reid Scott and Hugh Dancy ― all of whom said yes. "Everybody brought their A game," says Ganatra. "We asked them to do some improv in the room and we had a frenzy of comedy to choose from. A lot of my job was just trying to quiet some of it down. You have so many choices when you have such a talented cast that you have some hard choices in the editing bay.

"For example, I have been a fan of Denis O'Hare for a really long time," she continues. "That guy can do anything from the most frightening characters to the most hilarious comedy beats. He's a fantastic foil for Emma."

As Brad, Katherine's executive producer, three-time Emmy nominee O'Hare is the bridge between the insecure writers and the aloof host. Katherine, in fact, has never visited the writers' room. "If she had her druthers," O'Hare says, "she'd keep them in a small cell somewhere, feed them occasionally and get the output when she needed it."

Brad, who used to be a writer himself, has one foot in both camps. "But in a really bad, nauseating way," says O'Hare. "Now he's just Katherine's tastemaker, trying to figure out what she's going to like and hoping he doesn't get it wrong. I like to play characters who face some kind of massive obstacle ― like pleasing Katherine. He's not given the authority to really decide, and yet he's expected to make all the decisions. It's a really uncomfortable position."

Thompson was front and center during the writers' room improvs, he says. "We were asked to improv a lot in those scenes, especially at the beginning and end of scenes, and everybody in there is funny in a different way. One person is more verbal, one person is wackier, but everyone's got their own little corner. Emma is such a good actor that I often had to ask, are you Emma or Katherine right now?"

Hauser, whose recent appearances in the Oscar-nominated films I, Tonya and BlacKkKlansman have brought him new celebrity, plays Eugene Mancuso, a writer he describes as "always ready to play ball." "Every writer has a unique identity," he explains. "Eugene is extremely malleable. He just doesn't want to lose his job. He will pitch four terrible things, and then on his fifth swing, he'll get the really good idea."

Late Night, for all its topicality and insight into the rough-and-tumble world of latenight television, is a sweet film at heart, Hauser believes, one that he plans to take his mother and siblings to see. "It is a legitimate dream-come-true scenario," he says. "Comedy can be so thoughtless and kind of dumb, but this is smart and sincere. Even when the characters are at their worst, they are still endearing. And it's a great tribute to women in comedy. Audiences will be reminded of how talented Emma and Mindy and Nisha are, and by extension so many women who came before them."

As Tom Campbell, head monologue writer of the show, Scott embodies the privilege and entitlement of some men in the comedy world. His father was one of the original writers of the show and he considers the job his birthright. "He's a Harvard-educated, entitled prick who feels like Molly just came in off the street and got this really coveted job, which he wanted to go to his brother," Scott says. "He likes his little boys' club, and here comes this woman who has a brain and some great jokes. He starts to feel threatened by that. I've worked in comedy for a long time, and Mindy really got the dialogue and the way these guys behave down."

Scott looked forward to the big group scenes, where the zingers flew and the dialogue clicked. "Thankfully Nisha's got a very calm, steady hand," he says. "You want a captain with a cool head in that situation. The script is so well-crafted that you don't want to mess it up, but she was great at recognizing moments where she could let us go. She got us all to do some theater games, which I thought was a gag, but no, we did theater games and it was fun. It helped us get the chemistry right out of the box."

Early impressed the filmmakers with his stand-up skills and his ability to push a bit as far as it will go and no farther. As Chris Reynolds, he is the only gay writer in the room, a role Early says he has become used to. "There's a power that comes with that," he says. "When I was in high school the only way I could find any agency whatsoever was to make fun of the straight boys to their faces. They were always shocked, but they loved being made fun of. Chris can make fun of everyone because he has this minority status and people probably don't punch back. But like everyone in the room, he's also terrified of Katherine― even though he's never actually met her."

The actor says Late Night really captures the sometimes toxic energy of a writers' room. "It's every man for himself in comedy. Writing is such a high-pressure environment that your job is always in chaos or in flux. Katherine wields her power by never talking to these people except through intermediaries. There's a very specific kind of fear that's bred through that."

For Hugh Dancy the biggest challenge of playing Charlie Heyne was performing his stand-up routine. "It's just a snippet but it was about as scary a thing as I can imagine doing," he says. "Then again, when else am I going to get to do that and have lines written for me by Mindy Kaling?"

Ganatra admits asking Dancy to do the scene was a calculated risk. "I think I was as terrified as he was," she says. "What if Hugh Dancy can't do stand-up? We shot it on his first day of work and, of course, he's Dancy so he performs perfectly. How can he be that goodlooking, that good an actor, and now apparently also do stand-up?"

Charlie befriends Molly " or, more accurately, he's less rude to her than his colleagues " when she joins the writing staff at "Late Night." Dancy found being part of the ensemble exhilarating. "Everybody's so good," he says. "Everybody bolsters everybody else. I've never been in a comedy writers' room, so for me it was about understanding that dynamic and figuring out how would I fit in there."

Imagining Thompson as the lone woman to host on late-night was no stretch for the actor. "This film is an amazing vehicle for her," he says. "She's quite unique herself, so I never thought, 'A woman in that role, how surprising!' I just thought, 'It's Emma Thompson. Okay, sure.'"

Also in the mix is Max Casella, whose career began on the television classic "Doogie Howser, M.D.," and has kept busy ever since. As Burditt, a longtime survivor of Katherine's writers' room, the actor brings a slightly different energy than his younger cohorts, according to Ganatra. "We wanted to make sure there was someone with a little bit more experience and gruffness," she says. "When his character finally comes around to helping Molly, it's sweet and surprising."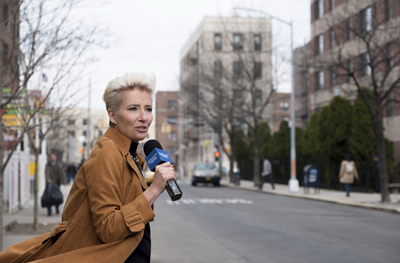 Talk Show Mecca

Shot in entirely New York City, Late Night takes advantage of all the scope and variety the Big Apple has to offer, from Katherine's lavish Manhattan townhouse to Molly's cramped bedroom in her aunt's modest Queens apartment. "Shooting there has its challenges, but it's hard to replicate the look and feel of the city," says Jillian Apfelbaum. "New York is like the brass ring for Molly. It's a place that's larger than life. The city has an aspirational quality that makes it seem just out of reach. Moving there is a long-held dream for her."

In addition to creating an outsider's idealized vision of New York, production designer Elizabeth J. Jones had to build an iconic talk show from the ground up, from the set and logo to the tiny backstage offices shared by the writing staff, and tailor it all to fit Katherine's image ― a little dated, somewhat sophisticated and surprisingly masculine. "She is a woman who is hiding her femininity," the designer explains. "The offices are incredibly masculine; the set design is all clean lines. Nothing has curves. Even in her house, there's only one room where she lets her guard down and uses a more feminine color palette."

Along with Kaling and Ganatra, Jones and her design team visited the offices and sets of some of television's most recognizable talk shows to get a feel for the day-to-day of that world. Using references including David Letterman's and Jay Leno's early shows, Jones created a signature look for "Tonight With Katherine Newberry."

"We wanted it all to have a strong feeling of New York, in part because we all felt it was the mecca for this format," says Jones. "And this character would never base herself in L.A. We used a lot of Art Deco influences that evoke the classic New York of the 1930s, which we found are often used in late-night TV. The environment is meant to be inviting and at the same time somewhat removed, like Katherine."

While visiting the real-life talk shows, Jones noticed one thing they had in common. Each show had created a photographic history in the hallways of the offices. Jones decided to fabricate one for "Tonight With Katherine Newberry." Working with Ganatra, Thompson and costume designer Mitchell Travers, she constructed a fictional visual record on the walls of the sets. "It provides a sense of Katherine's legacy in pictures," says Mitchell Travers. "You can also see the point at which her passion has faded. It becomes muted, safe, stable. She's comfortable, but she needs to be shaken up."

Travers and Jones agreed on a precise look for Katherine's wardrobe, one based on the Art Deco details already planned for the set. "We looked at iconic women in comedy to see what worked for them and arrived at a menswear-inspired silhouette," Travers recalls. "Emma is someone who loves to come in and get her feet wet in the fitting room, so I gave her a sandbox to play in. We had lots of options for her to try out, and she would throw on a jacket and try a bit in the mirror. If it worked, we expanded on it. The cool thing about the menswear of that era is all the little elements that could then be incorporated into the sets, the furniture, the drapes, the backgrounds."

In general, Thompson's wardrobe is very safe, notes Travers. She is clad in old standards in conservative navy, charcoal and cream. "Then toward the middle of the film, we wanted it to feel like maybe somebody is styling her and bringing her up to date. It starts to get more interesting and we get into greens and reds that would have been foreign to her at the beginning of our film."

Kaling is a well-known fashionista, and Molly's wardrobe also evolves over time, going from suburban casual to a much more exciting and glamorous look, says Travers, reflecting the aspiring writer's growing confidence. "She starts to feel like she is a woman wielding power in the workplace," he explains. "Suddenly, she doesn't have to obey as many rules. Mindy loves clothing and the two of us just can talk about it forever. It's great to work with someone so knowledgeable about designers, the cut of a garment, the fabric. She was really involved, which was a blessing, because we could work in tandem."

Final Thoughts

The themes Late Night explores are timely and important, Apfelbaum continues, but it is also an aspirational comedy. "As viewers we want Molly to succeed, we want Katherine to succeed, even though they're both very flawed," she says. "Katherine learns so much from Molly about being open and trusting her instincts. Molly learns about skill and hard work and earning your spot at the table from Katherine. They really do need each other in this very interesting way."

Ganatra says Late Night is the kind of story she became a filmmaker to tell. "I want to bring more attention to women and immigrants on the screen. I don't get tired of seeing those stories myself. I also love comedies, so this was a dream project. Filmmakers sometimes forget that movies should be entertaining. I hope the audience will be laughing, crying and feeling inspired to do something they didn't think they could do."

Late Night also has a serious message about the importance of women supporting each other, she adds. "We can be our own worst enemies and hold each other back more than any man," says the director. "Or we can be our biggest champions. The problem with being a groundbreaker is that the ground is really hard! The whole point is making it easier for the next person and the next generation."

No. 51996 Late Night
Release Date: July 25th, 2019