In celebration of the 80th birthday of legendary songwriter Bob Dylan, Nashville-based Australian singer EMMA SWIFT returns to Australia this June for a series of live shows performing songs from her stunning Dylan tribute album 'Blonde on the Tracks' as well as other favourites and rare gems from the Bob Dylan songbook.

In her first ever national tour with a full band, Emma will be backed by Darren Middleton (Powderfinger) on guitar, Marty Brown (Clare Bowditch Band) on drums, Mark Wilson (JET) on bass, Louis Macklin (JET) on keys and Kathleen Halloran (Kate Ceberano Band) on guitar. The group will play a run of beautiful venues in Melbourne, Wollongong, Sydney, Perth and Brisbane.

With a sound described as a blend of classic folk, Americana and indie rock, the release of 'Blonde on the Tracks' has seen Swift likened to iconic artists such as Joan Baez, Marianne Faithfull and Cat Power.

An ARIA nominated singer-songwriter, Emma's 2020 album of inspired interpretations of Bob Dylan songs garnered stellar reviews from Rolling Stone, the Guardian, the Los Angeles Review of Books, UNCUT Magazine, Hot Press, Nashville Scene, Slate, NPR, the BBC and the Sydney Morning Herald. Swift even made US Rolling Stone's list of 15 of the best Bob Dylan covers, alongside Sonic Youth, The Roots and The White Stripes. Here in Australia, Blonde on the Tracks debuted in the Top 10 on the ARIA chart and was also the #1 Country album and the #1 selling vinyl album.

"I am so, so thrilled to be returning to Australia to play songs from the 'Blonde on the Tracks' album live this year. This will be the first ever full band performance of these songs in a live setting, and I can't wait to bring the album to life on stage."

"The album has had an enormous amount of love and I can't wait to come home and sing these songs, as well as a selection of classics and fun rarities from Dylan's magnificent canon."

"After living in lockdown in the United States for most of the past year, it is going to be a real thrill to be taking the record on tour with a five-piece band. As a long-time Powderfinger fan, it's especially exciting to be working with Darren Middleton as band leader. He's an exceptional musician and wonderful collaborator and we're planning a very special experience for the live show."

EMMA SWIFT Australia 2021
PALAIS THEATRE (INTIMATE), MELBOURNE - THURSDAY JUNE 17
ANITA'S THEATRE, WOLLONGONG - SATURDAY JUNE 19
CITY RECITAL HALL, SYDNEY - SUNDAY JUNE 20
ASTOR THEATRE, PERTH - TUESDAY JUNE 22
FORTITUDE MUSIC HALL, BRISBANE -THURSDAY JUNE 24

For complete tour and ticket information, visit: livenation.com.au


Interview with Emma Swift
Question: How would you describe your music?

Emma Swift: It's a mix of folk, indie and classic rock. I am very influenced by the sounds that came out of New York and California in the 1960s and 1970s. My singing heroes are Linda Ronstadt, Sinead O'Connor and Cat Power. My songwriting heroes are Joni Mitchell, Leonard Cohen, Bob Dylan and Nick Cave.


Question: Can you tell us about Blonde On The Tracks?

Emma Swift: It's a folk rock album of Bob Dylan songs that I recorded in Nashville, TN and put out in August last year. I chose some of his lesser known songs and put my spin on them. I wanted to bring them to life from a woman's perspective.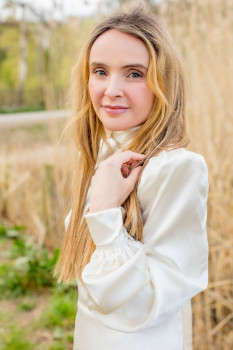 Question: Is there a particular message you hope listeners take from your music?

Emma Swift: My music is made with love and tenderness and is in general, quite emotional. I don't know if I have a message so much as I want to bring comfort and hope to the listener's ear. When I sing Bob Dylan's songs, my goal is to bring out the beauty and the melody in them, to make them fragile and full of longing, but also to celebrate how funny they can be too.


Question: How has moving to the US influenced your music?

Emma Swift: Moving to the US was a wild and naive decision in many ways and has come with great highs and significant lows. I think you can hear that in the songs I've recorded, but it's coming up in the new songs I've been writing this past year as well. It's a cliche to say we move away from home to find ourselves, but I relate to it.


Question: Do you prefer performing live or recording?

Emma Swift: I prefer playing live. I love the element of risk and spontaneity, the room for magic, the room for disaster and the connection with other people. I've really missed it.


Question: What can we expect from your upcoming tour?

Emma Swift: A lively, fun, feminine reimaging of some of Bob Dylan's best-known songs as well as his rarer gems. I'll be backed by a supergroup of brilliant Australian musicians and we're all very excited to be back on tour again after so long being shut away because of the pandemic. On stage I'll be joined by Darren Middleton (POWDERFINGER), Mark Wilson (JET), Marty Brown (ART OF FIGHTING) and Kathleen Halloran (KATE CEBERANO BAND). I can't wait to get on stage and play the songs.


Question: Was Bob Dylan your inspiration to go into the music industry?

Emma Swift: Oh no, that was Stevie Nicks.


Question: What motivates you most when writing music?

Emma Swift: I'm mostly trying to capture feelings I'm too scared to express in everyday life.


Question: If you could collaborate with another artist, who would it be?

Emma Swift: Salvador Dali


Question: How does it feel to hear your song played all over the airwaves?

Emma Swift: It's always a surprise and it's not something I take for granted!


Question: Was there a moment you contemplated throwing in the towel?

Emma Swift: Many times! I am very committed to being a musician, but I have been known to take extended periods of leave.


Question: What has been your favourite part of becoming a music artist?

Emma Swift: Going on tour. I love traveling and I've been lucky to play all over the world. It's the best.


Question: What's a typical day like?

Emma Swift: I'm not good with structure or routine, I'm a bit of a mess like that. It's probably why I became a musician. All my days involve coffee, listening to music, worshipping cats and reading poetry, in no particular order. The rest I leave up to the universe.


Question: What's next, for you?

Emma Swift: After the Australian tour, I head into the studio to make a new album of original songs. Then I'll go back to the US to play the Newport Folk Festival.


Question: Can you share your socials? (links please)

Emma Swift: Facebook
Instagram
Twitter
YouTube
Spotify


Interview by Gwen van Montfort