Emily Watson The Book Thief DVD Interview
Cast: Sophie Nélisse, Geoffrey Rush, Emily Watson
Director: Brian Percival
Genre: Drama, War
Rated: PG
Running Time: 131 minutes

Based on the beloved best-selling book written by home‐grown Aussie talent; Markus Zusak, the must-have movie, is highlighted with exclusive special features for the home audience, the movie adaption offers fans an extremely moving glimpse into world of a girl who transforms the lives of those around her.

Set during World War II, Germany, The Book Thief follows the story of Liesel (Sophie Nelisse) who is adopted by a German couple (Australian OSCAR® Winner Geoffrey Rush and OSCAR ® Nominee Emily Watson), after her mother can no longer care for her. Despite arriving at their home illiterate, Liesel is encouraged to learn and read by her doting adoptive father.

Viewers are invited to witness Liesel's journey after the couple take in Max (Ben Schnetzer), a Jew hiding from Hitler's army as Liesel befriends him. Ultimately, words and imagination provide the new found friends with much needed escapism from the shocking events unfolding around them in this extraordinary, acclaimed depiction directed by Brian Percival (Downton Abbey).

At-home viewers experience more of the film's emotive storytelling with The Book Thief Blu-ray and DVD. On the DVD the deleted scenes provide a look into the complete story. On Blu‐ray you are invited to take advantage of a sneak peek behind-the-scenes with four special featurettes offering an insider's look as to how the book was adapted into a critically acclaimed feature film.

Special Features:
Deleted scenes

Blu-ray Special Features:
Deleted scenes
A Hidden Truth: Bringing The Book Thief to Life
An Inspirational History
Finding the Thief and Her Family
Bringing the Past to Life
The legend and the Music
The Book Thief
RRP DVD: $29.99
RRP Blu-ray: $34.99
Interview with Emily Watson
Emily Watson landed her first screen role as Bess McNeill in Breaking the Waves (1996), for which she was nominated for an Academy Award, before working on Metroland (1997), The Mill on the Floss (1997) and The Boxer (1997). She won critical acclaim for her portrayal of cellist Jacqueline du Pré in Hilary and Jackie (1998) and for Angela's Ashes (1999), the film adaptation of Frank McCourt's bestselling book of the same name. Other notable film credits include Gosford Park (2001), Red Dragon (2002), Equilibrium (2002), Punch-Drunk Love (2002), The Life and Death of Peter Sellers (2004), The Proposition (2005), Fireflies in the Garden, The Memory Keeper's Daughter (both 2008), War Horse (2011) and The Politician's Husband (2013). In the big-screen adaptation of the best-selling WWII novel The Book Thief, she stars as Rosa Hubermann, wife of Hans (played by Geoffrey Rush)…


Question: Do you think that your character is perhaps meaner in the book than the film?

Emily Watson: Yes, maybe. I think she's pretty mean to Hans. She calls him lazy and good-for-nothing and complains about him quite a lot but I think that she loves him really. She values what he is even though she'd never admit it. I took the attitude that she was very angry and disappointed with her life, and is never in the present moment. She is always stressing about something in a really strong way, which made her disregard other people. When you are really stressed you can be really mean to people and shout at your children! That was a very intense thing, but I did view her as an every-woman. All across Europe at that time, young men had died in the war; everyone in Germany had suffered the Depression; everyone was really struggling to make ends meet. And she'd married a romantic, musical painter " not very useful! So she probably hadn't met her own expectations in life. She always wants things to be different.


Question: Liesel's arrival, however, changes her outlook, as does Max's…

Emily Watson: They've applied for these foster children so that they can sort themselves out financially, and one of them has the temerity to die on the way, so they only get half the money. But, yes, it does begin to change her straight away. The decisions made around the small family table in a small town are the building blocks of National Socialism. So if you decide to save your skin ahead of your neighbour's then you are joining the train, as it were. They make the other decision. When this poor Jewish boy comes through the door she is marked as someone who hasn't lost her moral compass, which a lot of this nation did. That starts to change her. She has an urgent job to do and has to be in the present moment, and be very alert to the very present danger that is around them. That cracks her open. I think she has enormous fear, though. They know that they're in terrible danger but the son she always wanted has fallen through her door!


Question: You read the screenplay first, but did the book allow you to get an even firmer hold on the character?

Emily Watson: In a way, we changed her a bit from the book, where she has a grown up family, with whom she has a very complex relationship. But that was just too many bits of story to include. That was a bit of a gift to our film because it made us a childless couple. Then children come and they fulfil a need and a void. In the book she is spitting on neighbours' doors. But yes, there are lots of anecdotes in the book that were very useful to me. There's also a moment when Hans says to Liesel, -She was beautiful once and she was softly spoken when I first met her.' So you get that underneath how she is now there is something that he loved and loves still.


Question: Was it shocking when you went to work in the shadow of huge Nazi symbols, like in the train station scene, for example?

Emily Watson: I did find it quite shocking when we filmed the train station in Görlitz as Hans is leaving. I walked in that morning to see 20-foot-high swastikas. That was really shocking when you see that in the flesh. The scene also when we filmed the prisoners walking through the street, that was pretty interesting because usually on a film you usually have to explain quite a lot of context to the extras. But here, there wasn't a single person who was there without a great degree of integrity and respect. It was very quiet, moving and a powerful scene.


Question: Is that one of the successes of the film and book " that it reminds younger audiences of the Holocaust?

Emily Watson: Definitely. This film is aimed at young adults and Sophie [Nélisse, who plays Liesel] said that many of her friends had never heard of the Holocaust. She lives in Canada and it is not as present there as it is here in Europe. In a way that's what the book is about – she learns to read and uses those books as a way to survive. We live in a world where there are forms of extremism going on all around us. Think of that girl Malala [Yousafzai, the Pakistani schoolgirl]. She was campaigning for girls to be educated and have access to books, and they tried to assassinate her when she was still a child. If you deprive people of literature and art, that is a real problem, because that's where you derive your sense of humanity " from the stories you're told and the myths and the legends, that's where you get a sense of what it is to be human. The book is an interesting take on the whole subject. I was talking to a producer friend of mine who was doing a co-production with a German TV company about a U-boat, and she said that she really had to fight to let the Germans portray the Nazis as real people – they didn't want them to be ambiguous; they wanted them to be straightforwardly bad.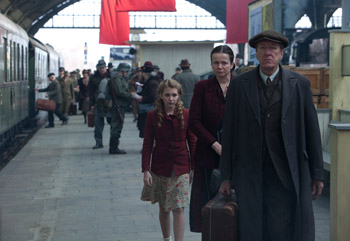 Question: What did you like most about your director, Brian Percival?

Emily Watson: He's one of those rare people who are good at really clearly telling the story. There are no histrionics and ego around that at all. He was very strong and clear about what he wanted, and he would only intervene if he felt that it wasn't right. But I loved the sense of collaboration; he really felt that Geoffrey Rush and I were very experienced in making films and he really listened to us and we all worked together. It was a very happy experience.


Question: Has Geoffrey Rush changed much as an actor or as a person from when you worked with him on the Peter Sellers movie?

Emily Watson: Yes and no. On set, I always said if you wanted to know where Geoffrey was you just had to listen for the laughter! He is always telling stories and making people laugh. We invented a word for him, which was -Dribbldary,' because he was dribbling on with risqué jokes all the time. He's silly and does magic tricks for the kids. He has a lovely sense of mischief. We had interesting conversations about working on this film because he and I were doing very different things. He has done a lot of very extreme and -out there' parts but on this he was very quiet and very still. I like to think of him as like a clown on a day off! He's taken his costume off and is just sitting there. He was very awake and alert and present, while Rosa was very strong, extreme and not awake. She wasn't alert – she was very stressed in her head. So it was very different from the Peter Sellers film, because there he had to be very big and bold and brassy with a lot of prosthetics.


Question: Is Hans quite close to the real-life Geoffrey then?

Emily Watson: Yes, absolutely. They're very similar. I think this part was very special for him, because he exposed himself, in a way, in this film. He really loved it.


Question: How was his accordion playing?

Emily Watson: He kind of mastered it! He was miming to playback but he did have the best accordion player in Germany as his tutor, who was a wonderful guy. And he really studied so that it looked authentic.


Question: Apart from Geoffrey, which other actors do you really admire?

Emily Watson: I wanted to be Robert Redford in All is Lost! I thought that was brilliant. That's when I think something is a great movie " when I see an actor and think, -How did you do that? That is brilliant.' I think that a lot about Christian Bale these days, and Daniel Day Lewis, Meryl Streep and Jennifer Lawrence. How good is she? What she did in American Hustle, there's no way I could have got close to that when I was like, 22, to have the range of emotions and visceral anger.


Question: Did being Oscar-nominated yourself so early in your career prove a good or bad thing? It set the bar very high…

Emily Watson: A bit of both, I think. Great for me in that it opened doors and put me on a level where I could work with really interesting people on really interesting things. It is a bit of a trap, though, particularly with dramatic films, because producers and studios set themselves up to aim for that. And then you stop making the movie and start aiming for a prize. And then putting films in a horse race is not a good thing " saying one film is better than another is a weird thing to do with a piece of art. Horses run races, not films!


Question: That was your first-ever film, working with Lars von Trier on Breaking the Waves, and it had a profound impact on Brian Percival. Was it a tough film to make?

Emily Watson: Lars has a reputation for being difficult sometimes but I didn't find him at all like that. To me it was amazing. It was tough, because I'd never made a film before and it was extremely -out there,' and exposing, but that's what you want as an actor, going as far as you can with something. Also, the way we worked on that film, it was all hand-held camera. There were no big set-ups, the camera was like another person in the room that followed you around. We just shot and shot and shot, over and over again. I didn't have to have any knowledge of the technical aspects of filmmaking. I was just in it and very quickly got used to being very candid and frank. It was an amazing thing to learn.


Question: What are you doing next?

Emily Watson: I am doing a film called Everest, directed by Baltasar Kormakur, an ensemble story about an ascent of Everest where a lot of things go wrong. I'm a base-camp manager and I'm filming in the studios in Rome! There's no Nepal for me! Nepal would have been fun but it'd have been difficult with my family and the kids.


Question: Does having a family play a big role in your decisions about which films to take?

Emily Watson: A very big role, huge. It is very proscribing. My first questions are always, -Where? And for how long?' Four months in China, no! Three months in Berlin, playing two days out of three, then that's possible and commutable!


Question: Do your kids know much about World War II?

Emily Watson: I don't think they've done it in school. But they've learned a lot from my husband and me. They know who Hitler is and that he was a bad man and tried to kill a lot of people. My children are five and eight. They don't know that much; they're still a bit young. We have talked about The Book Thief, though, and they were very intrigued by the cover with Death dancing on the book!