The Flip Side taps into the intricacies of relationships, ambition and love when mixed with a bloody good shiraz.
Cast: Eddie Izzard, Emily Taheny, Luke McKenzie, Vanessa Guide
Director: Marion Pilowsky
Genre: Comedy
Rated: M
Running Time: 91 minutes

Synopsis: Mired in debt, Ronnie is a struggling Adelaide restaurateur looking after her elderly mother and living with goodhearted boyfriend Jeff.

Five years ago, while catering on a film set in Australia, she had an intense affair with British movie star, Henry. Despite wild declarations of love, as the movie wrapped so did the relationship, crushing Ronnie's heart.

When Henry's French girlfriend Sophie calls to say they will be in Adelaide on a promotional tour Jeff excitedly agrees to meet up and unwittingly creates the perfect opportunity for Henry to seduce Ronnie all over again.

The Flip Side taps into the intricacies of relationships, ambition and love when mixed with a bloody good shiraz.

The Flip Side
Release Date: August 30th, 2018


About The Production
When Marion Pilowsky returned to Adelaide after decades living overseas, she knew there was a film brewing inside of her about the odd dislocation she was feeling. "I was shocked by how different I felt after being away from my home town for so long," she recollects. "I spoke the same language as everyone but culturally I felt a million miles away."

While she had several producing credits on feature films, her writing and directing experience had been in short films and she felt completely ready to tell this story in a full-length format. Marion Pilowsky wanted to make that more rare genre of Australian film – a sophisticated contemporary bitter-sweet adult romantic comedy with character depth, which poses questions the viewer can relate to, take away and ponder over for some time after. And in The Flip Side, she has created a film that she and her producers believe will resonate deeply – as well as entertain exuberantly.

Human dynamics and the clashing of cultural backgrounds inspired Marion Pilowsky as she developed her script with co-writer and life partner Lee Sellars, and what in turn drew in her stellar producing team of Sue Murray and David Willing, and the international cast led by acclaimed British comedian and actor Eddie Izzard and Australian comic Emily Taheny. The Flip Side is an ensemble piece in every possible way – the cast and the crew, the location and its community came together on this production in a unity that shines from the screen.

The Flip Side is very much a South Australian film, and Adelaide is a central character. It's a place where life is easier and more simple than in the more cosmopolitan east coast cities of Australia; Melbourne and Sydney. In Adelaide, space and landscape are palpably intrinsic to city life. After living in London for more than 20 years, Marion Pilowsky saw Adelaide as the perfect backdrop for a conflict of personalities and cultures that she believes will move the viewers to tenderness one moment and have them doubled over in laughter the next.

"This is a film about contemporary women," Marion Pilowsky says, summing up the themes and tone of her film, "What it means to be an adult, what it means to be in relationships, what we do with ageing parents, particularly the obligations that women and daughters feel most keenly in a modern demanding world. There aren't a lot of films that explore female ambivalence with comedic edge and I wanted to do that."

Influenced by British and American independent films such as Notting Hill and Sideways – offbeat, charming, poignant and personal – Marion Pilowsky wanted to bring that tone to a uniquely Australian story. "I thought, if there was a British indie and an American indie and they had a kind of Australian love child, what would it be? Because I don't think Australia really does this kind of independent film."

For Marion Pilowsky, the uniqueness of the Australian experience in this context was about the contrasting outlooks on life – both superficial and deep beneath the skin – between Australians and Europeans.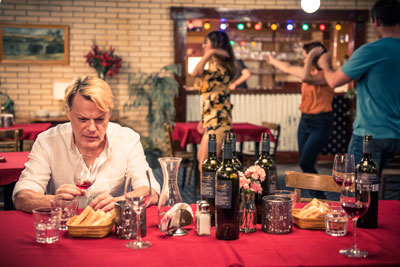 "On the surface The Flip Side is about the visitors from hell," says Pilowsky. "But underneath all of that are the ideas of 'the grass isn't always greener on the other side' and 'be careful what you wish for'.

It also explores issues that many women grapple with, such as contemplation of the road not taken.

"What happens if your first love came back and you thought you might have a second chance at a different life? It looks at the decisions that modern women must make and the pressures they feel to succeed on every level. And I wanted it to be modern, fresh and bright that tonally was for an audience who love romantic comedies but wanted something uniquely relatable to their own lives."

The Flip Side journey began in 2012 on that return to Adelaide from London. "Lee and I would often discuss original story ideas that appealed to us and I felt that a journey about a woman who had lived in the same town her entire life but felt perhaps there was something better for her 'out there' could be intriguing ground to explore."

The script was developed over several years, during which Pilowsky and Sellars received a writer's grant from the South Australian Film Corporation. Mindful of targeting not just a local but also an international audience, a Los Angeles script editor, Dylan Wilcox, was brought on board to work on the draft with them. "That was a turning point in the development of The Flip Side. Dylan pushed us to find the heart and soul of our female protagonist whilst retaining the comedy and amplifying the poignancy of the dramatic spine, in particular the relationship between mother and daughter."

Eventually Sue Murray, who had been creatively consulting on the film since the first draft of the script, came on board as a producer alongside Marion's regular producing partner from London, David Willing, now based in Los Angeles.

"There is no doubt in my mind that Sue's and David's unshakeable belief in me as a writer and director made this possible. Both of them had produced and creatively collaborated with me on my short film work in the UK and Australia. Our history and friendship gave us a foundation of trust and confidence alongside a communication shorthand that allowed us to really enjoy this adventure." Pilowsky says. Murray explains that her involvement in The Flip Side morphed from script consultant to executive producer to hands-on producer. She was increasingly fascinated by the project as it gained traction. "I could see that this would be a film that could be both entertaining and raise women's issues. After being involved with a lot of very serious, socio-political films, I thought it would be refreshing change to do a relationship comedy with a female director and a largely female story."

The character at the centre of the story is Veronica, known as Ronnie, played by Taheny. "Ronnie is a woman whose life is spiralling out of control," says Pilowsky. "Her restaurant is failing, she's in debt for thousands of dollars, she hasn't been able to pay the bill for her mother's care home, and she doesn't feel that she can tell her boyfriend Jeff, about any of her troubles. Into this world comes an exboyfriend, Henry, who she had a torrid affair with five years earlier and his gorgeous, sophisticated French girlfriend Sophie. And this creates the perfect storm for Ronnie and Jeff."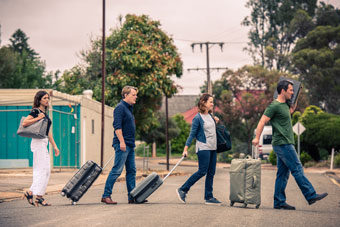 Casting for such a tight-knit set of characters with intense personal dynamics was, therefore, the most crucial part of the pre-production process. "This film presented a unique casting challenge as an ensemble," says Pilowsky. "And I wanted to find my Henry and Ronnie before I cast French Sophie and Australian Jeff.

Pilowsky had not been familiar with Taheny's work until she noticed the sparkling comic actress in an episode of the television program True Story with Hamish & Andy. "I just thought she was hilarious; with tremendous dramatic and comedic chops! I'd never seen her before and later on the search for Ronnie I happened to be scrolling through her agent's website saw the picture of Emily and I thought she looked familiar. Then I realised it was the actor whose work I had enjoyed so much and I thought I must see her. I went across to Melbourne and did a workshop with her and knew we had found our Ronnie."

"It's not often that there's a protagonist that's a female in your age range who's complex," says Taheny about what appealed to her about playing Ronnie. "She's not your conventionally beautiful character. She's messy. She's got baggage that's she's dealing with. And there was a familiarity in the story in that she had a famous ex-boyfriend – I dated a comedian from the UK once and he came out to Australia and we went on a trip to the outback and it all fell apart. I thought there's enough similarity there, but then there's enough difference there, which would be a challenge for me, in that she's seemingly in control, she's confident. She's a chef, she owns her own restaurant, her own business, so she's tough."

The complexity and layers of Ronnie were at the crux of Pilowsky's concept. "I wanted this film to say something about women and how we live our internal lives. They are complicated, nuanced and often can feel isolated if their lives internally are at odds to what they are projecting to the outside world. Ronnie is an ambivalent woman with responsibilities that have brought her to the brink. But she hasn't been able to share with Jeff partly because she believes that she has to fix everything on her own. Ronnie is a fixer, the one that gets things done. And, since her father 'jumped ship' 20 years ago, it has been her sole responsibility to look after her mother. Henry re-enters her life at the worst possible moment but triggers a possible escape plan out of her mess and reminds her of what could have been, the life she could have had with Henry in London.

"Getting this fine balance between Ronnie's internal and external worlds was an incredible task for any actor. Ronnie has to be sympathetic; we have to have the audience on her side, even though Jeff, a lovely fellow who clearly adores her, has done nothing wrong. Ronnie's actions really come from a fear of and insecurity around commitment. She does love Jeff but it scares her to believe in happiness and worse, that she might deserve it. Her mother's legacy is a potent one, handed down through the generations and Ronnie feels she is unlovable."

Taheny was excited by working with a female director with a strong vision and drawn to the underlying themes of the film. "I think it's about honesty to others and to yourself. Loyalty to your family and to yourself. It's about love and ambition and desire and unrequited love and residual love – when your relationships just fail and there's no closure, and then suddenly they come back into your life and maybe the love that you don't know you were still holding onto. It's about facing up to the truth of the past, dissecting it and moving forward with your life."

20th Century Fox, as a major partner on the film, was keen that the casting appeal to a wide audience. For the role of Henry, a suave, successful British actor, highly recognisable but not a Hollywood superstar, finding the right charisma was pivotal.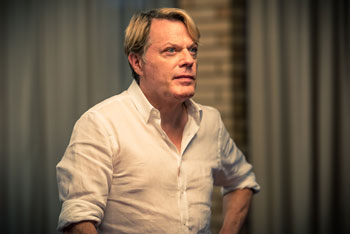 Says Pilowsky, "After finding Emily we were struggling to find the right actor to play Henry. I pondered out loud one day, who would be on this list? If Eddie Izzard was on the list, who else would be on it? And of course the answer was Eddie Izzard! So that was a light bulb moment. I immediately sent the script to his agent and she responded to the material and sent it to Eddie who called me to discuss the role. That was fascinating because his insights opened up other doors into Henry's character which I was able to translate into the script. It was the start of a terrific creative collaboration between us.

Eddie was also really attracted to the ensemble nature of the film and it no doubt helped that he loved Australia too. He is a phenomenal talent with unlimited energy and laser focus. Working with him is exciting and challenging because he's always thinking about how the character might respond to something from such an unusual angle.''

Producer Sue Murray continues: "Whoever played Henry had the capacity to do drama as well as comedy. We knew Eddie would definitely encapsulate the sense of a British thespian and we felt sure, especially after seeing Victoria & Abdul, that he could really play drama. I knew he was going to be a fascinating person, and just on the drive from the airport to his hotel, his questions, the curiosity, the intelligence and the knowledge… what a treat! His humour is very surrealistic. Going out to dinner or sitting around at the meal breaks, the stream of consciousness is just wonderful."

Izzard says that because of his busy schedule, he and his agents turn down most of the films he is offered. Fortunately the script for The Flip Side did get to him and he was instantly engaged. "This is a slightly different direction to what I've played or been offered before. An indie film in Adelaide, it felt not exactly what you think would be my next move, but it felt like the right move to do. Having just played Edward VII against Judi Dench playing Queen Victoria in Stephen Fry's film Victoria and Abdul, where 'Eddie Seven' had a 46-inch waist, which I put on 12 kilos for, this was now playing Henry who is a film star besotted by himself, intrigued, kind of in love with himself. But he's a damaged person, and I thought that would be interesting because it's not necessarily what everyone throws at me. I don't think people would expect me to be in this role."

He enjoyed playing alongside French actress Vanessa Guide as the couple who descend on Ronnie and Jeff lives like a whirlwind. "We make a mess by coming in, we're a little mini typhoon that throws the atmosphere all around, causes problems."

Izzard was also enticed by the idea of filming in Adelaide. "I've toured Australia four or five times, in all the major cities. Doing things in Australia or New Zealand, they're like home gigs, it's like home turf."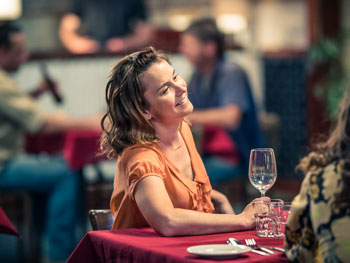 For Vanessa Guide, who plays Henry's business and love partner, Sophie, Australia was a new adventure. While the Barossa Valley reminded her of the vineyards in France, she loved the scenery at all of the many locations, from city to coast. She also relished in playing the glamorous, manipulative Parisian interloper who slowly seduces Ronnie's boyfriend Jeff, played by Luke McKenzie just for the 'fun' of it. And at the same time Sophie is a whip-smart lawyer who always gets what she wants so the role had unusual depth.

Pilowsky approached a French acting agent for ideas for the role of Sophie. After a long search Guide auditioned. "She was wonderful, with exquisite comic timing and delivery. I knew straight away she was Sophie," Pilowsky recounts. "She made the role her own, and unabashedly owned this driven, eccentric, highly sexual woman and Henry's manager/lover. It was Vanessa's first trip to Australia and after she finished filming she went on a huge trip by herself, from Kangaroo Island to Uluru. She is so intrepid and brave, we were all in awe of her.''

McKenzie was the one actor that Pilowsky already knew well. "I adore working with Luke. Prior to The Flip Side we had made two short films together and I had talked to him about the role of Jeff. He had even read a very early draft of the script. I wanted to find Ronnie's 'anchor', a man that loved her but at the same time couldn't see that she was in trouble. Partly because of his own flaws but also because Ronnie was keeping secrets. Luke found the everyman genetics that were critical to Jeff's character. Jeff is somewhat of a larrikin but he's no idiot. Affable, funny and smart, Jeff wants the best for Ronnie and he unwittingly creates the perfect storm in their life by inviting Henry to stay in their home. Luke is an incredibly hard working actor who always collaborates generously with everyone. It helps that he is absolutely hilarious.''

McKenzie elaborates. "Jeff is essentially your loyal, lovable every man And we learn in time that Jeff actually has a pretty deep reserve of strength which, once we peel back layers and he gets to rest his goofiness, is fun to play; he's actually pretty solid underneath it all. Jeff is naïve and maybe a little bit complacent in his relationship because it's a blind spot of his. And that's where a lot of the comedy comes from."

The script captivated McKenzie from the start. "It's so tight and the rhythms of the script just motor along, there's not a whole lot of air in there that isn't necessary. The comedy is from the clearly drawn characters – four archetypal characters that also have a lot of depth and multi dimensions to them. The way they all play off each other and the fact that each of them has such a clearly defined arc, that was what really got me going. It has such a beautiful balance of heart and comedy."

Prior to the shoot, Izzard suggested the four central actors have some bonding time so they went on a weekend retreat in a cottage in the Adelaide Hills. "We did a wine tour together," recounts Taheny. "And that broke the ice over a few wines. We got on well and we kind of slotted into our characters. So I was the one that was a little bit anxious and stressed the next morning, and Eddie and Vanessa both slept in, as Europeans do, until about 11 o'clock. And Luke was packing the car. So we all just assumed our roles and that was quite amusing."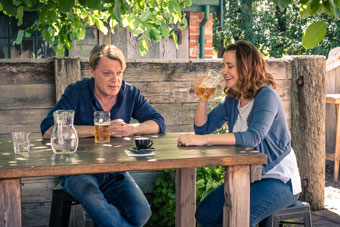 Rounding out the cast with much loved Australian actors, Pilowsky found the ideal Iris – Ronnie's mother – in Tina Bursill. "She brought such a sweetness and innocence to the role while still being able to tap into the stern parent from decades past. She just nailed it, and her relationship with Ronnie is the emotional spine of the film."

Adelaide actor Hugh Sheridan plays Nigel, the nasty nursing home accounts manager who battles with Ronnie over unpaid fees. And Tiriel Mora, best known for television satirical program Frontline and the iconic film The Castle, plays a crazed small town mechanic. "No one else could say 'fucking things fucking fucked' quite like I imagined he could," Pilowsky chuckles. "I also loved the delicious irony of Jeff quoting a line from The Castle to Henry, and Tiriel popping up in the film – twice! Tiriel is a delightful human, a dear friend and a wonderful actor."

Comedians Susie Youssef plays Ronnie's best friend Sam. Once Emily Taheny was secured I was looking for someone I felt she would have authentic chemistry with Ronnie as her best friend Sam. Sam is the only person who knows the true story of Ronnie's crazy doomed love affair with Henry from the past and acts as the voice of the audience, amazed that Ronnie is going to risk having him around her again. I had heard about Susie Youssef and seen her brilliant comedy work. An instinct told me that she would be a great fit for Emily and the role. She didn't disappoint and exceeded all my expectations.

Adelaide is as intrinsic a personality as the human characters in The Flip Side. Pilowsky's passion for telling the story in her hometown was endorsed wholeheartedly by Murray.

"It was always going to be shot there. There was never a discussion about anywhere else. Because Adelaide's a really interesting place and a lot of very creative people come from Adelaide, yet a lot of them feel the need to leave to try and explore their careers elsewhere. It is really beautiful in lots of ways, the Barossa Valley and the McLaren Vale and the beaches and so forth; it's a great place to live.

But it's also not the absolute hub, in terms of most people's view of where the major energy and creative force is in the country. So the fact that our protagonist is a chef in Adelaide is not the same as if she were based in Sydney or Melbourne. And also it's a place that Marion knows extremely well and it added to the film a lot. So always it was in Adelaide. It was originally called Via Adelaide, in fact."

"It was really important to me that film spoke of a real place, a real town," says Pilowsky. "The one Ronnie stayed in. She just couldn't see how wonderful it was. The grass is always greener is such a common syndrome and Adelaide is a beautiful, liveable city with fantastic environs. I wanted to make sure we really showed it off."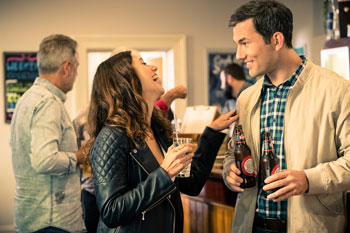 Thirty locations were used over a 25-day shoot – no easy feat for scheduling, Pilowsky notes. As well as utilising the urban landscape of Adelaide, scenes were shot in small towns, a quarry, a winery, even a bowling alley. The film transitions from a domestic base to a road movie. "It was hard not to get carried away with the beauty of some of our locations, like the stunning Horseshoe Bay at Port Elliot or the wine country in the Barossa Valley," says Pilowsky. "My job was to make sure that while the film looked amazing we didn't forget the characters; what they did within the frame was always the top priority. With comedy it's all about action and reaction and we had to capture every beat."

Bringing in key crew members she knew and trusted made for a smooth shoot. "I love a static image where the action happens inside and outside of the frame. The frame is really important to me and I've never been a huge fan of tracking or moving a camera around for the sake of it. I was true to my aesthetic and Steve Arnold, the DOP, was very supportive of that. I also love the authenticity of working on location. We shot in Adelaide's rose season so that was really lovely. Almost every location had roses in full bloom. Steve had a hard time getting away from them!"

For Arnold, the challenge was in photographing a film that was so script-based and loaded with dialogue. Locations therefore needed to be explicit, yet not intrusive. "So the look of the film is about realistic motivated sources from the real world that are slightly heightened. But also dealing with the faces of the actors, getting to know their faces and lighting them, and then developing the scene so that it's not all held in close-ups. So that there's some sort of dynamic between the four people because it's a comedy, and there's beats between each of the characters in terms of their actions and reactions. The balance of those things drives the thinking about the way we approached the movie."

Production design was a guiding force in how the scenes were filmed and Tony Cronin worked closely with Pilowsky in creating the look in each frame. There were no studio shoots; the entire film was shot on location, including the house where the story is initially based. "Tony would walk into a location with a forensic eye and would transform it to exactly what I wanted," says Pilowsky. "He understood what I was trying to achieve and delivered beyond my expectations given the location and timing restraints. It was a wonderful collaboration."

Pilowsky also had a very specific vision for costume, hair and makeup. "Henry and Sophie were easy. I had lived and worked in Soho, London for many years. There were a lot of Henrys and Sophies walking around! Cool, sophisticated Europeans who were effortlessly stylish. Jeff and Ronnie on the other hand needed to be everyday Australians. Ronnie in particular, debt ridden and time poor, was not rushing out shopping every spare minute so her look had to seem collected over the years and put together in a way that expressed a practical working life. The cast were fantastic collaborating with the design of their costume. They had done their homework and character backstory research and had a strong opinion of the direction they wanted to go. Eddie and Vanessa brought with them some favoured pieces that they wanted to incorporate into the film, which was really terrific because it added a true European sensibility to their wardrobe."

Make-up artist Jen Rossiter had an exact brief. Says Pilowsky, "I wanted the women to be as natural as possible. Sounds easy but actually it's much harder to do that. Jen did a beautiful job creating 'difference' between the women whilst keeping it completely real. As a female filmmaker I'm really sensitive to the way women 'look' on screen so that was very, very important to me."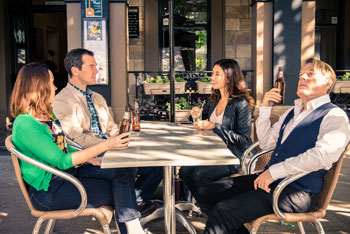 The point of difference between the two couples as told visually through the photography, production design, costume and hair and makeup comes together consummately in the scene where Ronnie and Jeff pick up their visitors at Adelaide Airport. "That shot had to be very sculptural, quite still, very Italian Vogue. Adelaide Airport happens to have these great concrete arches that photograph super Eurocool," explains Pilowsky. "So you drop in Eddie Izzard wearing a fabulous new-romantic coat and Vanessa looking uber chic and there it was. I always imagined that. I always imagined that Ronnie and Jeff were going to the airport to pick up this couple, a bit harried and a bit grumpy with each other, and there was this completely cool couple standing slightly away from their luggage, because someone else takes care of that. It was always written that way and to see that come to life was a hugely satisfying moment for me.

Ultimately, while The Flip Side appeals to anyone who is interested in how human beings relate to each other and those who have had visitors-from-hell stay, both Pilowsky and Murray emphasise the strong women's appeal of the film.

Says Murray, "The objective was to make a film that seemed to reflect the 30-something experience in Australia. Particularly from a female perspective, and not the gross-out comedy experience. The comedy is very much a part of it and there's visual comedy as well as verbal comedy. But the heart of the film is actually a drama. And I would say that as we developed the script it became more dramatically comedic than a straight-out comedy, as the characters developed more depth. And then when you get the actors infusing their view of the characters, they really wanted to make these characters people that were worth investing in as an audience, they really wanted us to understand them. When you get that as well, you know you're getting more layers to the film."

"I think this is a film for women that explores what we often can't see but is right in front of us," asserts Pilowsky. "It might be love or what you're trying to be or do. It would be great if women left this thinking they could give themselves permission to enjoy their lives and be their authentic selves without fear of judgment or abandonment."


The Flip Side
Release Date: August 30th, 2018