Charlotte Hope The Nun
Cast: Taissa Farmiga, Charlotte Hope, Demián Bichir, Bonnie Aarons
Director: Corin Hardy
Genre: Horror, Mystery
Rated: MA15+
Running Time: 96 minutes

Synopsis: New Line Cinema's horror thriller "The Nun" explores another dark corner of the "Conjuring" universe, whose record-setting films have terrified audiences around the globe.

The new fright-fest, directed by Corin Hardy ("The Hallow") and produced by James Wan, and Peter Safran, the latter of whom has produced all the films in "The Conjuring" franchise, delves into the shocking origin of the demonic Nun Valak, who first made her evil presence known in "The Conjuring 2."

When a young nun at a cloistered abbey in Romania takes her own life, a priest with a haunted past and a novitiate on the threshold of her final vows are sent by the Vatican to investigate. Together they uncover the order's unholy secret. Risking not only their lives but their faith and their very souls, they confront a malevolent force in the form of a nun, as the abbey becomes a horrific battleground between the living and the damned.

The Nun
Release Date: September 6th, 2018


About The Production
Finit Hic, Deo!
(God Ends Here)

The unholy evil in holy guise is back in the horror thriller "The Nun," the latest chapter stemming from James Wan's "Conjuring" universe, with an entire film dedicated to the origin of her horrifying visage.

Audiences got their first frightful glimpse of the demonic Nun Valak, who plagued Lorraine Warren's visions and filled her with dread in the horror hit "The Conjuring 2." In "The Nun," the epic battle of good vs. evil pits a priest with a dark history and a novitiate whose own past isn't the only thing that haunts her against the blasphemy that is the Demon Nun.

A devout fan of the films, and particularly the Nun character, director Corin Hardy relates, "What I loved about the Nun when I first saw her was the mystery. There was no given explanation for her"but her look and behavior were absolutely petrifying. She has a perfect iconic horror persona about her"the habit obstructs the face and shrouds the body and limbs to make her seem unhuman. It's as if she glides without her feet touching any ground."

A producer on this film, James Wan offers, "The idea that something held as sacred and pure as a nun could become twisted in such an evil, supernatural way disturbs people at a very core level." In fact, from the moment the entity appeared on screen, Wan and fellow producer Peter Safran knew the Nun had struck a deep psychological chord with the audience. Safran recalls, "She had a relatively small, albeit pivotal, role, so it was incredible how much she resonated with people. We knew instantly the Nun deserved an origin story; people wanted to know where she came from…and why."

Wan and Safran put Hardy at the helm after seeing his film "The Hallow." Hardy states, "It was a dream come true to get the call. I knew it was something I could really sink my teeth into and was excited to construct a new portion of the 'Conjuring' universe."

Safran says, "We all loved Corin's movie and thought he would be the perfect fit. He's a consummate filmmaker, creating character-driven cinema, and he really understood how to build tension and execute original scares to make audiences scream."

Screenwriter Gary Dauberman, who also served as an executive producer, was a natural choice to craft the screenplay after penning the hugely successful "Annabelle" and the possessed doll's origin story, "Annabelle: Creation," in which the malevolent Nun made a brief appearance.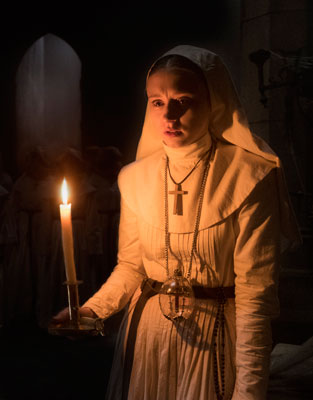 "The script is so intense," Hardy states. "Gary is a super talented writer; he really knows this genre because, like me, he loves horror and his passion for it shows. He balanced the story with big ideas and really interesting characters facing horrifying prospects. The story hooks you from the start and never lets you go."

Demian Bichir, who stars as Father Burke, says that reading the script, he was immediately drawn into the paranormal tale. "I loved the spectacular setting and thought Father Burke was one of the richest characters I'd ever read. And the script was very well-written"so complex, and deep in many different ways."

Starring as the novitiate, Sister Irene, Taissa Farmiga was also drawn in by the screenplay. She affirms, "I really enjoyed reading Gary's script. I think it's really telling about what kind of writer he is that, in a story that's terrifying and haunting, he was able to weave in moments of levity for the audience to enjoy along the way. It feels like a roller coaster ride where you have all those thrilling ups and downs."

In crafting the story, Dauberman and Wan immersed it in the rich, dark gothic style afforded by the story's foreboding setting"a castle in Transylvania, Romania, a place that has strong roots in horror. In the film, the castle has been taken over by the church and functioned as an abbey for years.

Pushing the fear factor further, the abbey is cloistered, and the nuns have imposed upon themselves total separation from the rest of the world.

Dauberman attests, "They're in a big citadel at the foot of the Carpathian Mountains, and they're all alone. There are long corridors and archways and the big chapel inside"things you don't see in a typical house. Imagine a young novitiate entering those castle gates. Suddenly, you're very small against this big backdrop and there are a lot more shadows and places that something frightening could emanate from. It just takes everything scary and amplifies it that much more."

Wan adds, "These nuns are essentially trapped in this abbey, and they have to deal with basically keeping the lid on this demonic entity that's been percolating and bubbling to the surface. Trying to stem an evil from coming into our world…that's classic gothic storytelling."

And in this ominous fortress, the stakes couldn't be higher…because nothing is as it seems.

Forgive Us Our Trespasses

A young nun at an abbey in Transylvania has committed the ultimate sin: taking her own life. Now it is imperative that the church determine if the ground is still holy, or if evil has compromised the Abbey of St. Carta.

To address the dire situation, the Vatican enlists the expertise of Father Burke, a clergyman from Philadelphia and one of only a few skilled in testing the validity of miracles and darker phenomenon.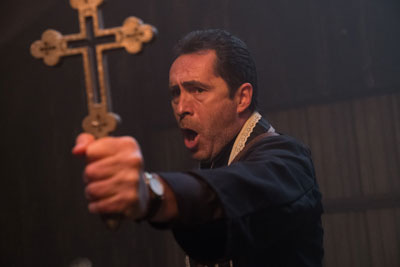 Safran reveals that the role of the cleric was written with Mexico native Demian Bichir in mind, noting, "We knew we needed somebody who would embody the gravitas that Father Burke would have to possess, but who could also convey a man struggling with his faith. Demian is a brilliant actor who played each facet of the character believably. We all loved him from his previous work so, truly, he was the first and only call we made."

Describing his role, Bichir says, "Father Burke is a man of faith and a demon hunter who believes it is possible to save the world one demon at a time. He is a fighter on different fronts; however, he is also haunted by his own demons, and that is the real battle he faces every day of his life."

The last time Father Burke dealt with the demon hunting aspect of his priestly duties, a terrible tragedy occurred. Almost a decade has passed, and he still maintains a safe distance between himself and the investigative fray because he is still deeply conflicted by those disturbing events. Despite his unease, Father Burke is bound to comply with the Cardinal's wishes.

"Once you take your vows, you've promised to be God's soldier for life," says Bichir. "As a soldier you don't contradict orders; you don't refuse any call."

Regardless of his own reservations, Father Burke is committed to the task at hand. To prepare, he dusts off his WWII chaplain's kit containing his spiritual tools"holy water, a silver cross necklace, a crucifix and Bible"and sets out on the uncertain road ahead. At the direction of the Vatican, joining Father Burke on the quest, is Sister Irene, a novitiate at St. Vincent's Hospital in England.

Taissa Farmiga says, "I think Sister Irene believes this is going to be a straightforward mission. She doesn't know how extreme this journey will be, or what kind of emotional strength she will have to muster. And I don't think she was ready for the evil existing in the abbey."

Bichir notes, "At first, her size fools Father Burke, but even though Sister Irene is petite and may look fragile, he learns she can be feisty and I think Father Burke admires that. Sister Irene is very strong because her spirit is strong."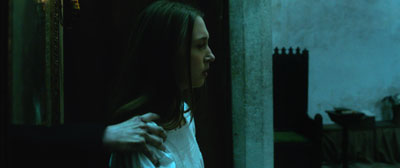 Like Father Burke, Sister Irene also has a past littered with pain, and while her troubled youth may have led her to the convent, it is also why she has yet to take her vows. "She is also dealing with inner demons," Farmiga observes. "As a child, she had visions and dreams that haunted her. As a young woman, the church had welcomed her and encouraged her to devote herself to God by becoming a nun, and she willingly followed that because as she got on that path, the visions faded away. But she never really got an answer for them, and I think the reason she was so open to going on this journey was finding the truth. She is questioning her future, asking: 'Am I doing what I'm supposed to be doing?'"

The shadow Sister Irene's doubt casts on her faith is a feeling Father Burke understands all too well, and the director loved the yin and yang of the two characters.

"Father Burke is this slightly eccentric, grizzled priest," says Hardy. "There is a kind of fatherly quality in the stern way he cares for Sister Irene. He had this shattering experience in his past, and he can't let anything like that happen to her. He's desperate to keep her from perishing, both physically and spiritually. Sister Irene is naïve and unsure, and as she endures this ordeal of fear she has to find her strength.

"Their charisma, individually and as a unit, really comes through in Taissa's and Demian's performances," Hardy continues. "There's a truth and an authenticity in their acting."

Maybe a little too much authenticity. Farmiga invested so deeply in her character that she actually battled nightmares over the course of the production. Hardy offers, "Taissa is an incredibly gifted actress and in creating the fear her character goes through, she was constantly faced with these terrifying visions and traumatizing moments. She really went the distance in getting Sister Irene to respond the way she does, so the audience can feel it too. I'm indebted to her for that."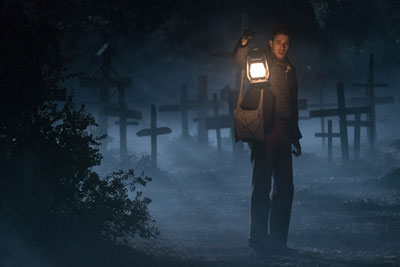 Farmiga responds, "Working with Corin was amazing because he's so artistic and creative and was so good at getting to the emotional fear. It's not just plain fear. What else is driving it? Is there a sadness? Is there a longing? He's so passionate about everything and he seems to have such a sweet soul…until he suddenly puts a picture of a demon nun in your face and you're like, 'I didn't know your mind was capable of such terrible things,'" she teases.

Although the Vatican had assured Father Burke that Sister Irene had experience in the region, she informs him that she has never set foot there. And that is not the only mystery they must unravel, either within the castle or about each other. Both are still living with things in their past that make them vulnerable to whatever force it is they are facing. But it also creates a bond between them. Likewise, the two actors bonded during their time on location in Romania. "You don't have months to connect on a film; you have to do it right away, so I was lucky I had Taissa," Bichir shares.

"I admire her so much. She has such wonderful qualities, not only as an actor but as a person." The admiration is mutual. "Demian is such a funny guy, he has a big personality," says Farmiga. "He's full of life and energy and love for everything," she comments. "As an actor he is incredible and brought so much emotion to Father Burke."

As Sister Irene and Father Burke depart Rome and leave the modern world of 1952 behind for the small village of Biertan in Transylvania, it is as if the clock has turned back and they are entering the Medieval ages. A dirt road is the main thoroughfare and their guide's mode of transportation is a horse-drawn wagon.

Frenchie, as he is known in town, is a local and can take them to the abbey. He is also the unlucky soul who discovered the suicide while delivering supplies there. Frenchie informs them he was wary of the abbey, just like the rest of the townspeople, long before he found a body there. Filmmakers cast French actor Jonas Bloquet to star as the superstitious French-Canadian. A self-described "huge fan" of both "The Conjuring" and its sequel, Bloquet says, "I saw both films multiple times in the cinema, and I loved the script for 'The Nun,' so being part of this movie is one of the best experiences of my career."

Hardy thought Bloquet's character, sprinkled with Dauberman's signature humor, was another great layer to the story. He confirms, "Frenchie is a lovable rogue and part of this odd trio with a priest and a nun, who may look at the world differently, but are stuck together for the time being. There's some inherent humor there, and Jonas really brought that out."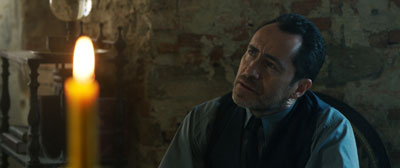 Dauberman adds, "To me, Frenchie was such an important character because you need levity and to offset the scares; those lighter moments make horror all the darker. Jonas can get really dark, but he's also really funny. I love what he brought to the character of Frenchie."

While Father Burke carries holy water and Sister Irene prayer beads, Frenchie wields an axe and a shotgun. Bloquet describes, "Frenchie is a very physical guy, and very strong. He's down to earth and, at first, he seems like just the funny charming French guy who can't say no to a pretty face."

However, there is more to Frenchie than meets the eye.

Bloquet continues, "Frenchie isn't sure exactly what's happening in the abbey, but he does know it's not a good place to be and he does not want to stay there. He is conflicted, though, because he doesn't want to leave Sister Irene; he feels as protective as Father Burke."

As the turrets of the imposing castle housing the abbey suddenly loom ahead, Frenchie's horse, sensing danger, comes to a halt. Forced to finish the trek on foot, they are met by an ominous sight…

Although the nun's body was removed from the suicide site weeks ago, the swath of blood on the steps to the abbey is still wet to the touch. How is that even possible?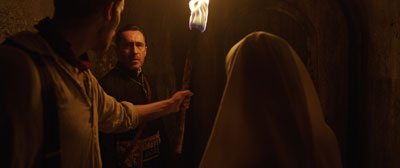 Lead Us Not into Temptation

Throughout the film, the nuns in the Abbey of St. Carta appear in various forms of distress and fear, as Sister Irene tries to uncover the truth about the evil lurking there and about a mysterious key Sister Victoria was clutching when she died.

Cast as Sister Victoria, Charlotte Hope says that, like her colleagues on the film, the Demon Nun had made a lasting impression on her. "I remember that shot in 'The Conjuring 2' where there's that painting, and you don't know if it's a painting…and then it's her. That is scary stuff; she really freaked me out for a long time. And now to have a movie that explains her…that's a fascinating prospect."

Regarding her part, Hope says, "I don't want to give too much away, but I can say she is a catalyst for the events that unfold in the movie. And Sister Victoria has a pretty tough time of it herself," she adds cryptically.

Hardy appreciated Hope's dedication to the demands of her role. "Charlotte is a beautiful actress and a beautiful human being. It was fun to cover that up with something hideous, and she was totally up for it," he laughs.

Another key in the investigation is Sister Oana, who breaks the sisters' rule of silence to warn Sister Irene of a diabolical presence they must combat via perpetual adoration: the cloister cannot ever cease their prayer vigil, not even for an instant…no matter what.

The filmmakers cast Romanian native Ingrid Bisu as Sister Oana. "I feel like Sister Oana sees herself in Sister Irene. That's how she started out, how she used to be: hopeful. So, she reaches out to her for help." says Bisu.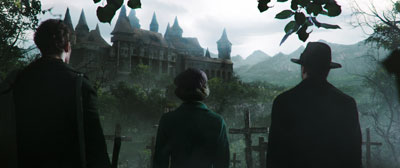 Safran offers, "I was fascinated with the whole perpetual adoration angle; it really leads to some white-knuckle sequences I think audiences will love. And Ingrid is a big part of that fabric."

Bisu relates that she felt an affinity for the role because she briefly thought about being a nun when she was younger. To prepare for her part in the cloister, she visited monasteries and sat in silence for hours. On set, she kept earphones handy to listen to prayers. Bisu explains, "I learned how important silence is in their cloistered world. You are to only speak with purpose. It's a big deal for Sister Oana to go against that and risk punishment to speak to Sister Irene about what is happening there, knowing full well she is going to face the consequences."

There is one sister who is not frightened but, rather, is in chilling control, with an otherworldly grip on the abbey. Bonnie Aarons returns to the role she originated in "The Conjuring 2," once again becoming the personification of the Demon Nun.

Recounting when she auditioned for the role in the earlier film, Aarons says, "All I heard was 'a James Wan film.' That was enough for me. I think he's brilliant; I'm a huge fan of his work. I wasn't given the script; I was told to just go in there and scare the crap out of everyone," she smiles. And it worked.

Safran remarks, "James had a very specific vision of what he wanted this Demon Nun to look like. We saw a lot of people, but the moment we saw Bonnie, with the uniquely striking geography of her face, everybody said, 'This is exactly who we want. This is who it has to be.'"

Hardy, likewise, couldn't imagine anyone else in the title role of "The Nun." "It was very important that we got Bonnie again. She is obviously not creepy in real life, but when she is in makeup with that nun's habit on, she projects a fearful presence. It was extremely unnerving," he admits. The cast concurs. Bichir notes, "I remember doing a scene when I am praying, and I knew Bonnie was going to be behind me as the Demon Nun. Just her shadow made the little hairs on the back of my neck stand up. It was really spooky."

Farmiga also found the visage disturbing. "I tried my best, especially at night, not to let myself think of that demonic face coming at me," she attests.

Aarons is thrilled to have helped create that lasting impression. "That's what you always want to do as an actor"seep into the audience's mind. I love that people from all over the world seek me out to tell me the Demon Nun is haunting them and giving them nightmares."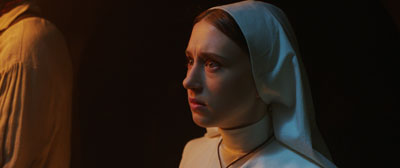 Mary Points the Way

"The Nun" was filmed entirely in Romania, in practical locations in and around Bucharest and Transylvania, notably two 14th-century castles and an abandoned medieval fort, which contributed to the authentic classic horror aesthetic. Some interiors were also constructed on soundstages at Castel Film studios in Bucharest.

To help him achieve the gothic look for the film, Hardy turned to director of photography Maxime Alexandre and production designer Jennifer Spence, who previously collaborated on "Annabelle: Creation." They enlisted a crew that was a mix from the U.S., Europe and Romania. Alexandre, who had already lensed eight films in Romania, comments, "Corin was extremely precise with what he envisioned and provided pages and pages of drawings to convey his idea. It was wonderful to put colors and shapes to those imaginative black and white drawings."

Spence offers, "The best thing about this film and coming to Romania was designing in a real castle. When you walk through the hallways, you can feel the life force from the past. It's a great atmosphere and a scary place to be at night." Horse drawn carts, a common mode of transportation, were frequently seen; goats and sheep were recurrent visitors to the set; and bats, funeral processions on foot, rain and fog all contributed to the old world feel.

While the rural, antiquated locations added patina, they presented challenges for Hardy's creative team. "Maxime is a gifted cinematographer with an incredible eye," the director states. "He was up for anything and brought techno-cranes and tracks into some harsh locations. And it was a formidable task for Jennifer and her team to build and enhance castle locations that were seven hours away from our home base in Bucharest. She really delivered a gorgeous milieu for the film." Alexandre describes the entire style of the film as "very '70s with smoke and high contrast. In this genre you can play much further with shadows by caressing the highlights in one single direction and go into the dark as much as you want."

Although it stands out in its gothic flavor, "The Nun" still follows an underlying style in the tradition of all the "Conjuring" films. Alexandre says, "Even when jumping years forward or past in the storytelling, there are stylistic tenets which James established with the first film, like long masters, and shooting in-camera as much as possible. Corin took that and ran with it."

A distinctive quality of "The Nun" resulted from the different camera choices used to frame visually the main characters' different points of view. Alexandre explains, "There is Father Burke's journey and Sister Irene's journey. Hers is more internal; she's in her mind and her visions are softer. For her scenes, we used the Steadicam because it distinguishes for the audience what is real and what isn't. When we are seeing from Father Burke's point of view, we went hand-held, because he is in the drama of the moment and everything is happening to him in real time."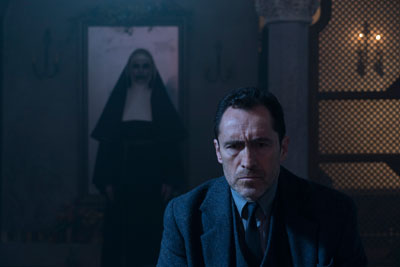 Transylvania
Corvin Castle

To find their Abbey of St. Carta, filmmakers flew to Bucharest, then drove to Transylvania, spending hours winding through remote villages in the historic region of Romania. In Hunedoara they found Corvin Castle, an original structure which has occupied the side of the mountain since the 14th century.

Dauberman recalls, "We were in the heart of Transylvania and I stepped out of the car and got a look at the first castle I've ever seen in person in my life. It was so beautiful it took my breath away."

Spence had a large build at the castle as the real entrance has a very long bridge, with a moat underneath it. To accommodate the story and action needed for the film, Spence's team constructed a new access point at the back of the castle. Her team leveled the ground to build the framework, then took a cast of one of the castle walls to create additional wall pieces comprised of matching stones to blend in with the originals already there. Spence hired local artisans to help construct the massive stone steps where the suicide is discovered. "Some were sculptors and carved things into the stone, like the word 'sinners' which the blood drips into," she details.

Spence's set was so convincing that when Bichir entered the first time, he thought it was the real entry to the castle. The castle owners were also so pleased with the addition they requested that the functioning set remain intact and in place to enhance the castle for future tourists.

All the trees were brought in and planted to create a moody environment and hundreds of crosses were added. In addition, Spence's team built the statue of the Virgin Mary in the Abbey Courtyard, also filmed at Corvin Castle.

Spence's authentic set dressings consisted of furniture and artifacts from Vienna and Romania. "In the story, the nuns took over the castle after World War II, so we wanted to make it look as authentic as we could, for the rooms to feel full and historic," she says.

The color scheme Spence used was chosen based largely on the nuns' black and white garb. "Corin and I discussed using a minimal amount of color, so the nun characters would pop. We used a lot of green for a very earthy feel," says Spence.

And red. Hardy was understandably very particular about the blood used in the film. For the suicide aftermath, he jumped in with a bucket of blood and splashed it down the steps himself, then painted in the aftermath to look gorily realistic. "Blood definitely operates differently if it's static or dribbling or oozing or gushing or pumping through a tube." He even practiced spitting blood with cast members to help them get the right projectile.

Like all the "Conjuring" universe films, a priest was brought to the set to bless the movie. But more corporeal beings offered a different challenge. The day the Eastern Orthodox priest, Father Cosmin, was scheduled at Corvin Castle, the crew was prevented from getting to the set until a herd of goats finally cleared the road.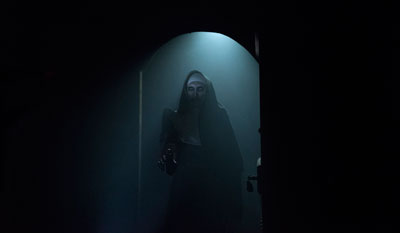 Bethlen Castle

As Corvin Castle did not have all the spaces required for production, the filmmakers chose a second castle from their scout to supplement the abbey. Located in the western Transylvania village of Cris, Bethlen Castle was also designed by Corvin Castle's medieval architect, so it was in the same style and matched perfectly to Corvin for shooting purposes. On the way to Cris, the crew always experienced a foul and pungent burnt smell at the same spot on the road every day, for which there was no explanation. Considering their purpose in the area, some believed it could be evil spirits haunting the ancient castle.

Bethlen Castle was ideal for the convent at the abbey, where Father Burke and Sister Irene are told to stay the night and where disturbing events start to take place. Spence describes, "All the rooms were unfinished and in disarray, and there were no working windows, so it was a blank canvas.

There were a few organic things already there which I chose to continue, like snake emblems on the ceilings." Spence also had locals build windows and doors modeled after the original damaged ones. "It not only helped our film, but it was also nice to give back something to the place we were shooting," she adds.

Bethlen contained the perfect Ice House location as well as a place to construct a graveyard for the abbey in which several pivotal, terrifying scenes take place. Spence's team built the entire cemetery, replete with weathered headstones, crosses, and working period bells, which were an ancient precaution against those mistakenly buried alive, preventing them from suffocating to death.

Mogoșoaia Fort

Mogoşoaia Fort was the third location chosen by filmmakers from their scout in Transylvania. The abandoned military compound contained the tunnels for the abbey which lead to its undercroft. The underground, maze-like corridors were very narrow, musty, dark, and conducive for the scares Hardy had in mind.

Hardy used the best aspects of each location and put them together in photoshop at night as a roadmap for his team to create a unique environment that, on screen, is the Abbey of St. Carta. Dauberman remarks, "It all fit beautifully together. The Abbey of St. Carta is straight out of a Hammer horror movie, high up on a hill with crosses surrounding it. It was perfect."

"It's remarkable," says Safran. "As you progress through the story, you feel like you're in the same castle the entire time because the look is cohesive. That's the amazing production team we had."

This was no small feat as Alexandre had to match not only the physical location but the different lighting. "Shooting for the abbey was extremely complicated because we had different locations and a soundstage to match," says the cinematographer. "I think the only one who really knew how all the doors and corridors connected from the different sets was Corin. Every day we were asking, 'So, where are we? Do we move left or right?" he laughs.

One of the more complicated scenes to shoot took place in the tunnels at Mogoşoaia Fort, involving a corridor of crosses Sister Irene discovers beneath the abbey. Clearly the hundreds of crosses have been placed there for protection and increased in number over the years. Spence's team hung crosses down the corridor instead of fixing them to the walls, to give them ghostly movement. For the sequence, the Nun is standing still, yet Hardy wanted to create the optical illusion of movement in camera. Hardy says, "It's as if the Demon Nun's presence is reaching out to Sister Irene, drawing her back, because the Nun isn't moving. I wanted to figure out a way to visualize this threat that the Nun has even when she's not touching you. She's almost hypnotizing Sister Irene."

To accomplish the shot, Spence designed the corridor with walls that could be physically moved back. Hardy and Alexandre devised a plan and placed the camera on a 100-foot track in the dark corridor. The camera lens zoomed toward Sister Irene and the Nun while Alexandre's team simultaneously pulled the camera back out and concurrently turned the camera 360 degrees. "It was tricky, underground in the dark on the track, zooming towards them while physically pulling out and also turning full circle. It made the corridor feel like it was turning around on itself and she can't get away," says Hardy.

While they were prepping, Hardy had his own supernatural experience. "Even though I'm a horror fan and I've spent my life creating monsters, deep down I'm a skeptic, still waiting for the time when I have a run-in with a supernatural entity I can really believe… and it happened in that fort."

Hardy continues, "The monitors were off the main corridor in a completely isolated, dark room. Because the long camera move required such a big rig, it cut off the entrances and exits. I came in and saw a couple of guys sitting on chairs to my left, said hello and sat down with my back to them, watching the monitor for a good 15 minutes as we rehearsed the take. I was excited it worked and turned around to say, 'Wow, did you see that? It was perfect!' And there was no one there. There weren't even any chairs."

Other locations in Transylvania included Sighişoara, the birthplace of Vlad the Impaler aka Count Dracula; Copsa Mar; Mogoşoaia Palace, which doubled for St. Vincent's Hospital, where Father Burke and Sister Irene meet; and the Parliamentary Palace in Bucharest, which served as the Vatican.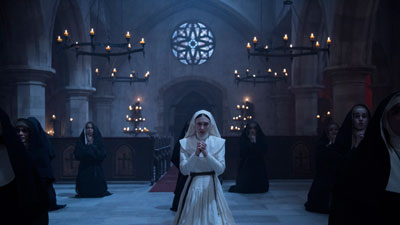 Bucharest
Castel Film Studio

As it is prohibited to film inside a church in Romania, Spence and her crew built the Abbey of St. Carta church on Castel Film Studio's largest soundstage in Izvorani, Romania, outside of Bucharest. The church set was based on Chiddingly Parish Church in the village where Hardy grew up in East Sussex, England.

Spence had the idea to then convert the abbey church set into the tomb room, where Father Burke and Sister Irene first meet the Abbess who runs the abbey. Hardy details, "Jen's idea was to swap the angles and redress it. She really did a magnificent job and was able to move walls and completely adjust the ends of the room with the steps. Even when I was standing in it, I forgot it was the same room underneath her detailed design."

Signature to that detail in the tomb room are four tombs that have death masks cast from the faces of Hardy, Dauberman, Alexandre and executive producer Michael Clear, as well as a death mask on the wall that is cast from the film's 1st AD, Harry Boyd.

Another large set built on a stage was the undercroft in the abbey, as it required a tank. A bird's eye view of the undercroft reveals a cross with a circle at its center"a motif that appears throughout the film.

In a central action-packed scene in the abbey's undercroft, Farmiga was on wires…and loved it. She confirms, "One of the reasons this movie has been so fun is the physical aspect of the role and the stunts we get to do. You go through weeks of filming this intense emotional arc with dialogue and dramatic moments and then get to put a harness on and get into the action adventure feel."

Hardy appreciated the enthusiasm his cast exhibited. "They physically did a lot of their own stunts. They went on wires, they went underwater, and they were really up for all the action scenes." The different levels of the castle were used to reflect layers in the story. Dauberman expands, "We start on the outside, then move to the inside upper levels, and then as we go deeper into the castle and underneath it, we start to get into the real grit and grime of the castle as well as the story." In the studio lot's Western town, Spence dressed a building as the Black Bear Bar, which Frenchie frequents. They also shot in the nearby Snagov woods.

After the final day of principal photography, Hardy performed a song entitled "The Convent Blues" with a Romanian crew member, as a thank you to the cast and crew. The song tells the story of "The Nun" and its production, referencing as many cast and crew members as possible. He composed the song on his way to the studio that day.

Throughout the production, there were nods to the other "Conjuring" films, including the photo of the group of nuns and a cross from "Annabelle: Creation." Spence also hid the word Valak in the sets. "I did a little bit of that but not to the extent of 'The Conjuring' because I felt like this was the beginning, when Valak came to be. But they are there. I hope I've made it hard to find them,"

she says. Eagle-eyed moviegoers will find it in the Forest Trees, Sister Victoria's window frame, the license plate on the luggage truck, and in various hanging articles in Criş.

Deliver Us from Evil

To finish out the gothic look, Corin Hardy brought his former Wimbledon School of Art classmate Sharon Gilham to Romania to serve as the costume designer. For her research, Gilham went to the Peasants Museum and looked at authentic Romanian period costumes. The costumes were largely constructed in Romania.

For Father Burke's civilian outfits, Gilham used the correct authentic period shapes but incorporated dark colors. "Corin wanted to emphasize the darker side of Father Burke's nature," she says. "His suit as a civilian was a dark tweed fabric and his shirts were all dark greys, whereas at the time they would have worn lighter colored or white shirts."

Hardy also wanted Father Burke to have a specific accessory for a strategic fight scene. Gilham chose his sash, for around his waist, with specific colors meant to reflect the different levels of the priesthood, from Cardinal on down. She then added text to it"a Latin phrase that means God give me light, which she found in a Latin version of a Catholic prayer. The large, gold metal, embroidered decorations she added to the sash were from 1930s and '40s, altar pieces from France that Gilham found in a market. "I cut them out and put them on his sash with rosaries, crosses, crucifixes and Saint Christopher medals, which cover the piece all the way around, like something that he's added over the years," she says.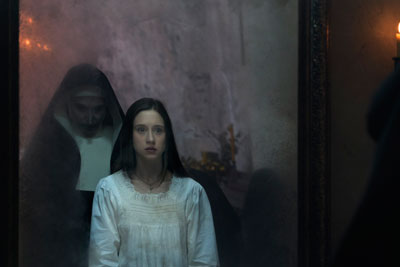 The crucifix around Father Burke's neck was also a market find in Romania. Gilham shares, "It's an antique and it came from France, where Father Burke experienced the events that haunt him."

The priests' long black cassocks were made in Italy. "The Vatican clothing is very exaggerated, even ostentatious," says Gilham. "Demian loved wearing that costume. He put the cassock on and you could see him becoming the priest, even how he stood. There's something so elegant about those shapes and the length of it; it's grand and dramatic with the accessories."

In stark contrast to Father Burke's clothing, Sister Irene is dressed in white. Her nun costume was dictated by how a novitiate would dress and how that differs from the rest of the nuns, because within hierarchy and different periods, there are many variations to the habits. "Sister Irene is purity personified. I really wanted to emphasize how young and innocent and fragile she is, so the shapes of her skirts were very important. A nun's habit can be quite misshapen because it doesn't emphasize the figure, but I wanted Sister Irene to have a beautiful graphic silhouette," Gilham details. The designer also incorporated pin tucks down the front and a leather belt with a rosary hanging from it. The white costumes for Farmiga were specifically designed to be visible moving through the film's shadowy places. "The way the movie is shot is so perfect for this costume. It's lit in such a way that the atmosphere makes these costumes work. I love the moments when you just see part of the edge of a veil coming out of the darkness or part of a costume illuminated," Gilham says.

The idea of the habit is to wear attire from head to toe, removing yourself from the world. Part of that attire is the veil that obscures the face. Gilham put buckram inside the fabric of the veil in some of the nuns' costumes and a wire around the edge to make it stiff, so that it resembled a hood.

"It's almost like horses that are blindered, they had to move their entire upper body to turn their head. Every single actress who put it on, along with all the layers of the costume, said that they felt they were going into another time," Gilham recalls.

The Demon Nun's outfit from "The Conjuring 2" was shipped to Bucharest where Gilham remade it in the same textures and fabrics as the rest of the nuns, with what she calls "a 1950's vibe." Gilham notes, "The Demon Nun's costume elongates her because the black veil is pristinely pulled down and the rest of the costume is very long and very dark. You have the impression that she's larger than life. The first time I saw Bonnie in her full costume and her lenses, I was terrified."

Eleanor Sabaduquia is the make-up department head who engineered the Nun's look, originally creating it with James Wan for "The Conjuring 2." Each time she has applied the Nun's makeup it has varied slightly because it's hand painted, with minimal prosthetics and no digitisation. Amalgamated Dynamics, Inc. (ADI) created the character/creature effects. Hardy shares, "It was a dream to work with them. They have been heroes of mine ever since I grew up making Super 8 films with my friends and making creatures and animatronic monsters in my parents' garage."

Hardy chose composer Abel Korzeniowski to heighten the suspense of the film through the score, which, Korzeniowski says, "plays on two extremes of the religious horror genre: ruthless violence and selfless spirituality. The former is personified by the Demon Nun, Valak, the latter by Sister Irene. Each genre has its own melodic theme. Both hark back to the medieval chants of cloistered monasteries and forbidden pagan rituals, veiled in dark, turbulent textures and creeping, unsettling tones. Following Corin's vision, I translated the stylistic elements of the 'Conjuring' universe to a different time period and setting, using the dark, feral power of the orchestra, with an enormous seven-foot tall drum and a diabolical throat singer."

Hardy concludes, "It was thrilling to see all the elements come together, and with Abel's intensely creepy score providing the finishing touch. I think this gothic world we've created is a truly terrifying place, and we"and the Nun"are just waiting for audiences to come inside. Just be ready to scream."

The Nun
Release Date: September 6th, 2018