A Miniature Horse With A Great Big Dream
Cast: Morena Baccarin, Josh Hutcherson, John Cleese
Director: Jennifer Westcott
Genre: Animation , Family
Rated: PG
Running Time: 89 minutes

Synopsis: Elliot (Josh Hutcherson) is a miniature horse with a great big dream. Ever since the petting zoo where he lives became an Official North Pole Reindeer Training Camp, his job wrangling the zoo's goat population with his great uncle Peanut Butter (Jeff Dunham) has seemed kind of...lame. What Elliot really wants is excitement. Thrills. Glory! That's right, Elliot wants to work for the Big Man himself. Elliot wants to be a reindeer.

So, when Blitzen announces his retirement on December 21st and Santa schedules a threeday emergency try-out, Elliot sees his chance. He summons all of his courage and against his best friend Hazel (Samantha Bee) the goat's advice, stages an impromptu try-out of his own for head coach Walter (Rob Tinkler). He aces the hair-pin turn. He breezes through the tire course. He shreds the pylon circuit. But Walter completely ignores him. What's worse, his arch-nemesis DJ (Chris Jacot) (short for Donner Junior - Yes, that Donner (John Cleese) and his reindeer pals all laugh at him. Peanut Butter just berates him for getting too big for his britches. Humiliated, Elliot suffers his first real wave of selfdoubt. Maybe he really is dreaming too big.

But when Hazel and Elliot discover that Walter is planning to sell the petting zoo animals to a maniacal jerky manufacturer named Ludzinka (Martin Short) because they haven't made a profit in years, Elliot decides that it's up to him to save the farm by making Santa's team. After all, everyone in the world would want to visit the petting zoo that produced the first non-reindeer reindeer! He convinces Hazel to stow away with him in Walter's trunk and head to the North Pole. After Elliot's initial attempt at registering for the try-outs is thwarted by his non-reindeer status, he dons a pair of fake antlers and fools the officials. Now all he has to do is beat twenty of the world's foremost reindeer competitors and he'll be home free!

Despite his diminutive stature, Elliot manages to advance through phase after grueling phase of the competition to the finals. But DJ discovers Elliot's true identity and reveals it to the world in a boldly humiliating stunt. Shamed and belittled (literally!) Elliot is convinced his dream is dead. Corkie (Morena Baccarin), the ambitious news reporter breaks the story that DJ and his dad have been sneaking extra doses of Mrs Claus' (Angela Fusco) magic cookies (which are what give reindeer the ability to fly) and that Head Elf Lemondrop's (Martin Short) nefarious plans to replace the Reindeer altogether with modernized, state-of- the art sleighs have led him to sabotage the entire competition. Santa isn't even sure he'll be able to pull off this year's Christmas at all.

But when Lemondrop sets off the North Pole's climate generator (used to train Reindeer to handle all types of weather) in the middle of a crowded stadium as a final act of revenge, Elliot is able to prove his worthiness by using his small stature to bravely save everyone from a raging tornado. Santa reconsiders his reindeer-only policy and invites Elliot to join his team. The petting zoo is saved and DJ and his dad are demoted to Peanut Butter's goat wrangling assistants. Inspired, Hazel begins her own training program, because if a miniature horse can buck tradition, why not a goat?
About The Production
Inspiration

The writer and director Jennifer Westcott explains that the idea to feature a miniature horse "sprung from an impromptu outing to a miniature horse auction in Fort Worth, Texas." Says Westcott, "My husband and I were living in Dallas and had taken our kids to the National Cowgirl Museum for the day. We noticed something was going on across the street at the livestock barns and decided to investigate. Inside, we were stunned to see stall after stall of these tiny little horses - I didn't even know these things existed!".

Westcott knew that one day she would have to write a script about those interesting creatures she met in Dallas. Sometime later, she read a Craigslist post about a man selling his "non-functioning organic lawnmower," which in-fact was a goat that perpetually got its head stuck in his fence. Immediately she knew her mini-horse protagonist had his best friend!

"I'm a big fan of sports movies in general, and certainly drew a lot of inspiration from the best of the genre, but 'Friday Night Lights' probably had the biggest influence on the script and the Witty Bitty/North Dakota sets. Big sky, small town, big dreams - I just love it" says Westcott.

The film was produced at Awesometown Entertainment in Toronto (with a satellite studio in Hamilton). The design team wanted to visit a farm for inspiration before locking in the designs for the picture. Being situated in Canada's largest city, the crew decided to take a trip outside of the city to do their research. Executive producer Dan Krech says, "I fondly remember our team visit to a farm in the Niagara region; We all got to see miniature horses up close. The creative team were really motivated after that visit! In fact… the very first poster which features the windmill, was inspired by that visit."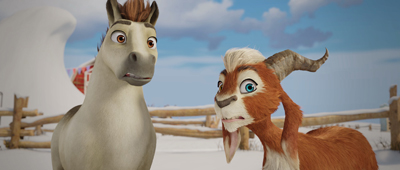 Discussing the overall feel of the film, Jennifer Westcott explains "Our fantastic production designer (Naeim Khavari) worked really hard to juxtapose the two worlds of the film; keeping things simple and wide open at the Witty Bitty while the North Pole had a much more cozy, contained kind of feel". From the beginning, the team decided to show the North Pole as it really is at Christmas time: in twenty-four-hour darkness. "That constant cover of darkness allowed us to create a really warm, intimate feeling in what would otherwise be a pretty (pardon the pun) cold environment" explains Westcott.

Discussing the important messages within the film, Josh Hutcherson says, "I think it's a great message to talk about really pushing for your goals and pushing yourself beyond what people tell you that you are capable of… you can strive to be the best you can, and dream beyond that and do everything you can to make that a reality. So I think it's a great message for everybody to push themselves to do things that they may not think they're necessarily capable of!"

Hutcherson says, "It's a great script, with a powerful message wrapped into an accessible story. I really feel it will resonate with kids and adults alike… It was a fun process making Elliot's character come to life… and collaborating with the team!".

The Producer, Lucas Lynette-Krech states: "This film was a real pleasure to work on... It is so important to have a great director. In our case, she was a great writer too! Jen is an extremely talented and collaborative professional. We look forward to working with her again in the near future."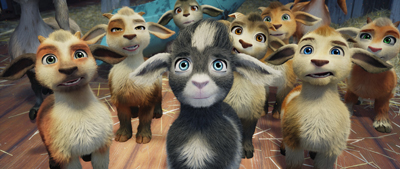 Elliot the Littlest Reindeer is Jennifer Westcott's first animated feature film. When asked what the biggest challenge of directing her first animated film she responded: "the biggest challenge was adapting to the timeline - animation takes a loooooooooong time to complete. Everything you see in the movie - pens, hay bales, tables, trees, clothing, characters, sets – everything has to be designed, modelled and surfaced. And there are so many steps in the process that go beyond what you'd go through with a live action film: storyboarding, editing, layout, editing some more, animation, another round of editing, finalling, lighting."

Westcott concurs, "It's an incredible amount of work that requires a really high degree of skill. I'm just so thankful to have worked with such a talented (and patient!) team my first time out." Writing and directing an animated feature film for your first time is no easy task. But as Westcott has showed us, no dream is too big if you believe in yourself.

Casting

The film features the voices of Josh Hutcherson (The Hunger Games Trilogy) , Samantha Bee (TBS's "Full Frontal"), John Cleese (Monty Python, A Fish Called Wanda, Shrek), Martin Short ("Saturday Night Live," Father of the Bride), Jeff Dunham (The Nut Job) and Morena Baccarin ("Homeland"). Lucas Lynette-Krech, the voice director (and producer) of the film exclaims, "We are so fortunate to have assembled this spectacular cast! The voice actors brought their roles to life in the sound booth. It was tremendously fun to spend time with the talent and to create something special together."

Writer and director Jennifer Westcott reflects, "I am just so happy with our cast. I've watched the movie a countless number of times and I still reel at how lucky we were to assemble so much talent". Having worked with the artists in the recording sessions, Westcott says, "I had to keep telling myself that this was actually real life!".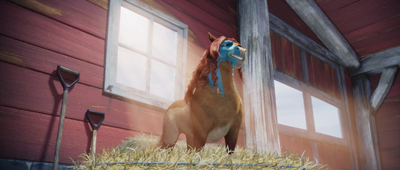 The main character "Elliot" is voiced by Josh Hutcherson. When asked how he thinks he relates to his character, Josh Hutcherson states: "I relate to Elliot because I think that he's very driven. And also unrealistic in his expectations. Which I am as well… in my abilities. But what's good about that is it drives people (and miniature horses alike) to reach for the seemingly unattainable and really push your dreams to the next level". Big dreamers dream big!

John Cleese voices "Donner", one of Santa's infamous reindeer crew. It isn't every day that a miniature horse gets to try out for a spot on Santa's team. When asked how he feels about a miniature horse trying to become one of Santa's reindeer, Cleese says "It's something I feel very, very strongly about. I think it's a wonderful idea and I'm thinking of starting some kind of citizen's movement to try and make this kind of thing happen more often."

Morena Baccarin voices "Corkie" the investigative journalist that is the first to break the story about Lemondrop's misconduct in the reindeer tryouts. Baccarin discusses her experience working on the film: "I'm very excited to be in a film that my kids can finally watch. Which is really one of the most motivating factors for doing this. I thought the story was really, really sweet… really cute… and really funny! And I think there should be more material like this out in the world, especially right now".

"Hazel", the smart and perpetually hungry goat is voiced by Samantha Bee. Having a lot of work experience in front of the camera, Bee reflects on voice acting: "Doing a voice is completely different from anything else that I do…". After working with the directors and the script in the studio, many months later a final product is revealed. About that final product Bee says, "it's a little bit magical for me to see the finished product".

Martin Short didn't just do the voice for one character, he did three! Short gave outstanding performances for the characters: "Lemondrop", "Ludzinka", and "Blitzen". At the end of the session, the Producer asked about Short's opinion on the movie. Short replied, "I think Elliot the Littlest Reindeer is unique because it's very, very funny. And very kind of hip, and more of an edge than a typical Christmas animated movie".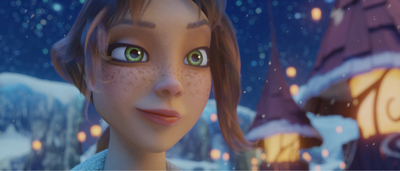 Jeff Dunham voiced "Clyde" the coach and "Peanutbutter", the facilitator of the famous Goat Run at the Witty Bitty Farm. When discussing tradition and the holiday season, Dunham says "there's something about the holidays: that warmth, and that happiness, if you do the same thing you did ten years before the same way, that's what makes the holidays special". Elliot has true evergreen potential, for families to watch each year during the holiday season!

The original song "Off to the Races" was co-written and performed by Kolton Stewart. Stewart is a young Canadian talent with an electric personality.

Lucas Lynette-Krech says, "We were especially happy to work with a young aspiring musical talent. We ended up with an amazing song. It captures the spirit of the film and at the same time has real "hit" potential. There is no doubt in my mind that Kolton will become a household name in the not-too-distant future".

The Characters

- Elliot -
Elliot is a miniature horse with great big dreams. He has one goal: to join Santa's reindeer team. While Elliot is constantly hearing "no" from those around him, that word only makes him more determined. Elliot is willing to put it all on the line to make his dreams come true – even if it means pretending to be something he's not.

- Hazel -
Hazel is Elliot's best friend and biggest supporter. She's a quirky goat with a loud personality and an even louder appetite! Hazel knows Elliot's got what it takes to be one of Santa's reindeer, and she's determined to help him get there. Although she may seem flighty at times, Hazel has a sharp eye; when push comes to shove, whether she's at his side or behind the scenes, Hazel is there to make sure Elliot keeps his eye on the prize.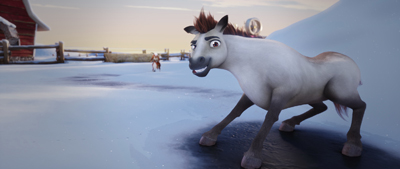 - Walter Whittick -
A former baseball star sidelined by a case of the yips, Walter is looking for a way to relive his glory days. And turning the petting zoo he inherited from his grandparents into a reindeer training camp seems like the best way to do it. Young and not the sharpest tool in the shed, Walter is also loyal, honest and hardworking. He wants to train his reindeer to rise to the top and join Santa's team- unfortunately, he fails to see the burgeoning talent in his littlest recruit: Elliot.

- DJ -
DJ (Donner Junior) has extremely large shoes to fill. With his talent as well as his pedigree, he is Walter's top prospect amongst the Witty Bitty's reindeer. But what the others don't know is DJ also has a crippling fear of flying, clumsily masked by his boisterous ego. Ultimately DJ will be forced to reconcile his desire to please his father with a greater need to be true to himself.

- Corkie -
As the first human journalist to be given access to the North Pole Corkie is desperate for a story. On the surface it appears that the North Pole tryouts are just your standard sporting event – but with the help of Hazel Corkie discovers a dark secret that Santa himself doesn't even know about; and Corkie is determined to make sure this story blows up!

- Lemondrop -
Lemondrop is Santa's right hand man. For everything Santa does Lemondrop is the guy behind the scenes – pulling the strings to make it happen. But, after 200 years of serving Santa, Lemondrop is feeling a little disgruntled: he's convinced that their key to success is to ditch the pompous reindeer in favour of new, modern sleighs that the elves can fly. Lemondrop speaks from years of experience so, when Santa refuses to listen to his loyal servant, Lemondrop takes things into his own hands.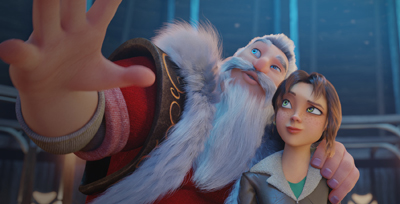 - Sasha -
Sasha, AKA "Sasha Second Place" and "the Angry Canadian", comes from a long line of runner ups: her father, her grandmother, and her great uncle all fell short of winning a spot on Santa's team. This time however, Sasha is determined to break the family curse. But underneath her tough façade Sasha is a caring and loyal friend.

- Donner -
When Donner walks into a room everyone takes notice. This noble reindeer has a commanding presence, an impeccable record, and impossibly high standards. Determined to have his son DJ follow in his footsteps, one thing Donner does not always value is honour. For him, bending the rules is OK – as long as DJ preserves the family name.

- Santa -
Increasingly overwhelmed by the world's rising population, coupled with children's demands for complex electronics, Santa's sudden reindeer retirements are hitting him harder than ever. What was once his greatest joy – bringing Christmas to the children of the world – is becoming increasingly more difficult to handle. Santa's faith in reindeer is still unwavering, although his love for tradition is tested when his reindeer tryouts go awry.

- Mrs. Claus -
Karina's concern for her husband grow with every passing Christmas. While she sees the merit in upgrading technology, she is dubious of Lemondrop and tries to advocate for the reindeer as much as possible. When Santa's judgement is compromised from all the stress Karina steps in as his level-headed moral compass. guiding him to the right decision.

- Clyde -
Walter's assistant coach, Clyde, is seen by his fellow farm animals as a cranky old draft horse who is fed up with the reindeer's smug attitudes and showboating. But as someone who values hard work and integrity, Clyde doesn't think the reindeer deserve the spotlight they get. However, one miniature horse - who at first looks like a fool to Clyde - is able to eventually win him over by displaying the very qualities Clyde feels his competitors lack.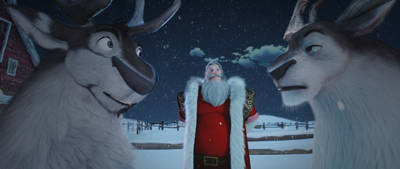 - Jolene -
Jolene is just your average working-class elf picking up a shift for the North Pole reindeer tryouts. Jolene sees a rather tyrannical side to Lemondrop that he doesn't show to Santa – but without the confidence to stand up to Lemondrop, Jolene is begrudgingly forced to comply.

- Ludzinka -
Known as "the Meat Lady" by the animals at the Witty Bitty Farm, Ludzinka is a mysterious and sinister Bulgarian lady with a taste for exotic meats. Ludzinka wants to buy the the petting zoo animals from Walter, concealing the fact that she intends to turn every last one of them into jerky. But the animals are a lot smarter and more resourceful than she thinks, and they have no intention to let her hurt their family.

- Olga and Svetlana -
The dynamic duo: The North Pole Tryout's Swedish and Russian contestants, respectively. These two are the only reindeer with an ego bigger than DJs, and they have no qualms about playing a little dirty to make it to the top. Elliot and the others had better watch out for their signature move: The Swedish Meatball.

- Peanut Butter -
Peanut Butter is an older, Scottish miniature horse who is in charge of overseeing the petting zoo's once famous Goat Run. Peanut Butter sees the Goat Run and the petting zoo in the light of its former glory, still fiercely proud of the position that he holds.