Elise Jansen Underbelly Squizzy DVD Interview
A graduate of Western Australian Academy of Performing Arts (WAAPA), Jansen was named Best Actress at the 2009 W.A. Screen Awards for her role in the short film Misconception. This stunning young actor has spent the last few years honing her craft on stage and screen, with theatrical performances ranging from The Cherry Orchard, Romeo and Juliet and Les Liasons Dangeruses to Lysistrata, The Spook and the Kate Cherry directed production of Cloudstreet. On television, she has guest-starred in Neighbours, Winners and Losers and City Homicide and also appeared in the 2011 feature film Crawlspace.

Question: What inspired you to audition for Underbelly Squizzy?

Elise Jansen: When the audition was sent to me, I really responded to the strength of Lorna Kelly. As a female it is a real gift to play strong women characters and in the little bit of research that I was able to do, before I went into my audition, I saw she was a progressive women for her time in terms that she did divorce Squizzy and took him to court, for child payments, which was not done, back in that time.

It was her strength and character that I initially responded to and thought it was very exciting!


Question: Did you find it easy to relate to the character of Lorna Kelly; even though you seem to be quite different?

Elise Jansen: Some of the aspects of the role were easy to understand regarding what she was doing. To be an unmarried women with a child, back in that time, came with a stigma that is completely different to the stigma that comes with that, today; I had to understand the gravity of that including the strength of character that is involved in going against what society said was okay of the times as well as being a single mother.


Question: Lorna is a very strong female character. Why was it important to portray her, true to form?

Elise Jansen: Whenever we play characters it is a responsibility that we take on especially to tell the truth of the character and her truth was such a different truth for women of the time.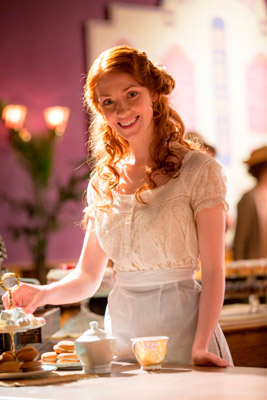 uestion: How difficult was it portraying a character of the 1920's?

Elise Jansen: There was a lot of research that I had to do, to understand the difference of the times that she came from compared to our time.


Question: How was Underbelly Squizzy different to filming Neighbours?

Elise Jansen: There were factors to consider and for me it was important to be well researched in what was going on, in Australia, in that time including the contrast of the war and the relevance that religion played on society. I do think that religion was seen and held differently in society than what it is now. There were also major differences in things like etiquette and the way women would carry themselves, we are so laid back in today's age and I really wanted to capture the truth of the times as well as capture Lorna Kelly's story as best I could.


Question: What did you enjoy most about being on the set of Underbelly Squizzy?

Elise Jansen: The people that I met, I met some absolutely beautiful people and I feel very lucky to have been going into work every day and enjoying the people I was working with, cast and crew. It's always such a treat getting dressed up in gorgeous clothes that are made for you and to have your hair and make-up done; I was always wearing beautiful things.


Question: Was it difficult to watch yourself on the show? Or is that something you've learnt to deal with, in the world of acting?

Elise Jansen: At first it was strange to watch myself back and it was quite funny when I initially saw myself on screen, the thing that shocked me the most was that I could see myself in profile; with the way that our heads are designed we can't see ourselves in side profile in a mirror and I remember thinking 'wow, that's what I look like, from the side". I think because I have been acting for a while now and the years have gone on, I'm able to look at the screen and not see myself. It was nice to see Lorna once she got to screen because during the filming of the show I didn't want to watch what I was doing as I didn't want to be judging myself. When I actually got to see Lorna, when Underbelly Squizzy aired, it was very nice and I felt as if I was watching her, rather than watching me.


Question: Have you watched the previous Underbelly series? Why do you enjoy Underbelly?

Elise Jansen: I have watched some of the previous Underbelly series'; I haven't watched all of them. I love watching Underbelly to find out about Australian history as we have such a rich culture and history of what went on in this country. I think it's fascinating to find out about our history and I've learnt quite a bit about Australia over the past 100 years, from watching Underbelly.


Question: What's next, for you?

Elise Jansen: At the moment I am working on a short film which I will be shooting in Charlton, country Victoria. It'll be very nice to be away shooting.



Underbelly Squizzy DVD
Cast: Jared Daperis, Camille Keenan, Susie Porter, Elise Jansen, Gracie Gilbert, Dan Wyllie, Matt Boesenberg, Andy Ryan, Nathan Page, Diana Glenn, Richard Cawthorne
Genre: Crime, Drama
Rated: MA

Long before Gangitano, Moran, Trimbole and Williams, there was Squizzy Taylor – Australia's first superstar gangster. With an unquenchable thirst for money and power, Squizzy also yearned for respect and fame and was not averse to betraying friends and followers who stood in his way. A master manipulator, he courted the press, entertained the masses with daring accounts of his criminal exploits and graduated from simple theft to loftier heists that gained him maximum media coverage, ultimately creating a public persona that made him the first superstar gangster of the 20th Century.

Squizzy comes to life in this glittering and adrenalin-fuelled Underbelly television series, from the producers of premium Australian dramas Bikie Wars: Brothers In Arms and cloudstreet.

Special Features:
Exclusive Deleted scenes
Photo Gallery

Underbelly Squizzy
RRP: $49.95

Interview by Brooke Hunter