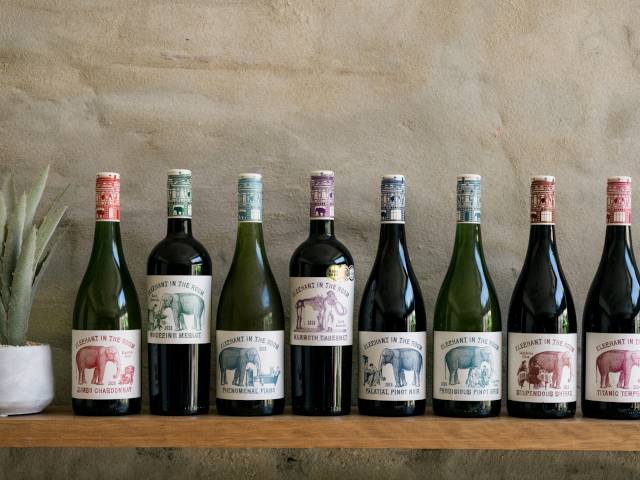 It's Time to Talk About the Elephant in the Room
If you're into jumbo flavours and bold, expressive wines, follow the herd and find out why everyone is enjoying Elephant in the Room.

Elephant In the Room is a larger-than-life crowd pleaser with many great varieties to choose from, including the hugely popular Pinot Noir, Shiraz and Pinot Gris.

Artfully crafted from grapes grown in the lush vineyards of famed South Australian wine regions such as Limestone Coast and Langhorne Creek – areas renowned for fuller bodied wine styles – Elephant in the Room features bold, expansive flavours crafted to deliver maximum pleasure.

"Since launching our Elephant in the Room range, it has gathered a loyal following for its delicious full-flavours and overwhelming consistency and drinkability. It's the perfect wine for an evening glass or to share with friends. The wine is suitable for any occasion!" said Ross Marshall, general manager, Fourth Wave Wine.

The range features:

Elephant in the Room Pinot Gris – ripe varietal fruit flavours of apple, nashi pear and citrus with lifted florals and spice. A beautiful and expressive mouth-filling wine that finishes crisp and fresh. A very versatile white that marries equally well with white fish or pork dishes. RRP $15.00.

Elephant in the Room Fiano - a classic Fiano with citrus and floral scents that flow similarly to the palate along with mineral and chalk in a densely rich yet fresh white wine. Perfectly suited to the Australian lifestyle, it is perfect on its own and with a wide variety of cuisines. RRP $15.00.

Elephant in the Room Chardonnay - pale yellow in colour with an aromatic nose of stone fruit and white peach, struck match and notes of creamy oak. The mouthfeel here is full and rich whilst the fresh stone fruit character and integrated oak delivers lovely flavours and a creaminess to the finish. This is a seamless and easy to like Chardonnay with ripe flavours, freshness and a lasting finish. Pair it with roast chicken and a cauliflower puree. RRP $15.00. Also available in a smaller 375ml bottle RRP $10.00 – perfect for gatherings and parties.

Elephant in the Room Pinot Noir - medium red in colour with vibrant aromas of dark plums, cherry and hints of forest floor. The palate is fruit-driven with a core of supple red berry and cherry flavours highlighted by a spicy complexity. Bright acidity and fine tannins provide definition to the long finish. Perfect with duck or mushroom risotto. RRP $15.00. Also available in a smaller 375ml bottle RRP $10.00 – perfect for parties.

Elephant in the Room Tempranillo - a wonderfully aromatic and fragrant example of Australian Tempranillo that is juicy, soft and supple. It has vibrant aromas of red fruits with hints of cola, anise and raspberry jam. As befitting Tempranillo, it has soft, supple tannins and low acid so it's remarkably food friendly and delivers a mouthful of delicious vital fruit, a great depth of flavour and a satisfying finish. Try it with chargrilled Chorizo or an antipasto plate with Manchego and olives. RRP $15.00.

Elephant in the Room Merlot - this Merlot is a medium bodied but full-flavoured wine with textbook cooler vintage Merlot characters of dark berry fruit with bright colours and youthful flavours. The palate has a plushness and tight, fine tannin structure and fresh acidity tying it all together. Red and black fruits are the hall mark characteristics with subtle leaf and chocolate notes filling out the long finish. Great with meat dishes as well as dark chocolate desserts. RRP $15.00.

Elephant in the Room Langhorne Creek Shiraz - dark purple colour with lifted notes of red berry and blackcurrants framed by violet overtones and subtle cedarwood spice. The palate is dense and plush with flavours of blood plum, blueberry and spice with a supple, slippery mouthfeel framed by subtle oak toast and fine tannins. A generous wine, packed full of flavour that is ready to drink now or will cellar for up to 10 years. RRP $15.00.

Elephant in the Room Cabernet Sauvignon - a lifted and expressive nose of red berries, blackcurrants with distinct hints of earthy tobacco. The palate is fruit-driven and vibrant with a juicy core of supple berried fruits, plums and cassis building to a ripe and mouth-filling back palate. The wine displays varietal leafy notes and provides an authentic Cabernet with bright acidity and a long finish. While drinking well now it will improve with up to five years cellaring. RRP $15.00.

Fourth Wave Wine are offering up the chance to win one of 25 fully catered tailor-made house parties, including all food, drinks and entertainment for anyone who purchases a specially tagged bottle of Elephant in the Room from a participating retailer and is lucky enough to find the golden elephant between 15 April and 15 July 2021.

For more details click here.