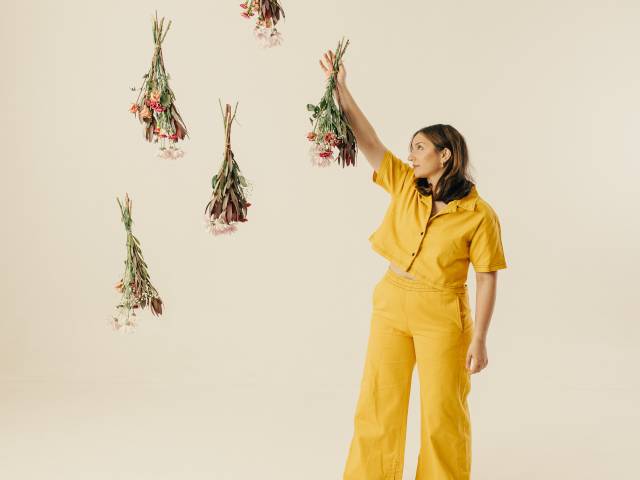 Upcoming singer-songwriter Ebony Emili has today announced her new single Alright Andy, a total red herring of a song, written as an ode of sorts to Ebony's psych, out today. The spectacular new track precedes Ebony's new EP Answer Me, Andy, a five track adventure into Ebony's charming world, out July 21. Ebony and the band will be launching the EP at Jive in Adelaide on August 6, with support from local faves Puree and The Mondays.

Alright Andy is a masterclass in juxtaposition. Upbeat and in the pocket, the jangly sound gives no indication that this song is actually really sad. But one listen to the lyrics gives it all away, and suddenly the song becomes an eerie echo of pretending to be OK in front of everyone, when in reality, you're drowning. Evocative of Rex Orange County and Ebony's personal hero Stella Donnelly, Alright Andy is a significant step forward for the young artist as she explains, "Andy was my old psychologist. I had just come out of a very bad relationship and COVID was on the rise and I felt super isolated and alone and felt like no one would care if I disappeared. The hook comes from a conversation I had with Andy where he asked me to imagine asking confronting questions like 'how would you feel I didn't exist?' to my family and friends and see how they reacted in my mind. It was a really thought-provoking exercise."

The EP Answer Me, Andy pays further homage to its namesake with sparkling, bouncy song writing from Ebony. Her confident, impressive vocal carries some gorgeous lyricism throughout, while lounge, jazz, indie and pop influences abound. The gentle Peaches showcases a more vulnerable Ebony and feels perfectly suited to fans of Billie Eilish and dodie, while the sassy Your Mum Is Calling takes no prisoners with its biting, assertive twist. The EP was recorded live in the studio, giving each song a sweet organic feel, as though the listener is watching Ebony perform live in a cosy, warm pub.

Set to perform her new EP live to an adoring hometown crowd on August 6, Ebony hints at what fans can expect from her live show, "Lots of crowd interaction, stand-up comedy and story times to fill empty sound between songs, dance-y tunes, mostly original tracks with a couple of covers sprinkled in the mix."