Natural, Sustainable Baby Wipes
Nikis' Natural Baby Wipes have left Australian mums shocked at the noticeable difference after a week of use.

The natural, sustainable baby wipes have had an immediate and dramatic improvements in their children's skin conditions (ie. eczema) that flared up when they used other popular brands.

They're the first of its kind and an all-natural alternative to other baby wipes that may use potentially irritating chemicals.


Interview with Durka and Suthan Naganayagam
Question: Can you tell us about Nikis' Natural Baby Wipes?

Durka and Suthan Naganayagam: The story of Niki's really starts with the story of our first son - Niki. Niki was born a healthy baby until out of the blue, he suffered a Urinary Tract Infection (UTI) and was hospitalised.

Fortunately he got well but my wife and I grew increasingly concerned about how often he would experience nappy rash and whether this would lead to another serious infection. After many late nights researching and over two years of development, Niki's Natural Baby Wipes were born.


Question: How are these wipes different to others on the market?

Durka and Suthan Naganayagam: The biggest difference is that we use much less water to make up our wipes, which gives us more room to top them up with other premium and beneficial ingredients like Manuka honey essence and organic coconut oil. The ingredients that we use are plant and fruit based; they are non-toxic and biodegradable.


Question: Why was it crucial for you to develop a natural and sustainable baby wipe?

Durka and Suthan Naganayagam: We don't want any other parents going through the pain we went through with Niki. Parents have enough to worry about, let alone essential products being potentially harmful. We're giving parents the assurance and trust that they are using a safe, and what we and our customers believe is a beneficial product for their children.

Niki's Wipes contain no alcohol, phenoxyethanol, chlorine, petrochemicals, formaldehyde, parabens or phenols in our formular. And we had them independently tested by EuroFin Dermatologists with zero reactions on over fifty people with sensitive skin.


Question: Are you able to talk us through how you developed the product?

Durka and Suthan Naganayagam: Niki's was created out of desperation to alleviate the ongoing pain our newborn son, Niki, was suffering following a UTI and ongoing nappy rash. He ended up being hospitalised for this UTI which was extremely traumatic for us. Originally we were using other baby wipe brands which contained fragrances and potentially harmful chemicals such as methylisothiazolinone and phenoxyethanol. From there, we knew we needed to create not just a natural alternative but a beneficial one for Niki's sake and the other parents. And after many late nights testing various formulas we developed one that was stable and effective for use on our kids as well as our friends and family who had been wanting to try what we'd come up with.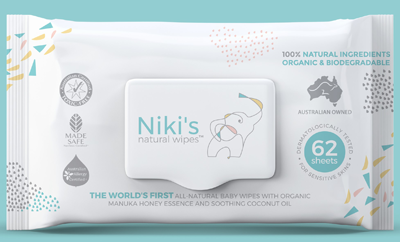 Question: What are the main ingredients of Nikis' Natural Baby Wipes?

Durka and Suthan Naganayagam: Niki's Wipes are infused with 100 percent all natural goodness. The hero ingredients would be the Manuka honey essence and organic coconut oil. Both ingredients have proven antimicrobial and soothing properties. These two ingredients also give the wipes a delicious tropical aroma without the need for any added fragrances.


Question: What was the most difficult component of the development process?

Durka and Suthan Naganayagam: It's hard to find a preservative that was natural, stable and strong to preserve the formula but also gentle enough for the baby's skin. This took over a year to find but it's an amazing ingredient and we think we might be one of the few, if not the only, company in the world using it as a wipe solution.


Question: What differences did Australia Mums notice when switching to Nikis' Natural Baby Wipes?

Durka and Suthan Naganayagam: Many parents have said how they have noticed dramatic reduction in their children's skin irritations after switching to Nikis, things like nappy rash and eczema. And everyone always comments on how soft the wipes feel and how happy they are that there's no trace smell of chemicals.

And now with the Covid-19 panic buying at supermarkets, our customers are relieved to have an online source of natural baby wipes that can be delivered safely and quickly to their doorstep. They don't have to worry about the shelves being bare at the supermarket.


Question: What advice would you give new parents?

Durka and Suthan Naganayagam: The advice I would give other parents around choosing essential products for your children is to always look at the ingredient list thoroughly so you know what you're putting on children's skin and what they are eating. In our case, we made the mistake of not being scrupulous when choosing baby wipes at the supermarket (taking home one of the mainstream brands) and our Niki really suffered as a result. In short, be conscious and educate yourself if you can.


Question: What's next for you and Nikis' Natural Baby Wipes?

Durka and Suthan Naganayagam: At the moment it's a premium product, and we're working on making it even more affordable. We want to reach as many parents and caregivers as possible with the product, so we will develop a strong retail presence with the right channels. The product is already selling very successfully in the US and we have secured a partner for China. There has also been interest from France, the UK, the Middle East, New Zealand and India. We are really humbled by all the interest and will be ramping up production to meet the level of demand from international markets.


Interview by Brooke Hunter