Dry July My Kitchen Rules Tasmanian duo Alison and Ester Interview
It exceeded all box office expectations in 2010 with an incredible 9500 people raising nearly $2.5 million for adult cancer patients and this year it's back, with a bigger and more dynamic line up. An all-star cast combined with an altruistic plot, Dry July 4 - Dry Harder aims to raise much-needed money to make a positive difference to the lives of adults living with cancer.
Headlining Dry July is ABC 702 Breakfast Presenter, Comedian and Dry July Patron Adam Spencer. In 2008 Adam committed on air to having a Dry July and beyond all expectations other people joined him, raising almost a quarter of a million dollars. Three years on he is at it again
"I'm thrilled to be back for the 4th Dry July, it won't be any easier, but the challenge is half the fun... Come and join me and thousands of other Aussies going Dry this July!"
Joining Adam is an all-star cast of Ambassadors including;
TV personalities
: Daniel McPherson, Fuel TV's Corbin Harris, Eat Yourself Sexy Blake Warroll-Thompson, Channel V's Danny Clayton & Jane Gazzo, Underbelly's Roy Billing, Entertainment reporter Peter Timbs and Good News Week's Mikey Robbins
Radio hosts
: WSFM's Amanda & Jonesy and Jono & Dano, 3AW's Denis Walter, Nova's Christo & Kate, Mix 101 & 106.5 Ant & Becks, Wave FM's Desiree Savage, ABC's Richard Glover, Fiona Wyllie and Triple J's Lindsay McDougall and Zan Rowe.
Entertainers
: Joel Creasey (comedian) and Silverchair's Chris Joannou Chefs Better Homes & Gardens chef Ed Halmalgyi, celebrity chef Ben O'Donohue and My Kitchen Rules cooks Tasmanian duo Alison & Ester
Diverse and dynamic these 2011 Dry July Ambassadors aim to inspire Australian's from all walks of life to abstain from alcohol for the month of July and raise sponsorship for hospitals across Australia, helping them create better environments for adult cancer patients and their families who spend so much of their time in oncology wards.
To join the cast of Dry July signing up is easy and free... from 1st June 2011 go to
www.dryjuly.com
create a profile page then encourage friends, family and colleagues to get involved either by participating themselves or by donating as little as a six pack of beer or bottle of wine (in cash donations of course).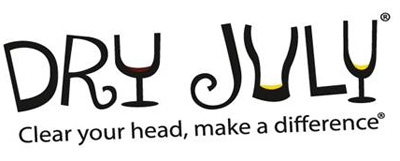 Interview with Alison Elphinstone
Question:
Why have you chosen to stay 'dry' for the month of July?
Alison Elphinstone
: It is such a great cause! What a fantastic way to raise money to improve the conditions of oncology wards in hospitals.
Question:
It was evident on My Kitchen Rules that you work extraordinarily well as a team... so will you be creating a team for Dry July or going against each other in a Head to Head?
Alison Elphinstone
: I think we will be going head to head for this challenge!
Question:
On the eve of Dry July (30 June), if you could have any drink imaginable, what would it be?
Alison Elphinstone
: Ooooh I would have to say a really big glass of red wine.
Question:
What do you think will be tougher "MKR" or "DJ" and why?
Alison Elphinstone
: Definitely MKR! I think anything compared to that will be a breeze!
Question:
I know you have a passion for entertaining... and having a lovely glass of wine with friends... what will be your drink of choice whilst entertaining through July?
Alison Elphinstone
: Well it gets very cold in Tasmania during July so it looks like I will be drinking lots of tea to keep warm instead of wine!
Question:
Your favourite dish to cook is chocolate mousse torte... what drink would be best suited with this during July?
Alison Elphinstone
: Usually I would eat it with wine but I will have to go with peppermint tea during July.
Question:
Working in the Police Force, I am sure there is great camaraderie , will your workmates be joining you on your Dry July quest?
Alison Elphinstone
: I am pretty confident I can hassle my workmates so much they will have to get on board, I think a few of them will need some golden tickets throughout the month though!
Question:
Do you have any goals for Dry July?
Alison Elphinstone
: To try get as many police involved in the challenge as possible and of course raise as much money as I can!
Interview with Esther Rupenovic
Question:
Why have you chosen to stay 'dry' for the month of July?
Esther Rupenovic
: Everyone needs a good excuse to give up alcohol for a while- and there couldn't be a better reason than for a wonderful cause like this!
Question:
Why is this cause close to your heart?
Esther Rupenovic
: I think we all know the dangers of excess alcohol consumption for our own health, and this is a chance to raise awareness and money for those doing it hard with cancer.
Question:
How can Australians support this cause?
Esther Rupenovic
: Jump online to Dry July and support your local ambassador! We will be ambassadors for Tasmania.
Question:
Do you believe it will be a challenge to stay 'dry' for the month of July?
Esther Rupenovic
: Oh I think it will be very hard! But I'm determined to get through it! And...maybe have a big glass of Champas at the end of it :)
Question:
How important is alcohol to your cooking careers?
Esther Rupenovic
: With every meal, there is always a glass of wine! It is very hard to dine out, or even cook without aglass of wine in hand…It will be tricky!
Question:
What will you replace alcohol with?
Esther Rupenovic
: I'll be drinking water, I don't drink soft drinks or hot drinks- so water will be my drink of choice!
Question:
How do you think not drinking will affect your life?
Esther Rupenovic
: Hopefully I lose a bit of weight! I know alcohol is a huge culprit to weight gain- so 4 weeks without it may do wonders! Fingers crossed anyway haha!
Question:
What tips do you have for others who have signed on to stay 'dry' for the month of July?
Esther Rupenovic
: Just think how great and healthy you will feel at the end of it…that will keep you motivated!
Question:
What have you been doing since you left My Kitchen Rules?
Esther Rupenovic
: I've started a food blog which I'm very excited about, and I'm quite keen to pursue a bit of food photography. Check it out at
www.keepcalmandcookmore.blogspot.com
. We have also been doing a lot of cooking demonstrations and in store appearances. Meeting lots of children who are our number one fans has been a lot of fun!